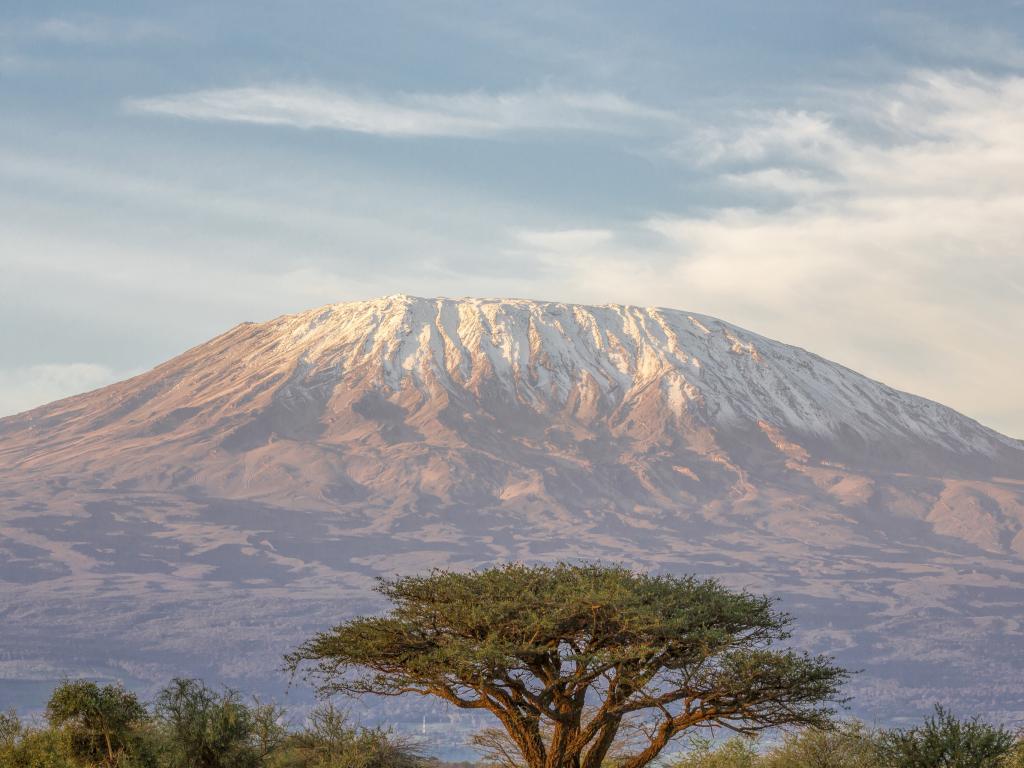 Shira route location
Location: The Shira route can be accessed from Moshi to Shira Ridge, where the trail starts on the western side of the mountain. 
Height: The Shira route reaches the summit of Kilimanjaro at the Uhuru peak, reaching a height of 5,895 metres (19,341 feet). 
Duration: The Shira route can take anywhere between 6-7 days. An extra day on the mountain will, of course, cost more, but this means your chances of success in reaching the summit will be much greater. 
Trail conditions: The trail itself offers a diverse route with varied terrain and starts at a relatively high altitude. During your hike, you will cross through grassy moorlands and volcanic rocky sections.  
 
If you're an accomplished hiker or trekker and looking to make this year one to remember, a hike to Kilimanjaro along the Shira route should fulfil your bucket list. The Shira route starts at 3,600 metres and is not ideal for trekkers who have minimal experience with high altitude trekking. For this reason, most travellers will opt for the Lemosho route, as it's very similar.

The Lemosho route starts at the Londorossi Gates whereas the Shira route starts further north (and much higher) at the Shira Gate. Trekkers that do travel along on the Shira route are almost certain to experience some altitude related symptoms on the first day while camping at a high elevation. 

On the plus side, the route itself offers a diverse range of scenery, as the trail travels through varied ecosystems as it makes its way to the top.  Previous trekking experience is highly recommended, as the days will feature 6-8 hours hiking with daily ascents of 900m to 1000m, perhaps with the odd day ascending around 1,100m to 1,200m. Depending on the route, you may be trekking at an altitude of over 3,500m.

You need complete confidence in your ability to trek for many days over difficult terrain. Extremes of altitude and weather may be encountered, as may the use of ice axes and crampons. A degree of physical and mental stamina will be essential to complete the hike as the days will be tiring. 
Shira Route itinerary
DAY
START
ALTITUDE (M/FT)
FINISH
ALTITUDE (M/FT)
TIME (HRS)
DISTANCE (KM/MI)
1
Shira Gate
3,600m/ 11,800ft
Simba Camp
3,600m/ 11,800ft
1-2
4km/ 2mi
2
Simba Camp
3,600m/ 11,800ft
Shira 2 Camp
3,810m/ 12,500ft
2
6km/ 4mi
3
Shira 2 Camp
3,810m/ 12,500ft
Lava Tower
4,630m/ 15,190ft
4-5
7km/ 4mi
Lava Tower
4,630m/ 15,190ft
Barranco Camp
3,976m/ 13,044ft
2-3
3km/ 2mi
4
Barranco Camp
3,976m/ 13,044ft
Karanga Camp
3,995m/ 13,106ft
4-5
5km/ 3mi
5
Karanga Camp
3,995m/ 13,106ft
Barafu Camp
4,673m/ 15,331ft
4-5
4km/ 2mi
6
Barafu Camp
4,673m/ 15,331ft
Uhuru Peak
5,895m/ 19,341ft
7-8
5km/ 3mi
Uhuru Peak
5,895m/ 19,341ft
Mweka Camp
3,068m/ 10,065ft
4-6
12km/ 7mi
7
Mweka Camp
3,068m/ 10,065ft
Mweka Gate
1,640m/ 5,380ft
3-4
10km/ 6mi
Shira route success rate
Shira route is very similar to Lemosho route, and the success rate of reaching the summit is equally high. As Shira route starts at a much higher point, it is highly recommended that only experienced hikers or those with ability to quickly acclimate follow it.
Shira route tips
Make sure you consider the right route for you – not just what your friends or family have suggested. One of the most concerning elements of hiking Kilimanjaro is having travellers race to the top and not allowing enough time to complete the route based on time or budget. Where possible, weigh the options of each route and allow for an extra acclimatisation day. 
Train, train and train some more. The level and amount you prepare will be different for all travellers, however, the fitter you are, the more enjoyable the experience. 
Depending on your comfort levels with the great outdoors, you might want to mentally prepare by completing a few short camping trips to become familiar with your surroundings. 
Don't skimp on investing in a high-quality pair of hiking boots, as this might make or break your journey. Wear them in before your hike so you don't need to contend with painful blisters on the mountain. 
Hydration is a critical part of reducing symptoms of altitude sickness. 
It's likely you will experience a headache, however, note that this is a normal occurrence. If it becomes unbearable, pay attention to how your body is feeling and make sure you take it easy. 
Make your way to the top of the summit slowly, and don't forget to take in the incredible views. 
Shira Plateau
If you want to climb Mount Kilimanjaro without wishing to summit, you can hike to the spectacular Shira Plateau. The plateau stretches out over 13 kilometres to the west of Kibo, at an elevation of 3, 962 metres.

The Shira Plateau shows a volcanic crater that expired around half a million years ago. Here, you will have the chance to encounter wildlife from the neighbouring Amboseli National Park, across the border in Kenya. Walk along paths treaded by herds of elephant, antelope, buffalo, and lions.
How to climb the Shira route
Kilimanjaro routes
Machame Route. Distance: 62 km, average duration: 6-7 days, success rate: 75%-85%
Marangu Route. Distance: 72 km, average duration: 5-6 days, success rate: 50%
Lemosho Route. Distance: 70 km, average duration: 7-8 days, success rate: 65%-90%
Rongai Route. Distance: 73 km, average duration: 6-7 days, success rate: 65%-80%
Shira Plateau Route. Distance: 56 km, average duration: 7-8 days
Umbwe Route. Distance: 53 km, average duration: 5-6 days, success rate: 60%-70%
Northern Circuit Route. Distance: 98 km, average duration: 8-9 days, success rate: 95%
Kilimanjaro tours & reviews
A TRAVEL MAGAZINE BY TOURRADAR