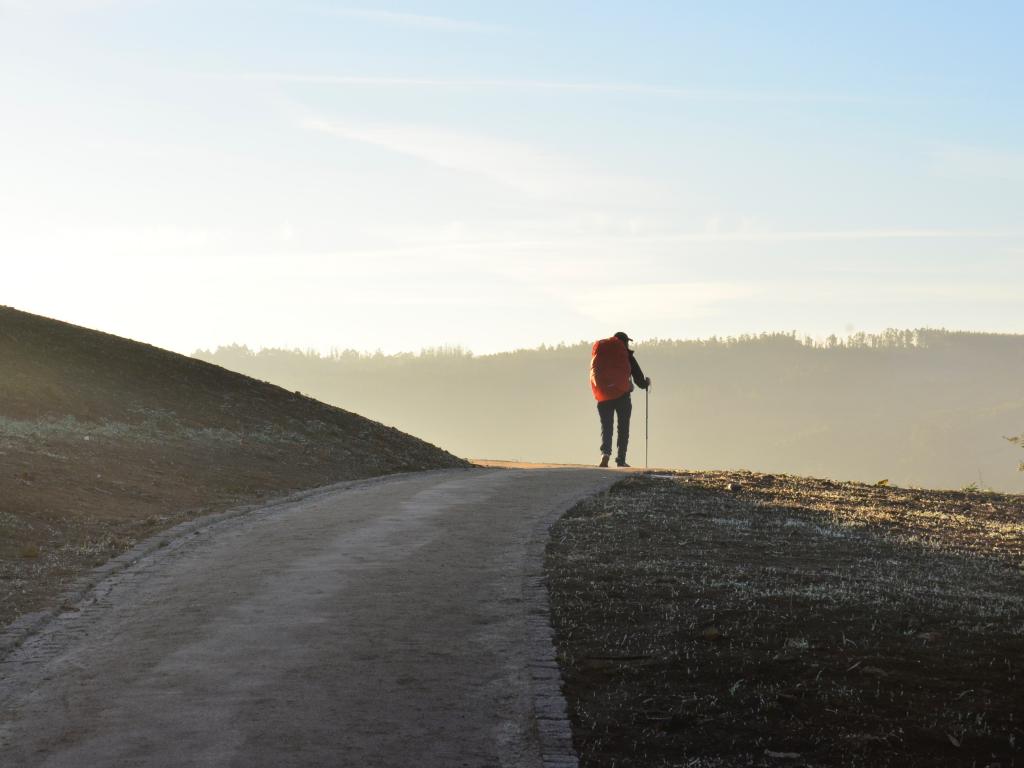 Camino Primitivo albergues and accommodation
Check here all the albergues and accommodation you can find during your walk of Camino Primitivo
Stage
Albergue
Phone number
Price
Beds
Villaviciosa
Albergue El Congreso
985 891 180
15€
32 beds
Villaviciosa
Albergue Villaviciosa
985 891 555
13€
18 beds
La Ferrerìa - Amandi
Albergue de Peregrinsos la Ferrerìa
646 516 846
Donation
12 beds
Valdedìos
Albergue del Monasterio de Santa Marìa de Valdedìos
681 676 335
6€
12 beds
Vega de Sariego
Albergue de Peregrinos de Vega de Sariego
985 748 120
5€
16 beds
Pola de Siero
Albergue de Peregrinos Casona de San Miguel
985 726 422
6€
18 beds
Oviedo
Albergue La Peregrina
687 133 932
7€
32 beds
Oviedo
Albergue de El Salvador de Oviedo
985 228 525
6€
50 beds
Escamplero
Albergue de Escamplero
985 799 005
5€
33 bed
Grado
Albergue de Peregrinos de Grado
985 752 766
Donation
16 beds
Grado
Albergue La Quintana
640 377 256
12€
24 beds
San Juan de Villapanada
Albergue de San Juan de Villapanada
670 596 854
5€
22 beds
Cabrunana
Albergue de Cabrunana
985 750 068
5€
18 beds
Doriga
Cà Pacita
684 613 861
12€
N/A
Cornellana
Albergue de Cornellana
985 835 239
5€
24 beds
Salas
Albergue La Campa
635 150 072
10€
40 beds
Salas
Albergue de Salas
985 832 279
5€
16 beds
Salas
Albergue Valle del Nonaya
626 527 073
10€
20 beds
Salas
Albergue El Rey Casto
985 830 261
Donation
16 beds
Bodenaya
Albergue de Peregrinos de Bodenaya
609 133 151
Donation
21 beds
La Espina
Albergue El Cruce
639 365 210
Donation
12 beds
La Espina
Albergue El Texu
669 016 667
10€
16 beds
La Espina
Albergue Casa Aladino
680 163 865
10€
18 beds
Tineo
Albergue de Palacio Meràs
985 900 111
12€
54 beds
Tineo
Albergue Mater Christi de Tineo
985 800 232
5€
38 beds
Campiello
Albergue Casa Herminia
985 800 011
10€
26 beds
Campiello
Albergue Casa Ricardo
985 800 709
10€
30 beds
Borres
Albergue Santa Maria de Borres
985 800 232
3€
18 beds
Pola de Allande
Albergue de Peregrinos de Pola de Allande
646 832 425
3€
24 beds
Penasieta
Albergue de Penasieta
985 807 116
3€
12 beds
Berducedo
Albergue de Peregrinos de Berducedo
985 807 004
5€
12 beds
Berducedo
Albergue Camin Antiguo
696 929 164
15€
27 beds
Berducedo
Albergue-Pensiòn Casa Marqués
985 909 820
10€
15 beds
La Mesa
Albergue Miguelìn
985 914 353
15€
20 beds
La Mesa
Albergue de Peregrinos de La Mesa
633 148 071
5€
20 beds
Grandas de Salime
Albergue de El Salvador
633 148 071
6€
48 beds
Grandas de Salime
Albergue Casa Sànchez
626 665 118
12€
16 beds
Castro
Albergue Residencia Casa Juvenil de Castro
985 924 197
13€
16 beds
Fonsagrada
Albergue de Peregrinos Ramòn Rodriguez
NA
6€
42 beds
Fonsagrada
Albergue Pensiòn Cantàbrico
669 747 560
10€
34 beds
Fonsagrada
Albergue Os Chaos
660 011 716
10€
24 beds
Complejo O Pineiral
Albergue O Pineiral
606 165 752
10€
44 beds
O Càdavo Baleira
Albergue San Mateo
616 529 514
10€
40 beds
O Càdavo Baleira
Hotel Moneda
982 354 001
6€
22 beds
O Càdavo Baleira
Albergue-Pensiòn Porta Santa
679 828 540
10€
8 beds
O Càdavo Baleira
Albergue de Càdavo Baleira
636 947 117
6€
22 beds
Castroverde
Albergue de Castroverde
699 832 747
6€
34 beds
Lugo
Albergue Juvenil Lug2
982 220 450
9€
75 beds
Lugo
Hostel Roots & Boots Lugo
620 260 951
10€
40 beds
Lugo
Albergue Casa da Chanca
648 574 300
15€
15 beds
Lugo
Albergue de Lugo
618 425 578
6€
42 beds
Castrelo
Albergue O Càndido
637 563 755
10€
21 beds
Castrelo
Albergue de Peregrinos de San Romàn de Retorta
628 173 456
6€
12 beds
Ferreira
Albergue A Nave de Ferreira
616 161 594
11€
14 beds
Ferreira
Albergue Ponte Ferreira
982 036 949
11€
22 beds
Ferreira
Albergue Cruz Ferreira
618 597 822
10€
22 beds
As Seixas
Albergue de Peregrinos de As Seixas
609 669 057
6€
34 beds
Melide
Albergue O Candil
639 503 550
15€
12 beds
Melide
Albergue Vilela
616 011 375
10€
28 beds
Melide
Albergue de Melide
660 396 822
6€
156 beds
Melide
Albergue Montoto
981 507 337
12€
50 beds
Melide
Albergue Pereiro
981 506 314
8€
40 beds
Melide
Albergue Arraigos
646 343 370
10€
20 beds
Melide
Albergue O Cruceiro
616 764 896
10€
72 beds
Melide
Hotel Pousada Chiquitìn
981 815 333
70€
16 beds
Melide
Albergue San Antòn
981 506 427
12€
36 beds
Melide
Albergue Melide
981 507 491
10€
57 beds
Melide
Albergue O Apalpador
679 837 969
10€
30 beds
Melide
Albergue Alfonso II
981 506 454
10€
34 beds
Melide
Albergue O Apalpador II
981 506 266
10€
32 beds
Boente
Albergue El Alamàn
981 501 984
10€
40 beds
Boente
Albergue Os Albergues
981 501 853
11€
30 beds
Boente
Albergue Boente
981 501 974
12€
40 beds
Castaneda
Albergue Santiago
981 501 711
1€
6 beds
Ribadiso Da Baixo
Albergue de Ribadiso da Baixo
981 501 185
6€
70 beds
Ribadiso Da Baixo
Albergue Los Caminantes
981 500 295
10€
56 beds
Ribadiso Da Carretera
Albergue Milpes
981 500 425
10€
24 beds
Arzùa
Albergue Don Quijote
981 500 139
10€
50 beds
Arzùa
O Albergue de Selmo
981 939 018
10€
50 beds
Arzùa
Albergue Da Fonte
981 501 118
12€
20 beds
Arzùa
The Way Hostel Arzùa
680 969 697
17€
40 beds
Arzùa
Albergue Los Caminantes
981 508 127
10€
28 beds
Arzùa
Albergue Santiago Apòstol (Arzùa)
981 508 132
12€
72 beds
Arzùa
Albergue de Arzùa
660 396 824
6€
46 beds
Arzùa
De Camino Albergue
981 500 415
10€
46 beds
Arzùa
Casa del Peregrino
686 708 704
12€
14 beds
Arzùa
Albergue Ultreia
981 500 471
10€
38 beds
Arzùa
Albergue O Santo
981 500 957
12€
22 beds
Arzùa
Albergue Via Lactea
981 500 581
12€
120 beds
Pregontono
Albergue Camino das Ocas
648 404 780
10€
30 beds
Salceda
Albergue Alborada
620 151 209
12€
10 beds
Salceda
El Albergue de Boni
618 965 907
10€
30 beds
Salceda
Albergue Turistico de Salceda
981 502 767
13€
36 beds
Brea
Albergue El Chalet
659 380 723
12€
14 beds
Empalme
Albergue Andaina
981 502 925
10€
14 beds
Santa Irene
Albergue de Peregrinos de Santa Irene (privado)
981 511 000
13€
15 beds
Santa Irene
Albergue Rural Astral
981 511 463
13€
24 beds
Santa Irene
Albergue de Peregrinos de Santa Irene (municipal)
660 396 825
6€
36 beds
O Perdouzo
Albergue O Burgo
630 404 138
10€
14 beds
O Perdouzo
Albergue Porta Santiago
981 511 103
10€
60 beds
O Perdouzo
Albergue Otero
671 663 374
10€
36 beds
O Perdouzo
Albergue O Trisquel
616 644 740
10€
68 beds
O Perdouzo
Albergue Edreira
981 511 365
12€
40 beds
O Perdouzo
Albergue Cruceiro de Perdouzo
981 511 371
10€
94 beds
O Perdouzo
Albergue de Arca do Pino
660 396 826
6€
120 beds
O Perdouzo
Albergue Rem
981 510 407
10€
40 beds
Lavacolla
Albergue Lavacolla
981 897 274
12€
32 beds
Monte Del Gozo
Albergue de Monte de Gozo
660 396 827
6€
400 beds
Monte Del Gozo
Centro Europeo de Peregrinaciòn Juan Pablo II
981 597 222
Donation
68 beds
Camino de Santiago tours & reviews
Camino de Santiago Information
Camino de Santiago Routes & Maps
Camino Portugues

The Portuguese Way, the second most popular route, starts in either Lisbon or Porto and takes hikers from Portugal to Spain. Considerably longer, the Lisbon hike starts at the Lisbon Cathedral and passes through Caldas da Rainha, the Alcobaca Monastery and Porto before crossing several rivers on its way north to Spain.

Distance: 610 km (380 mi)
Average duration: 21-30 days 
Average difficulty/success rate: The Portuguese Way is relatively moderate. Minor elevation gains work to your advantage, though concrete and cobblestone roads, which it has its fair share of, can put a strain on the walk. The success rate is high.
 

Read more

Camino de Finisterre

Once you've reached Camino de Santiago, you might continue on to the "end of the world". Cape Finisterrae is one of Europe's westernmost points, thus the name. Adding 90 kilometres to the trip along an ancient route, perhaps even another 29 to Muxia, might just be an epic way to wrap up the journey.

Distance: 90 km (55 mi), 117 km (73 mi) to Muxia
Average duration: 2-4 days
Average difficulty/success rate: Because it's a shorter hike and offers spectacular views, the road to Finisterrae is a moderate route to take on. The success rate is certainly high, even if fewer people traverse it, choosing to end their trip at the cathedral.
 

Read more

Camino Frances

Is it a wonder why the French Way is favoured by most Camino de Santiago pilgrims? It's not just the most traditional route, with a lot of history surrounding it. It also boasts lush landscapes, charming towns and great infrastructure along the way, taking travellers through the beautiful Iberian Peninsula for a month. 

Distance: 772 km (480 mi)
Average duration: 4 weeks
Average difficulty/success rate: Due to the excellent infrastructure and facilities along the way, not only is Camino Frances an enjoyable hike, it's also a fairly moderate hike. So long as you take a couple of days to rest along the way, you are guaranteed to make it to the end.

Read more

Camino del Norte

For 827 kilometres, Camino del Norte stretches from the town of Irun in Basque Country to Santiago de Compostela, following Spain's northern coastline. It's not only the longest route in the network, it is also the least travelled and has fewer facilities, making it ideal for thru-hikers who prefer solitude and a challenge.

Distance: 827 km (514 mi)
Average duration: 36 nights
Average difficulty/success rate: A little more than a month and a more rigid schedule could be challenging for less experienced hikers. The success rate is generally good, so long as you train beforehand and can tackle more than 21 miles a day.

Camino Inglés

A favourite among hikers arriving from the British Isles and northern Europe, the English Way starts from the City of Ferrol and runs straight south to Camino de Santiago. Though short, it does boast longer sections and major elevation changes, making it a challenge for the more casual walkers.

Distance: 119 km (74 mi)
Average duration: 6 nights
Average difficulty/success rate: This ranks as medium to high in difficulty, though chances of completing are very good because of its short distance.
 
Other hikes you might like...
Discover the world with our vast selection of multi-day hiking and trekking tours.
A TRAVEL MAGAZINE BY TOURRADAR