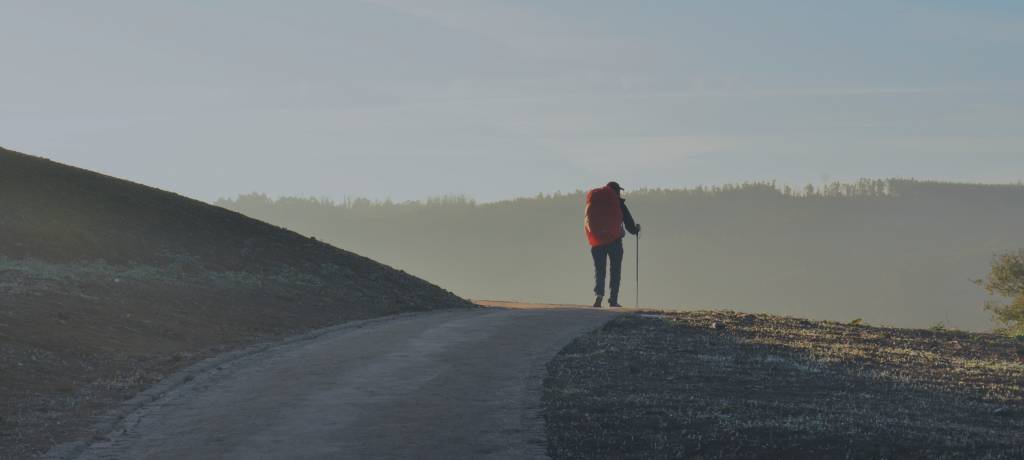 The best time to walk the Camino de Santiago
What is the best time of year for walking the Camino de Santiago? Read here when to walk the Camino season by season and discover which weather will you find along the way. Pick the route you want to walk in and reach Santiago de Compostela!
See all Camino de Santiago tours
Weather Camino de Santiago
Here the weather in Camino de Santiago during September, October and all the other months of the year.
JAN
FEB
MAR
APR
MAY
JUN
JUL
AUG
SEP
OCT
NOV
DEC
Average °C
7.7
8.3
10.2
11.2
13.6
16.8
18.6
19
17.4
13.8
10.4
8.5
Average °F
45.9
46.9
50.3
52.2
56.5
62.2
65.5
66.2
63.3
56.8
50.7
47.3
Rainfall mm
210
167
146
146
134
72
43
57
107
226
217
261
Rainfall >1 mm days
15.2
12.3
13.4
14.4
12.5
7.6
5.7
5.5
8.4
14
14.9
15.9
Average High °C
11.2
12.4
15
16.1
18.6
22.2
24.3
24.7
22.8
18.1
14.1
11.9
Average High °F
52.2
54.5
59
61
65.6
72
75.7
76.5
73
64.6
57.4
53.4
Average Low °C
4.1
4.1
5.3
6.2
8.6
11.3
13
13.3
11.9
9.5
6.7
5
Average Low °F
39.4
39.4
40.7
43.2
47.3
52.3
55.4
55.9
53.4
49.1
44.1
41
Camino de Santiago tours & reviews
Camino de Santiago Information
Camino de Santiago Routes & Maps
Camino Portugues

The Portuguese Way, the second most popular route, starts in either Lisbon or Porto and takes hikers from Portugal to Spain. Considerably longer, the Lisbon hike starts at the Lisbon Cathedral and passes through Caldas da Rainha, the Alcobaca Monastery and Porto before crossing several rivers on its way north to Spain.

Distance: 610 km (380 mi)
Average duration: 21-30 days 
Average difficulty/success rate: The Portuguese Way is relatively moderate. Minor elevation gains work to your advantage, though concrete and cobblestone roads, which it has its fair share of, can put a strain on the walk. The success rate is high.
 

Read more

Camino Primitivo

A few ups and downs, rocky or muddy sections and the frequency of the paved roads make Camino Primitivo one of Camino de Santiago's most challenging routes. It is, however, worth tackling, if only for the challenge and for the fact that it's the oldest one. You will be rewarded with breathtaking views.

Distance: 321 km (199 mi)
Average duration: 12-15 days
Average difficulty/success rate: Camino Primitivo has its fair share of challenging climbs and descents as well as paved sections, making it a difficult route. Still, if you take your time, the success rate is high.
 

Read more

Camino de Finisterre

Once you've reached Camino de Santiago, you might continue on to the "end of the world". Cape Finisterrae is one of Europe's westernmost points, thus the name. Adding 90 kilometres to the trip along an ancient route, perhaps even another 29 to Muxia, might just be an epic way to wrap up the journey.

Distance: 90 km (55 mi), 117 km (73 mi) to Muxia
Average duration: 2-4 days
Average difficulty/success rate: Because it's a shorter hike and offers spectacular views, the road to Finisterrae is a moderate route to take on. The success rate is certainly high, even if fewer people traverse it, choosing to end their trip at the cathedral.
 

Read more

Camino Frances

Is it a wonder why the French Way is favoured by most Camino de Santiago pilgrims? It's not just the most traditional route, with a lot of history surrounding it. It also boasts lush landscapes, charming towns and great infrastructure along the way, taking travellers through the beautiful Iberian Peninsula for a month. 

Distance: 772 km (480 mi)
Average duration: 4 weeks
Average difficulty/success rate: Due to the excellent infrastructure and facilities along the way, not only is Camino Frances an enjoyable hike, it's also a fairly moderate hike. So long as you take a couple of days to rest along the way, you are guaranteed to make it to the end.

Read more

Camino del Norte

For 827 kilometres, Camino del Norte stretches from the town of Irun in Basque Country to Santiago de Compostela, following Spain's northern coastline. It's not only the longest route in the network, it is also the least travelled and has fewer facilities, making it ideal for thru-hikers who prefer solitude and a challenge.

Distance: 827 km (514 mi)
Average duration: 36 nights
Average difficulty/success rate: A little more than a month and a more rigid schedule could be challenging for less experienced hikers. The success rate is generally good, so long as you train beforehand and can tackle more than 21 miles a day.

Camino Inglés

A favourite among hikers arriving from the British Isles and northern Europe, the English Way starts from the City of Ferrol and runs straight south to Camino de Santiago. Though short, it does boast longer sections and major elevation changes, making it a challenge for the more casual walkers.

Distance: 119 km (74 mi)
Average duration: 6 nights
Average difficulty/success rate: This ranks as medium to high in difficulty, though chances of completing are very good because of its short distance.
 
Other hikes you might like...
Discover the world with our vast selection of multi-day hiking and trekking tours.
A TRAVEL MAGAZINE BY TOURRADAR