Egypt Experience 15 days 5* Nile Cruise & The Red Sea
Member-Only Savings
ends on 22 Jul 2018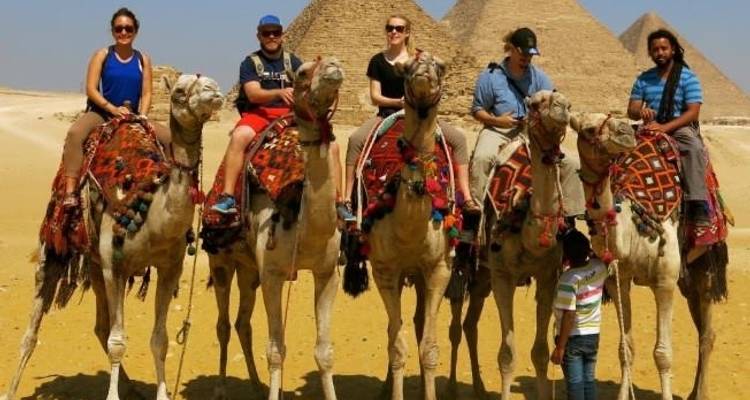 Zhang
"It is so exelent trip in Egypt. I'm from China.Befor I come my family and friends are so afraid of my single trip. As I get to Cairo airport. When I saw my name on driver's board I was so moved. As soon as I get to Cecilia hotel, the manager Mena made me a exerlent plan according to my request. He is so skilled with all the details about all my trip. All my trip are very splended. Not only know m..."
Excellent

15 reviews
Starts

Cairo

+10 Destinations

Ends

Cairo
Highlights
Visit the Great Pyramids
Sail down the Nile
Tour the East Bank of Luxor
Visit the Philae Temple
Age range

20 to 45 year olds

Accommodation

Hotel, Berth / Cabin, Sleeper Train

Transportation

Train & Rail, Boat, Private Vehicle

Travel style
Start and end in
Cairo
! With the
in-depth cultural
tour Egypt Experience 15 days 5* Nile Cruise & The Red Sea, you have a
15 day
tour package taking you through Cairo, Egypt and 9 other destinations in Egypt. Egypt Experience 15 days 5* Nile Cruise & The Red Sea includes accommodation in a hotel as well as an expert guide, transport and more.
15 Reviews
Excellent

100%

Good

0%

Average

0%

Rather Poor

0%

Bad

0%
Write a review
Josie

Written on July 3, 2018

It was well organized. Peter was wonderful at taking care of everything for us. Nothing was too much trouble for him. He made us all feel very relaxed and safe and showed us so many wonderful things in Egypt. His historical knowledge was excellent too and he spoke very good English that it was easy to explain anything to him .

Show detailed ratings

Written on May 11, 2018

I loved visiting the temples and the pyramids of course! We were very lucky to have Peter as our tour guide. He was very informative and friendly. I would highly recommend this tour and our tour guide Peter to anyone!

Show detailed ratings

Written on April 4, 2018

IT was on of my Best holidays ever. Tanks again to all timeless Tour people for make this such a great Trip.

Show detailed ratings

Christophe

Written on April 4, 2018

First of all, I want to say that we had a fantastic time in Egypt. It was a trip filled with experience and discovery. The 15-day trip is well balanced because you have 10 days very busy with visits of all sorts and then 5 days to relax at the beach. I decided to write my review based on the questions I had before I left for this trip. HOW IS EGYPT? It is a beautiful country. Cities are very busy, a bit messy and disorganized but it ends up working well. I would not go with young children (we traveled with my 19-year old daughter). I think that group tours are the way to go because the police keeps tourists on a short leash and tour companies know how to deal with the police and follow all the proper registration so you do not get stopped at police checkpoints (which seem to be every 50 miles on the main intercity roads). Since the devaluation of the Egyptian pound, it is impossible to buy the currency in the US. Nobody in Egypt accepted my US travelers check. Therefore we handled everything with credit cards and cash (many ATM's are available and they take US cards). There is usually a limit to how much money you can withdraw per day. Food is good, not spicy at all (except pickled vegetables) but it is a bit monotonous. Nevertheless, I had the best Tahini ever and we had great fish during our stay along the Red Sea. IS TIMELESS TOUR RELIABLE? The answer is a resounding YES. They clearly have a lot of business going. Our group had about 60 people (split in two groups of roughly 40 and 20). They combine the 8, 9, 10 and 15-day tours as well as tours from some other companies but Timeless Tour is the operating company so if you book with them you will deal with Timeless Tour employees. Their goal is to make you happy and give you the desire to come back. They did an amazing job at managing a group of 60 people and giving everyone options to do what they wanted when they wanted (Abu Simbel visit, trips by bus or plane, felucca or boat cruise, hot-air balloon ride, upgrade for some hotels, extension of stay, etc…). I do not know how they can manage 60 people and offer so many options and add-ons but they do it. HOW ARE THE BUS RIDES? All the buses we had were air-conditioned and comfortable. Driving in Egypt is crazy: just trust your driver and do not look at the road. We ended up upgrading all the long bus rides to airplanes. I thought that flying in Egypt was very safe. Security at the airport is a bit of a pain but once you are in the plane, everything is great. It is a bit outdated (maybe like flying in the 1990's but it feels very safe). The bus trips to Aswan and between Cairo and Dahab seem to have been hectic (for the ones who took them) so we were happy to have flown. On the other hand, the night bus from Hurghada to Cairo is only 5 hours and on our tour the bus was late so it left at 7am (instead of midnight). Had I known, I would not have upgraded that one. HOW ARE THE HOTELS? I thought the Oasis hotel in Cairo was fine. The rooms are like a mid-priced US hotel that you find on highways. They have rooms in 2-story buildings and in bungalows, I thought the two-story building was better. The grounds are luxurious with expansive green spaces, an enclosure with flamingos, a nice pool and restaurants. You are a bit stuck in the hotel (cannot walk to any place interesting) but that is true of all the hotels and it helps the police control the movements of tourist. The cruise on the Nile was a nice river cruise, room was good, so was the food. There was a very nice sundeck. The hotel in Hurghada is an all-inclusive resort catering to German and Russian vacationers. The room was very large and clean. Grounds were again luxurious with several pools and activities (a bit like Club Med). The hotel in Dahab was a bit of a letdown. Our plan in Dahab was to relax at the beach or at the pool but the idea is actually to spend your time snorkeling and diving during the day and crash at the hotel at night. The hotel was small. Room was ok with a very small bathroom and there was no pool. Even though you could touch the Red Sea, there was no beach (the shores of the Red Sea are made of volcanic rock so it is difficult to get to the water unless the hotel has an artificial beach or a pier that bypasses the volcanic rock). On the other hand, there was a "boardwalk" bringing you to the shopping area of the village that was nice. Nevertheless, we demanded to go somewhere else and after some resistance from Timeless, we purchased an upgrade for the Swiss Inn, which was similar to (maybe even better than) the resort in Hurghada. HOW ARE THE VISITING SITES? I was pleasantly surprised that everything we saw was either in good condition or had been rebuilt. You do not spend 10 days looking at piles of stones (like the Forum in Rome) you actually walk through buildings and you can feel the grandeur of things. The program was packed and we ended up running everywhere but they did what they could with such a large group. They always give you 30 to 60 minutes to yourself so you can go back looking at things and take pictures (if allowed). The tour guides give you great tips about what to do, which add-ons are worth it (like the visit of the tomb of Ramses 6) and which are not (like the visit of the inside of the Great Pyramid). ARE THE HAGGLERS AS BAD AS THEY SAY? Yes the hagglers are a nightmare. Again the tour guides give you tips to handle them. The golden rule is to be rude and to ignore them completely. If you look at them, they will start a conversation; if you touch the merchandise, you will end up buying. We even had boats with hagglers follow us on the cruise. It was a pain because I would have liked to browse but it is just not possible. One haggler was selling shirts, which looked nice, and he was telling a nice story. He started to reduce his asking price and I decided to buy a shirt to be nice with him. I did not convert and I ended up paying $15 for a one-dollar shirt. You would think that he would have run like a thief after such a steal. Quite the contrary! My overpaying put up a huge "moron sign" on my forehead and they started to throw stuff at me and demand more money. I had to run to the bus for cover. My 19-year old daughter was very bothered by all the hagglers since she could not understand why storekeepers would approach anyone when you had not expressed interest in their merchandise. The tour guides will give you advice on spots where storekeepers or camel riders are less aggressive. DO YOU NEED TO TIP EVERYONE? The Egyptian culture is a tipping culture (like the American culture). A few pounds (literally nickels and dimes) go a long way. The guides will collect a tipping kitty and you do not have to worry about anything during the trip (except for public bathrooms that always cost a couple of pounds per person). Feel free to give extra tips to servers, bell boys, etc… HOW DIFFICULT WAS MT SINAI. I am obese and I was very concerned about Mt Sinai. I had a few massages before and after the climb. I took knee braces and a back brace. I used the camel ride (which was a magical experience for me, looking at the stars while the camel slows goes up the path was a great experience). Do not hesitate to ask them to adjust the saddle if you feel it is a bit tight, they can do it very easily. The camel ride was 250 EGP, which was 2 to 4 times what I thought the rate was but it was worth every penny. Our Bedouin paced the 750-step climb very well. We stopped every 50 steps to take a breath and every 150 steps for a pause. By the way the steps are a path of aligned rocks rather than a staircase. Temperature in Mid-March was in the 40F's (5 to 10 C). If I could do it with a bit of prayer and preparation, anybody can do it. I would definitely use Timeless Tours again.

Show detailed ratings

Nancy

Written on March 7, 2018

This was my first vacation I booked using a tour. If you want to see Egypt this is the way to go. I say this because our trip covered a lot of important sites to see. There were some early morning starts and late days. You get a lot covered. Plus there are optional excursions such as Hot air balloon ride, Nubian dinner (which was such a good experience!) Accomodations were top notch and food was great! No complaints at all. Transfers to and from airport at your time of arrival was seamless. Our tour guide for the group, Peter, was so well informed with Egypt's history and places to go and see, I would have wanted to hire him as a personal tour guide if allowed. Variety of accommodations was refreshing. From hotel to Nile Cruise ship to a really cool place in Dahab to relax by the sea. Although February might be the coldest time of the year there, it was pleasant for me, not too hot during the day so you can explore comfortably. I swam in pleasant temp. water. The people that I dealt with during my stay as well as the employees for Timeless tours were always available for you; friendly, helpful, and accommodating. Thank you.

Show detailed ratings

Written on March 3, 2018

Honestly a very well structured and safe tour. Definitely recommended (from Australia)

Show detailed ratings

Written on February 18, 2018

My experience in Egypt was amazing. We truly had the experience of a lifetime!I took this trip with my sisters to see the wonderful sights in Ancient Egypt. Whilst there we had our wonderful tour guide Mariam Tawfiq. Mariam did a fantastic job at showing us some of the fantastic sights of Egypt with much knowledge to share with us for each and every sight. Mariam taught us things we hadn't previously known. She gave us a thirst for knowledge that she gladly helped us with. Throughout our tour, she got to know myself and my sisters personally. Her last day Mariam got really sick, yet she still managed to join us and take us to places. If that isnt dedication then I dont know what is!! Her performance was OUTSTANDING and if I were to ever come back to Egypt, I would make sure I have Mariam as my tour guide. From the museum to the Great Pyramids. We all felt that we got to love and know Egypt with Mariam's help. I would like to also thank Ramez as he was also my tour guide for two days. Ramez had paitence to deal with all of us (trust me my sisters and I were a handful). He helped us with everything that we wanted. Thank you Ramez! A truly 5* trip.Thank you Timeless, Mariam, and Ramez!

Show detailed ratings

Written on February 18, 2018

We heard about timeless tour through our friend whom had gone with this company and highly recomended us to go with. My sisters and I decided to check them out but before we had decided to go with them, we had endless watsapp msgs exchanged to ensure what the best tour was for us. They were responsive calm and always portrayed professionalisim. We asked a lot of questions and not once they portrayed hesistance in their response. This made us feel a lot more comfortabe with our decision to go ahead with the booking. We had decided to go with Highlight 15 day tour. Their first initial contact with us to right to the end of our trip they made us feel safe, comfortable and delivered the best memorable experience we would ever encounter. Our group started off big but then it broke into two teams - one team where those that sailed on a boat and the other group were those whom chose the fellucca. Our main tour guide Mariam Tawfik was one of the best souls we had encountered. Her passion for the nation and history is evident in her speach and action. Her vast knowledge and impeccable proffesionalism was evident in the way she handled and ensured everyone was satisfied. She delivered above and beyond experience for us even on our last day tour where she fell sick but still wanted to make sure she did not cancel on us and delivered outstanding performance. At some point we had another tour guide for a short time as the team became one again at this point. Ramez a man whom you would also never forget. Our time was short with him but indeed he has left us with an unforgettable experience. No short of knowledge he was. There's a lot to see in Egypt and timeless tour tires to capture as much as possible in the tour, which makes it that extra special. This means some of the days you would need to wake up really early such as 4am starts to get to see all those monuments and temples. Nevertheless 4am starts were not an issue as long as we got to steal a moment of time in history. Thank you so much Timeless Tour, Mariam and Ramez for truly delivering unforgettable expereince. We hope to see you again in the near future.

Show detailed ratings

Steven

Written on January 17, 2018

First of all, thanks a lot Timeless for the wonderful tour!!! i had a great time with my family. We booked a 15 days package with Dahab and it was absolutely fantastic. It was very well organised, with great service/food/accommodation and value for money, also most importantly the safety and security provided by the organizers. I searched a lot of tours for months where my parents could join too (age about 60+), I would definitely recommend Timeless as they supported my family all the way. from site seeing to breaks. The tour was not pushed / rushed. In person, Hany was really helpful, offering us support and assistance prior booking and until the end and Sam as well for his support at Cairo. And hats off to our tour guide Ramez!!! really passionate with a lot of knowledge, he can go on and on at times but a really good person. A great guide, making sure everything is fine and very helpful. There was this one time where we almost left Edfu temple on the boat and my wife left her bag with valuables back at the temple. Rames literally jumped off the boat and sprinted straight to the coffee shop in seconds before we could even react, lol was amazing. Thanks for that! and great memories at Dahab!! All in all, a great tour and once of the most memorable one for me and my family! Good luck and all the best.. keep doing the good work From Steven Pinto and family!!!

Show detailed ratings

Written on November 30, 2017

It is so exelent trip in Egypt. I'm from China.Befor I come my family and friends are so afraid of my single trip. As I get to Cairo airport. When I saw my name on driver's board I was so moved. As soon as I get to Cecilia hotel, the manager Mena made me a exerlent plan according to my request. He is so skilled with all the details about all my trip. All my trip are very splended. Not only know many friends all over the world, but also all my trip connected so fluently. I feel I like VIP . All drivers are so kind and all guids are interest in talking. Let me know many things and understand Egypt people,history,culture,and so on. Every time I transport from one place to another I can receive phonecall from Mena or driver or hotel (It must be Mena arranged all the things ahead of time.) I feel as at home in Egypt because there are Egyptian care for me. My Visa card canot work Mena and Sam help me to solve all my problem. And call me to remined me cautions. It is so nice feeling here. And the price us in my anticipation.

Show detailed ratings
Itinerary
Download PDF Brochure
Introduction

Expand all
Day 1: Cairo
Day 2: Cairo - Giza Pyramids - Aswan
Day 3: Aswan
Day 4: Nile cruise from Aswan
Day 5: Cruising the Nile
Day 6: Luxor to Red Sea Hurghada
Day 7: Hurghada, Red Sea
Day 8: Cairo
Day 9: Cairo - Dahab
Day 10: Dahab
Day 11: Dahab (PETRA Option)
Day 12: Dahab
Day 13: Dahab 

Day 14: Dahab to Cairo
Day 15: Cairo - Flight back home
What's included
Expand all
Accommodation

Rated Excellent by past passengers

Guide

Rated Excellent by past passengers

Transport

Rated Excellent by past passengers

Additional Services
Download PDF Brochure
Videos
Is it safe to travel to Egypt?
After the devastating event that took place in North Sina Egypt we asked our travellers who are currently on our Nile Jewel 9 day tour How do they feel about safety in the tour, and this is what they had to say. Please watch and share
Questions & Answers
Here we have collected and answered the most frequently asked questions about this tour.
Can I upgrade to a sleeper berth on the overnight train?

Yes. You can upgrade to sleeper berth on the overnight train.

Can I upgrade the hotel in Dahab?

Yes. You can upgrade the hotel in Dahab.

Can we find out which hotels we would be staying at?

All accommodations are subject to change until 4-6 weeks before the departure date. After the booking is made you will be issued your final trip documents with your specific accommodation details 4-6 weeks before departure. Under the "What's Included" tab on each tour page, you can find general info about the accommodations used on the tour before you book.
Ask a question
Guides who have led this tour
What are people saying about TourRadar?
Availability
NO CREDIT CARD FEES
Egypt Experience 15 days 5* Nile Cruise & The Red Sea
Select Departure Month
Upcoming departures
July 2018
August 2018
September 2018
October 2018
November 2018
December 2018
January 2019
February 2019
March 2019
April 2019
May 2019
June 2019
July 2019
August 2019
September 2019
October 2019
November 2019
December 2019
START
END
SEATS LEFT
SAVE NOW
PRICE
Saturday

Jul 21, 2018

from Cairo

Saturday

Aug 4, 2018

to Cairo

9

seats left

$308

Saturday

Jul 28, 2018

from Cairo

Saturday

Aug 11, 2018

to Cairo

10+

seats left

$308

Saturday

Aug 4, 2018

from Cairo

Saturday

Aug 18, 2018

to Cairo

10+

seats left

$308

Saturday

Aug 11, 2018

from Cairo

Saturday

Aug 25, 2018

to Cairo

10+

seats left

$308

Saturday

Aug 18, 2018

from Cairo

Saturday

Sep 1, 2018

to Cairo

10+

seats left

$308

Saturday

Aug 25, 2018

from Cairo

Saturday

Sep 8, 2018

to Cairo

10+

seats left

$308

Saturday

Sep 1, 2018

from Cairo

Saturday

Sep 15, 2018

to Cairo

9

seats left

$308

Saturday

Sep 8, 2018

from Cairo

Saturday

Sep 22, 2018

to Cairo

10+

seats left

$308

Saturday

Sep 15, 2018

from Cairo

Saturday

Sep 29, 2018

to Cairo

10+

seats left

$308

Saturday

Sep 22, 2018

from Cairo

Saturday

Oct 6, 2018

to Cairo

10+

seats left

$308
Monthly price comparison
About the countries
Useful things to know before you go
---
Currencies
---
Plugs & Adapters
---
Visa
Here is an indication for which countries you might need a visa. Please contact the local embassy for help applying for visas to these places.
---
Vaccinations
These are only indications, so please visit your doctor before you travel to be 100% sure.
Typhoid

Recommended for Egypt. Ideally 2 weeks before travel.

Hepatitis A

Recommended for Egypt. Ideally 2 weeks before travel.

Hepatitis B

Recommended for Egypt. Ideally 2 months before travel.

Rabies

Recommended for Egypt. Ideally 1 month before travel.

Yellow fever

Certificate of vaccination required if arriving from an infected area for Egypt. Ideally 10 days before travel.
---
Policies
Location

Start and end in Cairo.

Trusted

Your money is safe with TourRadar, as we only pay the tour operator after your tour has departed.

Deposit

TourRadar only requires a deposit of 20% to confirm this Timeless Tours booking. The remaining balance is then payable 60 days prior to the departure date. For any tour departing before 16 September 2018 the full payment of $714 is necessary.

Cancellation policy

No additional cancellation fees! You can cancel the tour up to 60 days prior to the departure date and you will not need to pay the full amount of $714 for Egypt Experience 15 days 5* Nile Cruise & The Red Sea, but the deposit of 20% is non-refundable. If you cancel via TourRadar the standard cancellation policy applies.

Availability

Some departure dates and prices may vary and Timeless Tours will contact you with any discrepancies before your booking is confirmed.

Credit Cards

The following cards are accepted for Timeless Tours : Visa - Master Card - American Express
Destinations
Covering a total distance of approx 2,206 km.
Cairo (Egypt)
4 km
Giza (Egypt)
681 km
Aswan (Egypt)
45 km
Kom Ombo (Egypt)
55 km
Edfu (Egypt)
84 km
Luxor (Egypt)
4 km
Karnak (Egypt)
11 km
Valley of the Kings (Egypt)
200 km
Hurghada (Egypt)
399 km
Cairo (Egypt)
Show all destinations
Why book with TourRadar
Best Price Guarantee

If you book with TourRadar and within 24 hours you find a better price than $714 for the same tour, TourRadar will pay you the difference

Safely book online

All your details are safely protected by a secure connection

2,212 tours in Africa

covered by 122 different operators in Africa

No Cancellation Fee

TourRadar does not charge any additional cancellation fees. You can cancel the tour up to 60 days prior to the departure date. If you cancel your booking for Egypt Experience 15 days 5* Nile Cruise & The Red Sea via TourRadar the standard cancellation policy applies.

15 Genuine Reviews

All reviews are verified from travellers who went on Egypt Experience 15 days 5* Nile Cruise & The Red Sea