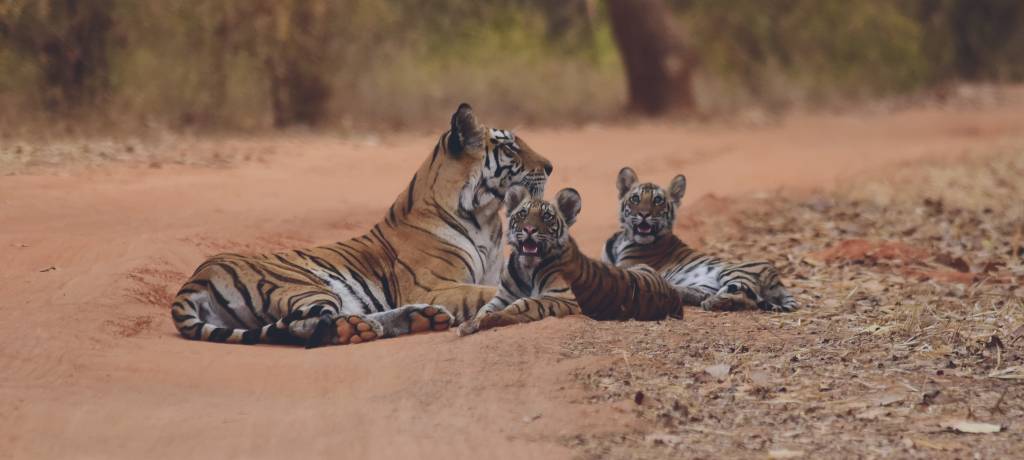 Best time to visit Ranthambore National Park
Now a sanctuary, at one time this iconic national park was a hunting ground for royalty. Discover when to experience the majestic sites of Ranthambore National Park. It's one of the best places in Rajasthan to spot tigers roaming in the wild, see exotic bird species, and explore jungle terrain. 
See all Ranthambore safaris
Weather in Ranthmabore National Park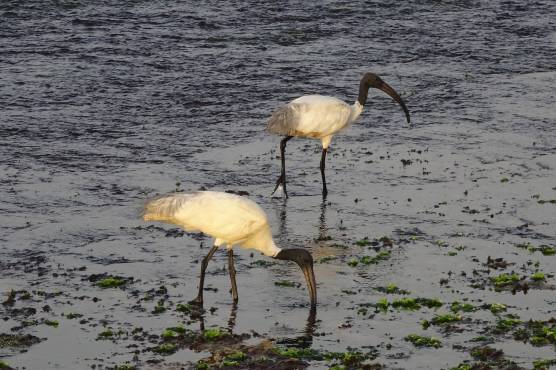 Ranthambore in October through March
In the aftermath of monsoon weather, the park is lavishly green, there's plenty of wildlife (including animals with their little ones), and the weather is very comfortable. Many migratory birds make their way to Ranthambore for the winter season, so it's a great time to spot winged species. It's possible to spot tigers at this time, but your chances of seeing them are significantly higher during the summer. Winter is also a prime time for festivals. One of the most important, Dusshera, is celebrated in October.  

Tip: Mornings and evenings can get quite chilly so bring your gloves and a warm layer to stay comfortable during the safari.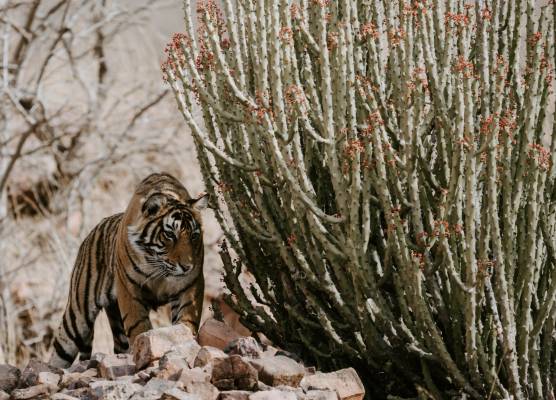 Weather in April to June
Summers in Ranthambore are hot and dry. If the soaring temperatures don't put you off, this is a good time to visit the park, as the wildlife is abundant. The chances of seeing a tiger and several other wild animals skulk past you are higher. Watering holes are dry, so animals cluster around available water sources, giving you ample opportunity to see them in their natural habitat. The heat wards off tourist crowds and animals relish in the privacy and come out to play. 

Tip: To avoid direct exposure to the sun, wear long-sleeve cotton clothes. Use plenty of sunscreen and drink copious amounts of water. 
July to September in Ranthambore
Due to monsoon season, the park closes during these months. It's not possible to visit Ranthambore from July to September. 
Average temperatures in Ranthambore National Park
AVG TEMP °C
AVG TEMP °F
January
17°C
63°F
February
19°C
66°F
March
25°C
77°F
April
31°C
87°F
May
35°C
95°F
June
34°C
93°F
July
30°C
86°F
August
28°C
82°F
September
29°C
84°F
October
28°C
82°F
November
22°C
71°F
December
18°C
64°F
Most popular Ranthambore safaris
FAQ
What is there to do in Ranthambore National Park?

Along with spotting tigers, visit the ancient Ranthambore Fort, spread over 7-kilometres across the park, with the famous Ganesha temple inside. You'll also find Jogi Mahal. This old hunting lounge is one of the most photographed monuments in the park. Ranthambore is also a great location to spot panthers, crocodiles, sloth bears, and many other fascinating animals. The area surrounding the park is also full of attractions, including beautiful temples and museum of natural history.

What are the opening hours of Ranthambore National Park?

Opening hours of Ranthambore vary during different seasons. In February, March and October, morning trips start at 6.30 am till 10.00 am; afternoon trips take place from 2.30 pm till 6.00 pm. Between April and June morning trips begin at 6.00 am till 9.30 AM, afternoon trips are from 3.00 pm to 6.30 pm. From November till the end of January the park is open from 7.00 am to 10.30 am and 2.00 pm to 5.30 pm. While we make every effort to provide up-to-date information, times may change.

How big is Ranthambore National Park?

Together with the Mansingh Sanctuary and the Kaila Devi Sanctuary, Ranthambore National Park covers an area of 392 kilometres (151 square miles). The park consists of 10 zones and a buffer area. Ranthambore National Park is one of the biggest national parks in Northern India and also one of the most popular.

Are there any vaccinations required for India?

Yes, most travellers need vaccinations before entering India. The most common vaccinations are Hepatitis A and Typhoid, however the whole list is long and varies based on a country of orgin. Consult your physician before travelling to be 100% sure.
Contact our Travel Experts
+1 844 311 8331
24/7 Support
Our team of experienced tour specialists have travelled to hundreds of countries around the globe and have decades of first-hand travel experience to share. Contact us now to have all of your tour-related questions answered!
Ranthambore safari reviews
Tour operators and travel companies in Ranthambore
Compare the best safari companies operating tours through Ranthambore National Park based on user reviews from past travellers.
A TRAVEL MAGAZINE BY TOURRADAR