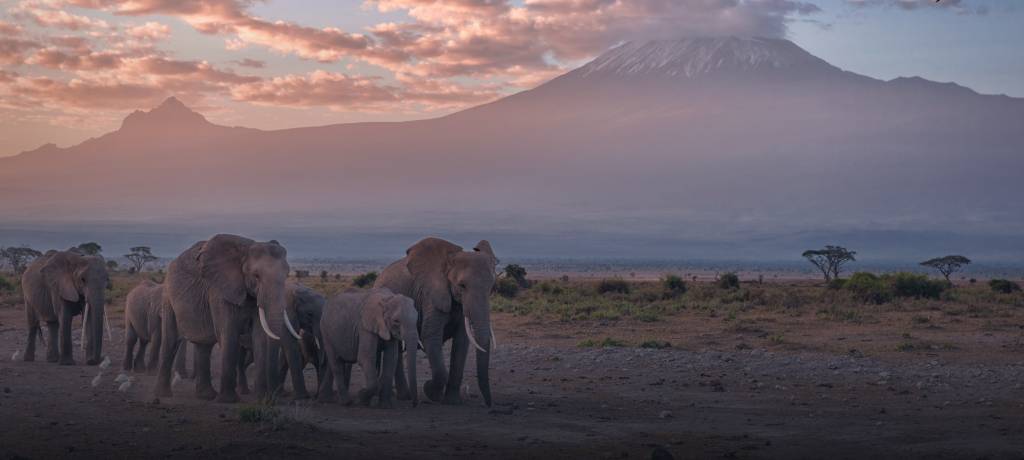 When to visit Kenya
Africa brings many colours to life, but Kenya's deep orange sunsets, shimmering blue coastline, desert landscapes and incredible wildlife are the hues you've been dreaming of. If you're wondering when to visit Kenya, the answer is always. But there's a perfect time for everything depending on which adventure you seek upon the country's glorious soil.
See all Kenya tours
Best month to visit Kenya
Best time for activities
Best time to visit the beaches
Kenya is the perfect setting for a beachside getaway for most of the year! Thanks to the sun shining down on the coastline consistently, the sand and sea are usually warm.
Best time to visit Kenya's beaches
January: Pair rainfall that only lasts for an average of four days, with sea temperatures of 29°C (84°F), January is a great month to work on your tan and take a dip. 
February: The probability of rain in February is low (an average of two days), and the sea temperatures hover at 29°C (84°F). 
April, May and June: These months are not recommended. There's a high probability of rain. In May, you can expect an average of 17 rain days and 300mm of precipitation.
August: An average of 12 rain days and this is when sea temperature will be at its lowest but still warm at 25°C (77°F).  
September: 11 rain days on average, sea temperatures are still warm at 26°C (79°F).
October and November: If you don't need to wait for the school holidays, these months are a good time to visit for a sandy escape. 
December: One of Kenya's warmest months - for those that love hot weather this might be an excellent time for a beachside vacation. 
See all Kenya beach tours
Best time for a wildlife safari
Depending on what wildlife you want to see, some months are better than others! Find out the best time to visit Kenya for wildlife from month to month below.
Best months to see wildlife in Kenya
January and February: These are the warmest months in Kenya, and it's possible to see animals in high densities in many of Kenya's popular parks.
March: This is the start of rainy season in Kenya which continues right through April and May. The wet season makes for poor wildlife spotting - but you will snag a deal!
June: As the dry season begins, animals congregate around waterholes and riverbanks, this is an excellent time to spot lots of species quenching their thirst at waterbodies scattered throughout Kenya's national parks.
July and August: During these months you can catch the Great Migration of wildebeest and other species through Masai Mara. It's a little more pricey but worth it!
September, October and November: As school holidays wind down, parks throughout Kenya become a little quieter, and this is a good time to visit if you want fewer crowds during your safari.
December: This is a beautiful time to visit if you want to see birds that have migrated to the region and baby animals.
If you do opt to go for a safari in the wet season, you'll get lower prices but be aware that the risk of malaria goes up and families should take precautions in this case.
See all Kenya safari tours
Best time to see the Great Migration
The Great Migration is an annual journey that millions of animals embark on through Tanzania's Serengeti plains in the south and Kenya's Masai Mara in the north in a circular route (view
migration map
). July to November is considered the best months to view this spectacle, but in Kenya, July and August are when the wildebeest move to Masai Mara and cross the Mara River in droves, a sight that many travellers to this region hope to see. If you want to catch herds of wild animals crossing the flowing river, this is the best time to see the Great Migration in Kenya. To experience the migration, look for a cross-country 
Kenya-Tanzania safari
.
See all Great Migration tours
Best time to visit the big cities
The slightly cooler months of July and August might be the best time to visit Mombasa in Kenya, but there are plenty of other fantastic cities you have to check out while you're visiting this beautiful country. 
Must-see cities in Kenya 
Mombasa - Renowned for its beach resorts and pristine coastline, Mombassa is also a cultural hub. Discover how Indian, Arabic and African influences have fused in this port city. 
Nairobi - Kenya's capital is home to lots of attractions that tourists will enjoy. You'll also find entertainment and a vibrant food scene.
Lamu - The oldest major town on the Kenyan Coast, Lamu appears idyll, but storms your senses with gusto. The eclectic mix of wooden architecture, a bustling waterfront, and culture makes this UNESCO World Heritage Site a delight to visit. 
Nakuru - Most travellers pass through this town (fast becoming a city) on their way to the stunning lakes and parks, but it's a great place to enjoy local culture and nightlife.
See all tours visiting Mombasa
Best time to visit game parks
The best time to visit Masai Mara is during the Great Migration, as this is when you'll see the spectacle of hundreds of beasts crossing the Mara River.

See all tours

You can visit Amboseli any time of year, but it's best to go during the dry months: from June to October and January to February.

See all tours

People come to Lake Nakuru for a chance to see hundreds of pink flamingos congregating in the shallows. The best time to visit is from June to October and January to February.

See all tours
Climate in Kenya
Temperatures and rainfall in Kenya
Kenya is an African country, bisected by the Equator, with three different climate zones: hot and humid along the coast, temperate in the west and south-west where there are mountainous regions, and hot and dry in the north and east. The table below shows average temperatures along the coast. Temperatures in Masai Mara are much lower (read more).

JAN
FEB
MAR
APR
MAY
JUN
JUL
AUG
SEP
OCT
NOV
DEC
High°C Day
31° C
31° C
32° C
31° C
29° C
28° C
27° C
27° C
28° C
30° C
31° C
31° C
Min °C Night
23° C
24° C
24° C
24° C
23° C
22° C
22° C
22° C
22° C
22° C
23° C
23° C
Max °F Day
88°F
88°F
90°F
88°F
84°F
82°F
81°F
81°F
82°F
86°F
88°F
88°F
Min °F Night
73°F
75°F
75°F
75°F
73°F
73°F
72°F
72°F
72°F
72°F
73°F
73°F
Chances of rain
low
low
high
high
high
low
low
low
low
low
medium
medium
Kenya tour deals
Contact our Travel Experts
+1 844 311 3006
24/7 Support
Our team of experienced tour specialists have travelled to hundreds of countries around the globe and have decades of first-hand travel experience to share. Contact us now to have all of your tour-related questions answered!
A TRAVEL MAGAZINE BY TOURRADAR