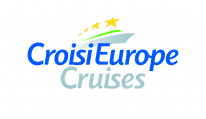 Response rate

100%

Response time

0-1h
See all tours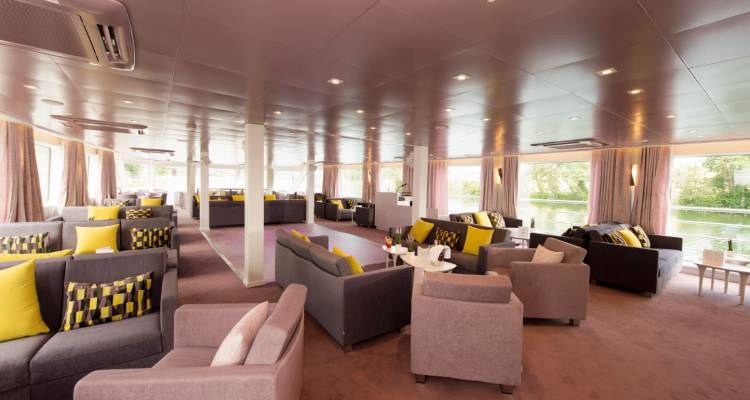 Built

1997 (refurbished 2017)

Guests

106
Length

110m

Width

11.4m
Staterooms

55

Electricity

220v
Country Regions
Ship Overview
MS Douce France is one of the CroisiEurope's fleet ship, while also being the perfect sailing vessel for a Rhine river cruise - the four-star recognition speaks for itself. Although, this 2-deck cruising ship has been built in 1997, it has been completely refurbished by 2011, reaching a capacity of hosting no less than 160 passengers. 23 crew members making you feel like home on this 110 m long and 11.4 m wide ship, 79 cabins and a beautiful spacious deck to enjoy the European sun are just the beginning of a great adventure on the board of MS Douce France, one of the best Rhine river cruise ships.
A spacious deck equipped with plenty of seats for guests to soak in the sun.
A relaxing lounge bar equipped with a dance floor.
The bar where you can sip a drink in a newly found company.
The main restaurant which includes an inviting dining area where guests can enjoy their meals in a pleasant and relaxing atmosphere.
An originally designed gift shop which offers authentic souvenirs for friends and families.
The library which provides exciting and varied genres that will appeal to anyone's taste.
Central heating
Air conditioning system
220 V electricity
Wifi available on board, in exchange for a fee
Radiophone
Games preceding dinners and post-dinner dances
Background live music ensured by local artists
The Upper Deck holds 28 cabins (23 twins, 5 doubles)
The Main Deck holds 51 cabins (36 twins, 8 doubles, 4 triple cabins, 2 singles and 1 suite).
Reviews
Written on June 13th, 2022

CroisiEurope River Cruises commented on this review

Dear Mrs Llazani, We would like to thank you for taking the time to review your cruise with us. We are so glad to read you had a great experience and enjoyed the food. Your comments on the language barrier are duly noted. We are glad our staff could help. We hope we'll have the pleasure to welcome you again on board one of our ships. Best regards, Croisieurope Customer care department

Written on October 31st, 2021

CroisiEurope River Cruises commented on this review

Dear Ms Good, Thank you for taking the time to give us some feedbacks on your trip. We are glad to read you were satisfied with the food and the staff. We'll make sure to let the appropriate persons know. We took good note of your comments regarding the ship. We hope to welcome you again soon on board one of our ships. Best regards, Croisieurope Customer Care Department

Written on May 27th, 2020

Written on October 7th, 2019

CroisiEurope River Cruises commented on this review

Thank you Mr. Yuen! We are glad you had a great experience and enjoyed the services on board. We hope we'll have the pleasure to welcome you again on board one of our ships. Best regards, CroisiEurope Customer Care Department

Written on September 25th, 2019

CroisiEurope River Cruises commented on this review

Dear Mr. Coulson, Thank your for taking the time to share your experience with us. Your remarks will be forwrded to the appropriate persons for information and improvement. We are sorry you experienced noise in your cabin, it was never our intention to sale a cabin that you couldn't fully enjoy. We hope we'll have the pleasure to welcome you again on board one of our ships. Best regards CroisiEurope Customer Care Department

Written on September 17th, 2019

CroisiEurope River Cruises commented on this review

Dear Mr. Davis, Thank you for taking the time to share your experience with us. We are really glad to read you had such a great time on board our ship. We'll make sure to let Lucy know about your lovely review. It is true we can't always let the guests board early on the first day as the crew is still busy getting the ship ready for the cruise (there was probably a disembarkation the same morning). We hope we'll be able to welcome you again soon on board one of our ships. Best regards, CroisiEurope Customer Care Department

Written on August 27th, 2019

CroisiEurope River Cruises commented on this review

Dear Mr. Carter, Thank you for taking the time to review your experience with us. We are glad to read you overall enjoyed your cruise. It is true we offer one choice of meal. However, our cruise director and Chef are at disposal to offer alternatives. We take note of your comment on the vegetables. We hope we'll have the pleasure to welcome you again on board one of our ships. Best regards, CroisiEurope Customer Care Department

Written on August 20th, 2019

CroisiEurope River Cruises commented on this review

Dear Mr. Nemec, Thank you for your compliments on our staff and food. We are sorry to read about your experience with your cabin. We feel like your review needs further investigation and reply. To do so, we invite you to forward it by email to your travel agent who will get in touch with us. Best regards, Croisieurope Customer Care Department

Written on August 18th, 2019

Written on July 21st, 2019

CroisiEurope River Cruises commented on this review

Dear Mr. Kliot, We are sorry to read that your dining experience was not entirely satisfactory. We hope you'll still choose to cruise with us in the future. We invite you at the time of your next booking to ask how many English speaking guests are booked. Best regards, CroisiEurope Customer Care Department
Staterooms / Suites
Cabin Upper Deck (108 ft²)
Cabin Main Deck (108 ft²)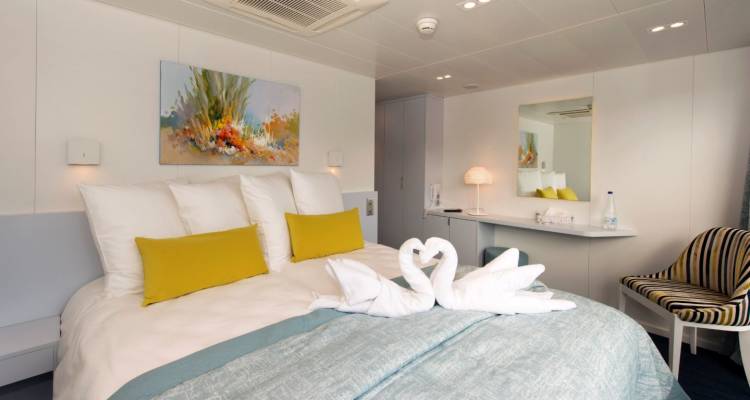 Features
Ensuite Bathroom
Television
Air-conditioning
In-room phone
In-room safe
Shower
Wi-Fi
Towels
Dining
Carefully designed menus invite you to experience the exquisite French gastronomy
Croisi's chefs have worked along Michelin-starred giants such as Marc Haeberlin and Paul Bocuse
Alain Bohn, Croisi's head chef, is a member of Maîtres Cuisiniers de France, a 50 years old association including no more than 250 chefs worldwide
Enjoy a self-served breakfast buffet abundant in pastries, cold cuts, eggs, various sausage varieties, fresh fruit and yogurt or jams and jellies; quench your thirst with fresh fruit juices and a warm cup of tea or coffee
Delight yourself with 3 course lunch and dinner menus cooked using only the freshest of ingredients
Your meals will be paired with excellent complimentary wines
All lunch and dinner meals are served at fixed times and in a single seating for all passengers
Croisi provides free beverages on all cruises including mineral water, fruit juice, coffee, tea, beer or house wine
Some cruises include an open bar, but for those that don't, travelers can purchase a €30 drink card that will cover beverages served at the bar; any amount of money remaining on your card will be reimbursed at the end of the cruise
Premium vintage wines, as well as champagne are available at an additional charge on all cruises