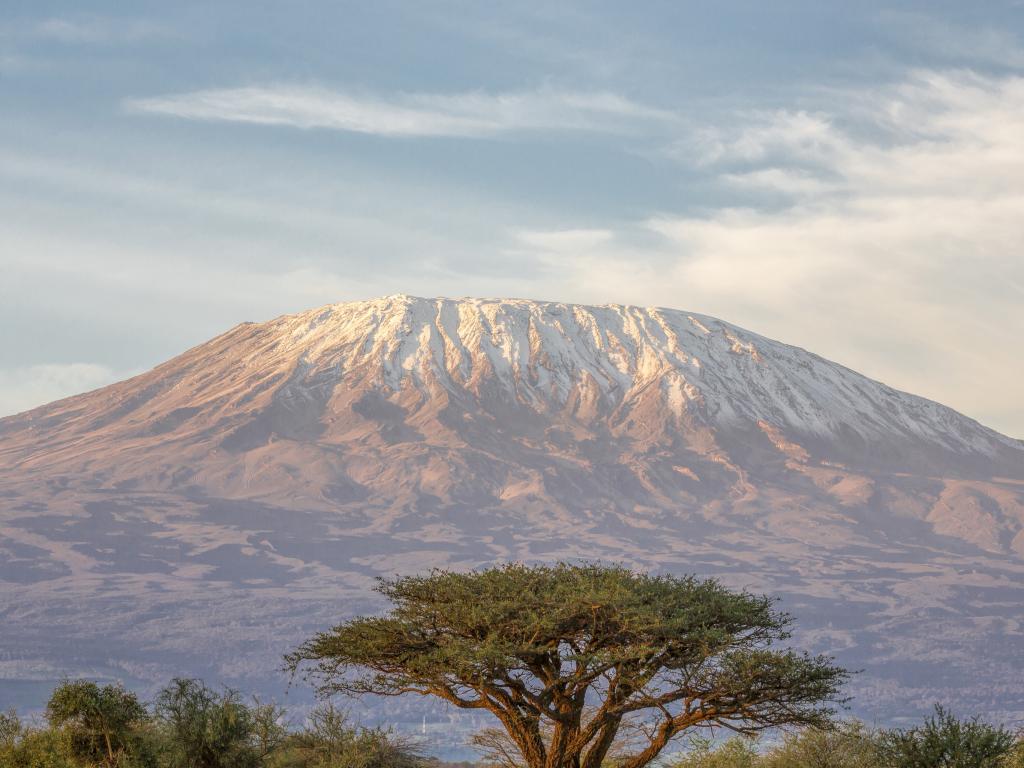 Kilimanjaro gear recommendations
When considering what to pack for Kilimanjaro, keep in mind that many trekking tour operators are likely to provide much of the gear you'll need on hand to rent (and this may even be included in your tour cost) but that doesn't mean you can afford to be relaxed when it comes to packing. 

The most common mistake that climbers make is that they over pack and carry too much gear, so the best tip is to be careful in what you take with you. 

Suggested items to pack:
Waterproof jacket: Possibly one of the most important items to pack, make sure you select the right jacket to suit the conditions you will be hiking in. 
Waterproof pants: Opt for a light pair that can be unzipped to reveal a shorter length that can be worn around the base of the mountain where it will be warmer. 
Broken in hiking boots: Do not purchase a brand new pair of hiking boots and only wear them on your Kilimanjaro expedition, as this will result in terrible blisters and make for an uncomfortable journey. A sturdy pair of hiking boots might be expensive, but they are worth the investment as they're designed to last, protect your feet, and give your ankles and back better support.
Insulated jacket: Some jackets are made to cater to both warm and cool weather with a waterproof shell, so depending on your preference, a warm padded jacket should do the trick under your lighter waterproof jacket. 
A light fleece jacket: You won't always need to wear a large waterproof jacket, so for those warmer moments during your trek, a light fleece jacket will keep you warm without feeling as if you are being weighed down by bulky clothing. 
Long sleeve tops in a light, moisture-wicking fabric: Under all of your layers, it is likely that you will sweat. To stay fresh, consider packing tops with moisture-wicking fabric to keep cool and stay fresh for longer.  
Gaiters: Worn over the ankles, gaiters are used to cover or protect the lower leg and prevent snow or rain falling into your shoes. 
Sunglasses: Ditch the fashion sunglasses and pack a pair of goggles or sunglasses with a UV filter to protect your eyes. 
Thin gloves: Thin gloves can protect your hands from the wind even if the sun is shining, or they can be used as an extra layer under your thick gloves. 
Thick gloves: You'll need a waterproof pair in the event of rain or snow.
Hat or cap: Both a cap and beanie are worth packing to protect your face from the sun and from cool temperatures at night. 
Quick-dry towel: Consider a thin, light towel that dries quickly and does not take up much of your pack. 
Packing cubes or stuff sacks: Once you've started using packing cubes or stuff sacks to help separate your clothes, you'll wonder how you ever travelled without them in your life. 
Trekking poles: While not essential for all hikers and trekkers, trekking poles assist with balance, especially on the descent, to take some of the pressure off your knees or joints.
Headlamp: Don't forget to pack spare batteries.  
Sleeping bag: An expensive sleeping bag might seem like an unnecessary investment, but often, the best sleeping bags are light and will keep you warm at night. 
Toiletries: When packing toiletries, aim to pack as little as possible in order to keep the weight of your pack down. Only pack the necessities!
Energy snacks and supplements: These are not mandatory, but are a great option to consume on the go and keep your energy up during the day.
Personal prescriptions: Make sure everything is labelled and protected in waterproof containers. 
Water purification tablets: While these might not be totally necessary, it never hurts to be on the safe side.
Insect repellant: For your own personal comfort, there are a number of repellants you can carry with you. 
Hand sanitizer or wet wipes: These are great for a quick fix to wipe your hands and are available in small, travel-friendly sizes. 
Camera: If you want to capture memories to last a lifetime, make sure that your camera gear is protected with waterproof casing where possible to reduce the chance of any damage during your trek. 
Small first aid kit: Your guide or team of porters and chefs will be carrying a full first-aid kit, but it doesn't hurt to include the odd bandage or plaster. 
Kilimanjaro temperatures
JAN
FEB
MAR
APR
MAY
JUN
JUL
AUG
SEP
OCT
NOV
DEC
Average °C
27
27
26
25
23
22
21
22
23
25
25
26
Average °F
81
81
79
77
73
72
70
72
73
77
77
79
High °C
33
33
31
29
27
26
26
27
29
31
31
32
High °F
91
91
88
84
81
79
81
84
88
88
90
90
Low °C
20
20
21
20
19
17
16
16
17
18
18
19
Low °F
68
68
70
68
66
63
61
61
63
64
64
66
How to climb Kilimanjaro
How much does it cost to climb Mount Kilimanjaro?

The cost of climbing Kilimanjaro may vary depending on a season, the route you choose and the length of the journey. Usually, the prices start at $1,000 USD and above, however, this may vary if you need to purchase any extra equipment, accommodation or add any additional transportation. 

When should I climb Mount Kilimanjaro?

You can climb Mount Kilimanjaro year-round, but it may be wet and cold which means you should be equipped with the right waterproof gear. Consider climbing between January–March and June–October. Note that April, May and November are the wettest months. 
Learn more.

Do I need a guide to climb?

Yes. All hikes or treks on Mount Kilimanjaro can only be completed with a licensed guide. Depending on what route you take, the assistance of porters may also be included in your tour price. 

What permits do I need?

Each visitor will be required to pay a fee per person, per day for the conservation fee to help manage the national park, however, most tours will cover the permits and entry fees are included in the price. 
Learn more.

How do I prepare for Mount Kilimanjaro?

Any physical activity you can do beforehand will help make your ascent more enjoyable. As for how hard you train, this will depend on whether you're aiming for the Uhuru Peak or embarking on a shorter journey and will be different for everyone.
Learn more.

How to get to Mount Kilimanjaro?

Before you start your hiking escapade to the summit of Mount Kilimanjaro, you will need to establish how to get there, and the best mode of transport to suit your itinerary or tour. Travellers flying from the UK, the US, Australia or Canada and other parts of the world have a few options to explore. Learn more.
Mount Kilimanjaro routes
Machame Route. Distance: 62 km, average duration: 6-7 days, success rate: 75%-85%
Marangu Route. Distance: 72 km, average duration: 5-6 days, success rate: 50% 
Lemosho Route. Distance: 70 km, average duration: 7-8 days, success rate: 65%-90%
Rongai Route. Distance: 73 km, average duration: 6-7 days, success rate: 65%-80%
Shira Plateau Route. Distance: 56 km, average duration: 7-8 days
Umbwe Route. Distance: 53 km, average duration: 5-6 days, success rate: 60%-70% 
Northern Circuit Route. Distance: 98 km, average duration: 8-9 days, success rate: 95% 
Kilimanjaro tours & reviews
A TRAVEL MAGAZINE BY TOURRADAR