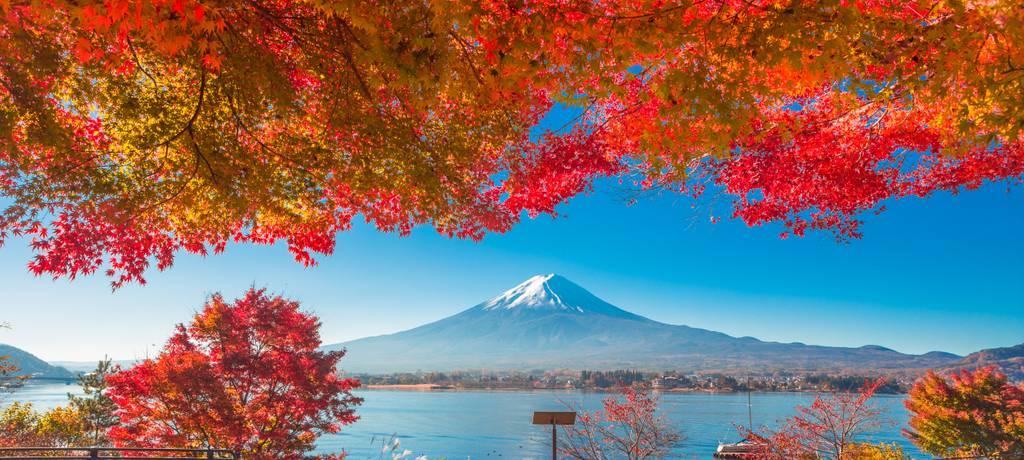 Find the Best Japan Vacations
Get your search started below and easily compare and book your perfect Japan vacation today.
Popular Vacations for Japan
Places Recommended by Our Travel Experts
Packages Recommended by Our Travel Experts
Our Travel Experts are well-versed in the details of all your favourite vacation destinations, including Japan. To help you search faster, they've hand-selected the best Japan vacation packages that include places like Tokyo, Kyoto and Shirakawa. 
Japan Discovery - 14 Days, 10 destinations, operated by Tomato Travel, 14 days, from US$2,139
Discover Japan with Hiroshima 13 Days, 9 destinations, operated by Globus, 13 days, from US$5,609
Cultural Treasures of Japan, 8 destinations, operated by Collette, 13 days, from US$4,699
Want to see everything we offer? Click below to see all our Japan tours, and use our filters to narrow down your search.
View All Packages
Finding the Perfect Japan Vacation Package on TourRadar
Japan is an essential vacation destination for any traveller in search of a trip that combines rich traditions, magnificent modernity and culinary experiences, unlike any others. Use TourRadar to search, compare and book your own vacation package and enjoy tours that include accommodation, local guides and more! Our Travel Experts are standing by 24/7 to provide you with real human support in booking your dream vacation. 
Your Japan Bucket List
Unwind at an onsen

Travel to remote hot springs, known as onsens, and soak your muscles amongst the beauty of rural Noboribetsu.

Visit Shibuya Crossing

Head over to Tokyo's most famous crosswalk and put one foot in front of the other to lose yourself in the organized chaos.

Be spirited away at the Ghibli Museum

Pay a visit to this fantastical Tokyo museum that honours the creative mind and spirit of Hayao Miyazaki's animated stories.

Enjoy a day trip to Mount Fuji

Journey to Mount Fuji and find yourself completely awestruck by the grandeur of this impressive dormant volcano.

Snap photos at Itsukushima Shrine

Head to Hiroshima where you'll be treated to a serene view of Itsukushima Shrine, a UNESCO World Heritage Site. 

Watch a sumo wrestling match

There are few better ways to experience the nuances of local culture than visiting the local sports scene in Tokyo, Ryogoku Kokugikan sumo arena.
Adventure Vacations in Japan
People Also Ask
How much does an average Japan vacation cost?

Vacations in Japan can vary widely in cost but generally the country is considered to be more expensive than neighbouring destinations. The average price of our most popular 1-week Japan vacations is about US$2,000. 

What is the cheapest month for a vacation in Japan?

Typically the cheapest month to fly to Japan for your vacation is November, though any months through its off-season period is a good time to go in order to keep costs low. 
 

What is the ideal Japan itinerary for 7 days?

If you're looking to spend 1 week in Japan, our Travel Experts suggest booking a vacation with a fast pace to enjoy as many experiences as possible. Check our list of the best 1-week itineraries here.

What is the ideal itinerary for 14 days?

TourRadar's Travel Experts can recommend spending more than 1 day in each of the following cities to get the most out of your visit: Tokyo, Takayama, Kyoto, Hiroshima and Osaka. Check out our list of the best 2-week itineraries here.

What is the best tour company for Japan?

There's no single best tour company for your vacation in Japan but instead many excellent ones to choose from. We recommend checking out G Adventures, One Life Adventures and Stunning Tours, as past travellers have positively reviewed their tours. Our team also suggests considering this Tour of the Year winner, One Life Adventures.

How can I book a Japan vacation on TourRadar?

Booking your vacation with TourRadar is easy! If you want to start your search at the very beginning, head over to this page to see a list of the most popular tours. You can apply the filters on the left-hand side to narrow down your search and find your dream vacation.

Do people speak English in Japan?

While this is changing, not many locals speak in English — even within major metropolises like Japan. This is a great reason to consider booking a tour as your next vacation. You'll remove the language barriers thanks to your guide without sacrificing meaningful experiences. 

Is Japan a safe place to travel?

Japan is an extremely safe country and tops the Global Peace Index's list of safest countries year after year. You can see how it stacks up to Asia's other countries by reading this article from our online magazine, Days to Come.
Contact our Travel Experts
+1 844 311 8331
24/7 Support
Our team of experienced tour specialists have travelled to hundreds of countries around the globe and have decades of first-hand travel experience to share. Contact us now to have all of your tour-related questions answered!
A TRAVEL MAGAZINE BY TOURRADAR