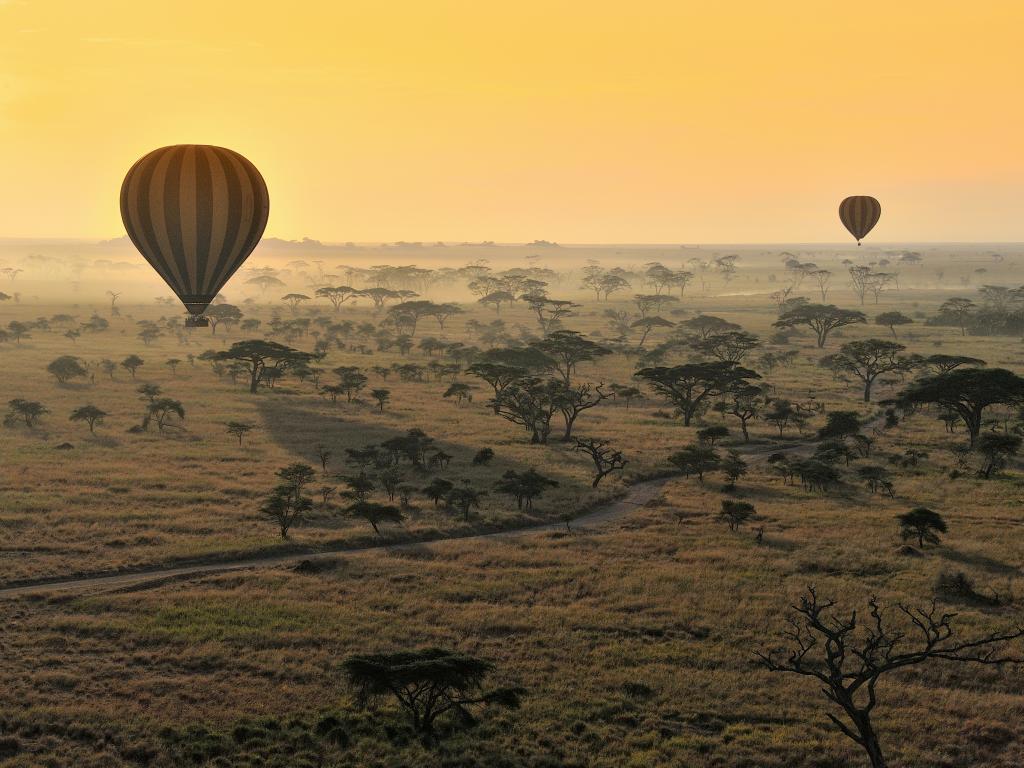 Tanzania Travel Guide
If you're looking for an adventure to excite you, make your jaw-drop and possibly change the way you travel forever, Tanzania ticks all the boxes. Filled with panoramic national parks, world-class wildlife encounters, unique local experiences and the Zanzibar archipelago are just a few of the many reasons to scrap your existing travel plans this year (unless they already include Tanzania). 
The Highlights


Zanzibar

Once a hub for spice merchants, trading activity and adventurers alike, this archipelago is where you will find a tangle of streets in Stone Town, opulent Omani forts and richly-adorned houses that show traces of cultures that ruled the area from years past. As you travel along the eastern and northern shores, you will find flawless beaches and calm azure waters where you can simply chill.

Mount Kilimanjaro

How you envision your first encounter with Mount Kilimanjaro is completely up to you. You could prepare for months and train for the gruelling trek to the summit and, of course, be rewarded with stunning views.  Maybe you could walk around the base and visit the scenic Kinukamori Waterfall. Or, you can set up camp at Moshi and unzip your tent and enjoy views from a distance. 

Ngorongoro Crater

Existing as the largest volcanic caldera in the world, Ngorongoro Crater is flooded with thousands of animals that call the verdant crater home and is a quintessential stop on your East African escapade. If the view from the rim takes your breath away, just imagine how spectacular the views from the cater floor will be. Keep a sharp eye out for the usual suspects along with plenty of flamingos. 
Serengeti National Park

Giraffes gently move across the land and gazelles bounce alongside the dirt trails. Lions fight to keep their pride safe. Zebras zig zag to escape their predators. Rhinos hide behind the shrubs. Elephants wade through watering holes. The Serengeti National Park is where all of the above (and more) can be viewed from the comfort of a safari vehicle or within close distance from your campsite.

Tarangire National Park

The dry savannah of Tarangire stretches for miles and most certainly deserves your attention. Many travellers make the mistake of skipping Tarangire in favour of other national parks, but that would be a grave mistake. Teeming with majestic creatures and brittle acacia trees, you'll cross paths with zebras, elephants and lions – but without as many safari trucks compared to other national parks. 

Ruaha National Park

Beautiful vistas are abundant in Ruaha National Park where Tanzania's largest elephant population can be found along with kudus, buffaloes, ostriches and cheetahs. Known to be one of Tanzania's best-kept game viewing secrets, it's limited accessibility significantly reduces the masses of safari-goers and accompanying vehicles that travel through national parks elsewhere in the country.
The Basics
The Location

Tanzania is located on the eastern coast of Africa and has an Indian Ocean coastline approximately 1,424 kilometres long. From Cape Town, a non-stop flight is 5h 15m, and from London, it is roughly 11 hours.

Capital City

Dodoma is situated in the centre of the country. The former capital was Dar Es Salaam, however, this change was announced in 1973. 

Main Airport

Julius Nyerere International Airport is the international airport of Dar es Salaam and is the main hub for domestic and international travellers. It is located in Dar Es Salaam, 12km from the city centre. 

Code

DAR

Closest City

Dar Es Salaam

Language Spoken

The official language of Tanzania is Swahili. English is widely spoken, especially within the tourism industry between guides and hotel staff. 

Currency

Tanzania uses the Tanzanian shilling. The currency code is TSH. The best way to access money while you're travelling in Tanzania is at ATMs using a credit card. Beware of unexpected fees from your bank.

Visas

Visas must be obtained in advance by all travellers and almost everyone needs a visa, which costs US$50 for most nationalities and valid for a maximum of three months. We recommend checking your country's travel advisories in advance of booking a trip.

Electricity

Tanzania has 220-volt electricity, meaning you may need a converter or transformer. The cycles (Hz) are 50 per second and you will need a type D or type C plug.

Vaccinations

Yellow fever vaccination is required, and you must show proof of this on arrival. Typhoid, Hepatitis A and B and antimalarial tablets are advised. Make sure you consult your doctor 6 to 8 weeks before you depart. 

Emergency Calls

The phone number to call in case of emergency is 112.
When to Visit
Tanzania Tours
Visit Responsibly

Travelling responsibly means respecting the communities, culture and environment of the places you visit. Keep these tips in mind when travelling to Tanzania:

Go green. Be environmentally conscious on the road by taking short showers; turning off the lights in your hotel room when you leave; and resisting the urge to collect any plants, seashells, or other natural flora.

Respect cultural differences. Before travelling, read about the local culture and customs – even just knowing the dress code and a few basic phrases in the local language will go a long way.

Support local businesses. Enjoy a more authentic experience and directly support the local economy by travelling with a local guide, eating in local restaurants, buying from local artisans, and staying in locally-owned and operated accommodations.

Wherever possible, avoid single-use plastics. Pack reusable items such as your own shopping bags, utensils, a water bottle, and a straw. These items are typically lightweight and compact, and will greatly reduce your consumption of plastics.

Be conscious of overtourism. Opt to visit the lesser-known regions of Tanzania or travel outside the peak season – you'll likely even get a better deal and won't have all the crowds!

Sustainable Tourism in Tanzania

Eco-Friendly Camps
Many camps in Tanzania have earned an eco-rating for their implementation of environmentally friendly measures. Some of these measures include utilizing solar power to generate electricity and hot water; employing local people in the camps to help with cooking, guiding, and management of the camps; and using wood from trees that were knocked down by elephants to create their accommodations.

The Multi-Environmental Society (MESO)
The Multi-Environmental Society (MESO) is an NGO that focuses on cultural development and environmental conservation in Tanzania. As an alternative to traditional safaris, MESO offers eco-cultural tours around Karatu that promote environmental and social responsibility while providing guests with authentic experiences.

The Jane Goodall Institute
Founded in 1977, the Jane Goodall Institute supports the continuation of Dr. Jane Goodall's groundbreaking research in Gombe and helps protect chimpanzees in their natural habitats. In addition, this incredible institute supports the local economy of Tanzania by providing ecotourism opportunities around Gombe National Park.
FAQs about Tanzania
Do you tip in Tanzania?

Tipping is expected while on safari or treks and it is customary to tip drivers or guides. In smaller, rural restaurants, tipping is not customary, but a few shillings is perfectly reasonable. In larger cities, it is expected to tip. Either rounding up the bill or adding about 10%–15% is standard. 

What is the internet access like?

In Tanzania, connection speed varies greatly and a speedy connection is rare. Most high-end hotels have wireless access points and they will vary in cost. Some will be free, some will be quite expensive. 

Is the tap water safe to drink?

No. Buy bottled water, or you can boil the tap water or use water purification pills.

Can I use my credit cards?

Yes, credit cards are widely accepted throughout Tanzania. Visa is the most widely accepted card, however, MasterCard is also fine. Please check with your bank about any foreign transaction charges.

What are the public holidays?

Along with common public holidays such as New Year's Day, Christmas and Good Friday, some of the popular public holidays in Tanzania include Zanzibar Revolutionary Day on January 12, Karume Day on April 7 and Labour Day on May 1.

Is it safe to visit Tanzania?

In general, Tanzania is a safe, problem-free country however you will need to take some precautions to avoid isolated areas and walking along solo at night. Keep an eye on government advisories before you travel. 
A TRAVEL MAGAZINE BY TOURRADAR