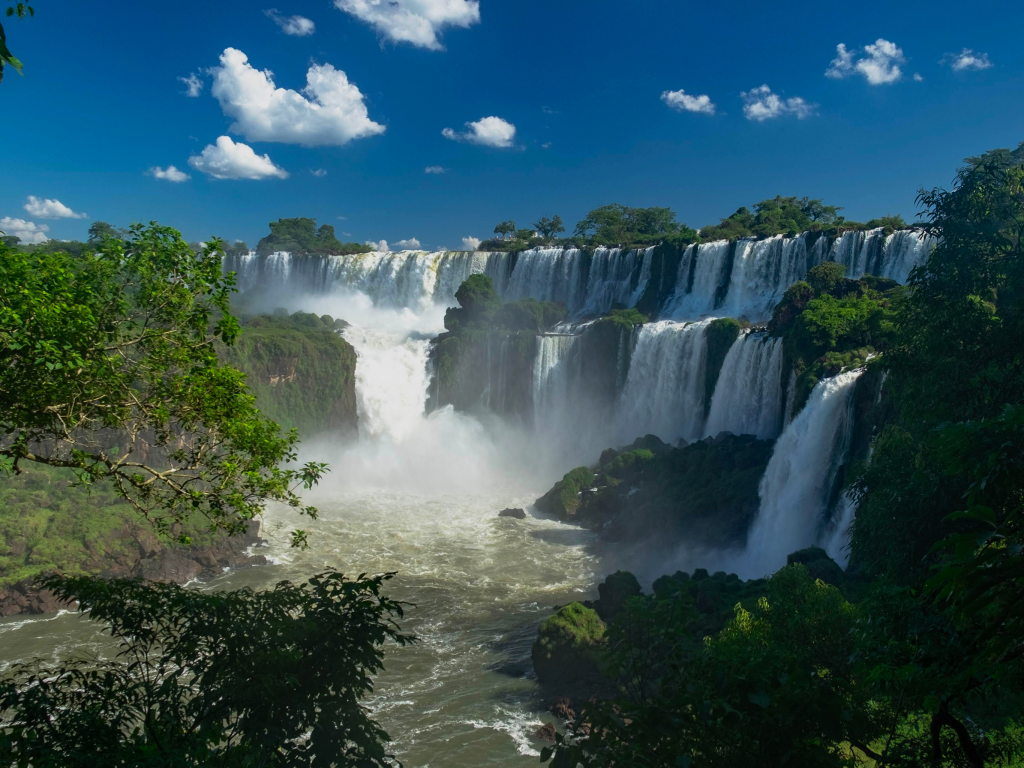 Argentina Travel Guide
Argentina shares similarities to an open-air museum where every turn uncovers a new sight to behold, or a dose of history that calls for a closer look. Most importantly, it displays a well-preserved sense of identity and rich cultural traditions. From colossal glaciers to colourful cities and vibrant restaurants, there are many reasons why you should start thinking about Argentina.
The Highlights


Buenos Aires

Stunning street art. A vibrant live music scene. Culinary delights. This is Buenos Aires and it might just be one of the most vibrant cities you ever visit. While you're there, make sure you pay close attention to the architectural beauty found on every street where even low-key, local barrios will catch your eye.

Ushuaia

Here, in Argentina lies the 'end of the world,' otherwise known as Ushuaia – a town located at the base of the snow-topped Martial ranges. The world's southernmost city is a draw mostly because of its location and acts as a gateway to Antarctica, however, there are many national parks, museums and more to keep you entertained.

Córdoba

As the second largest city in Argentina, you won't be short of experiences to enjoy. Home to the National University of Córdoba, the oldest university in Argentina along with hosting many historic monuments and sites dating back to the Spanish colonial area, visitors can enjoy Córdoba's rich history and a vibrant atmosphere.
Iguazu Falls

Nothing compares to hearing the thunderous roar of the Iguazu Falls. Spanning across two countries, from Brazil to Argentina, the falls are composed of over 250 mini waterfalls and you can spend hours walking unguided along the edge of the falls, or you could book a guided boat trip (just make sure you pack a change of clothes if you do).

Salta

You may not have heard of Salta – but you should certainly start thinking about visiting. Existing as one of Argentina's most quaint towns, Salta is home to authentic taverns, traditional cafes and sun-kissed streets awash with a touch of Spanish influences with an Andalusian feel. Beyond the town, you will find red, desert hills that await your next outdoor adventure.

San Carlos de Bariloche

San Carlos de Bariloche, or Bariloche for short, is best known for its production of Argentina's superb chocolate and is surrounded by mountains to rival the like of those in Switzerland and beyond. Visitors can take to the nearby ski trails over winter, or in summer, hikers and trekkers take over and can marvel at the natural beauty of the area.
The Basics
The Location

Argentina is located in southern South America and shares a border with Bolivia, Brazil, Chile, Paraguay, and Uruguay. From New York, a non-stop flight is 10h 45m, and from London, it is roughly 13 h 45 m, without a stopover.

Capital City

Buenos Aires is situated on Argentina's southeastern coast and is the largest city in the country.

Main Airport

Ezeiza International Airport is the main hub for domestic and international travellers. It is located in Buenos Aires, 22 km from the Buenos Aires airport.

Code

EZE

Closest City

Buenos Aires

Language Spoken

The official language of Argentina is Spanish. In larger cities such as Buenos Aires, English is spoken however in more rural parts of the country English is not as common.

Currency

Argentina uses the Argentine peso. The currency code is ARS. It is advisable to take some soles with you before you go, but it is safe to withdraw money at banks or ATMs while you're there.

Visas

Nationals of Canada, most Western European countries, Australia, the UK and New Zealand will be granted a visa on arrival, however Australian and Canadian citizens are required to pay the "Reciprocity Fee" online before arriving. We recommend checking all travel advisories in advance of booking a trip.

Electricity

Electrical current is 220V/50hz using two round prongs. The standard voltage in the US is 110 volts, so to avoid frying your electronics, you may need a surge adaptor.

Vaccinations

Typhoid, Hepatitis A and B and antimalarial tablets are advised however there are no official vaccinations that you need to take before arriving in Argentina. Consult your doctor 6 to 8 weeks before you depart.

Emergency Calls

The phone numbers to call are 101 and 911 for all emergencies.
When to Visit
Argentina Tours
Visit Responsibly

Travelling responsibly means respecting the communities, culture and environment of the places you visit. Keep these tips in mind when travelling to DESTINATION:

Go green. Be environmentally conscious on the road by taking short showers; turning off the lights in your hotel room when you leave; and resisting the urge to collect any plants, seashells, or other natural flora.

Respect cultural differences. Before travelling, read about the local culture and customs – even just knowing the dress code and a few basic phrases in the local language will go a long way.

Support local businesses. Enjoy a more authentic experience and directly support the local economy by travelling with a local guide, eating in local restaurants, buying from local artisans, and staying in locally-owned and operated accommodations.

Wherever possible, avoid single-use plastics. Pack reusable items such as your own shopping bags, utensils, a water bottle, and a straw. These items are typically lightweight and compact, and will greatly reduce your consumption of plastics.

Be conscious of overtourism. Opt to visit the lesser-known regions of Argentina or travel outside the peak season – you'll likely even get a better deal and won't have all the crowds!

Sustainable Tourism in Argentina

Ecotourism in Argentina
Argentina is home to a variety of unique and impressive nature. From glaciers and ice-fields to grasslands and waterfalls, there are many ways to connect with nature in Argentina through ecotourism. Though deforestation has been a threat to Argentina's wilderness, there are many protected lands and National Parks where conservation efforts are taking place to preserve the country's precious nature.

Argentina's Sustainable Development Goals (SDGs)
Argentina is taking action in order to achieve its objectives in support of the United Nation's SDGs and Agenda 2030. The Argentian government's strategy puts a strong emphasis on collaboration and partnerships to achieve cooperation between civil society and the private sector.
FAQs about Argentina
Do you tip in Argentina?

It is recommended to leave a tip of 10% in a restaurant, although a service charge can already be included on the bill so be sure to check.

What is the internet access like?

Internet connection can range in quality, but you should have no problem with day-to-day tasks like emailing or surfing the web. WiFi is available in many cafes, hostels and hotels for free, but outside urban areas, this is not as common.

Is the tap water safe to drink?

Yes, absolutely! However if you are concerned then best to buy bottled water, or you can boil the tap water or use water purification pills when travelling rurally.

Can I use my credit cards?

Yes, credit cards are widely accepted throughout Argentina. Please check with your bank about any foreign transaction charges.

What are the public holidays?

Along with common public holidays such as New Year's Day and Christmas, Argentina has Día de la Memoria on March 24, Labor Day on May 1, Día de la Revolución de Mayo on May 28, Independence Day on July 9, however, these may vary between provinces.

What are the toilets like?

Public toilets in Scotland are generally quite clean. It is customarily free to use public toilets, however, when at local cafes and restaurants, they commonly request that you purchase something prior to using the facilities.

Is Argentina safe for women to travel solo?

Yes, Argentina is safe for women to travel solo, however, women will need to be aware that catcalling is a frequent occurrence, and may cause some annoyance. In many ways, Argentina may actually be safer to travel than in some parts of Europe.

Is Argentina suitable for families?

Argentina is a family-friendly country and in coastal towns, there are many water-based activities to keep children entertained along with other cultural experiences.
A TRAVEL MAGAZINE BY TOURRADAR