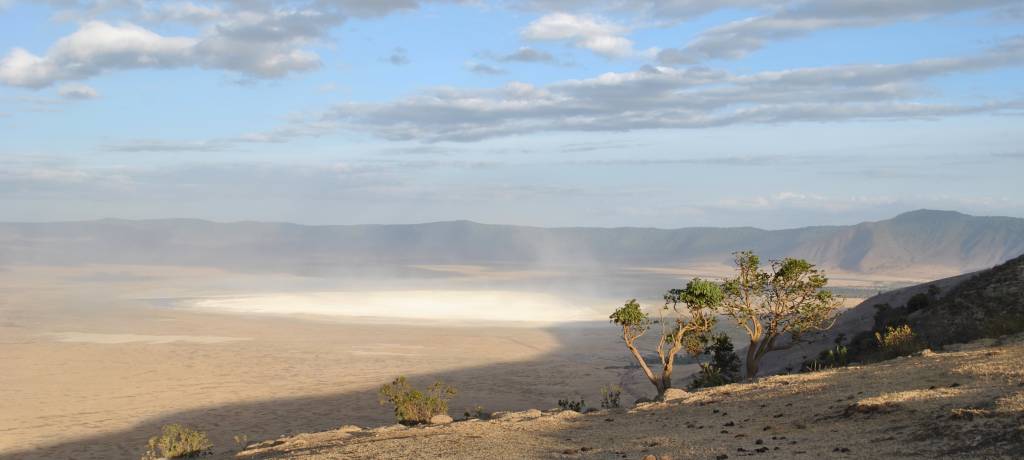 Ngorongoro Crater Location
The Ngorongoro Conservation Area is one of Africa's wonders. A world of wildlife and beauty await visitors that venture to this extinct volcano. The plains are home to roaming wild beasts, ancient fossils, and are a stomping ground for nomadic Maasai tribes and their livestock. Find out how you can discover this incredible destination! 
See all Ngorongoro safaris
How to get from other national parks to Ngorongoro
How to get from Masai Mara to Ngorongoro?

From Masai Mara National Reserve to Ngorongoro Crater, you should expect a 5-6 hour drive. The best way to get from the reserve to the crater is to drive through the Serengeti; it's easy to combine your travel to Ngorongoro with a stopover in Serengeti. 

How to get from Serengeti to Ngorongoro?

Serengeti is adjacent to Ngorongoro. The distance by road from Serengeti to Ngorongoro is just under an hour and a half. Most safari tours include a visit to Ngorongoro Conservation Area and Serengeti National Park - depending on the length of your safari, your tour may include a visit to Masai Mara and other parks like Amboseli.

How to get from Ngorongoro to Amboseli?

The distance between Ngorongoro and Amboseli is around 6-7 hours by road. It depends on the safari tour, but many tours will allow you to discover the best of all of these wildlife sanctuaries. Ngorongoro to Amboseli is a normal route on many itineraries. 

How to get from Ngorongoro to Tararangire?

Located in Manyara Region, Tarangire National Park is the sixth largest national park in Tanzania. The 180-kilometre (110 miles) drive from Tarangire to Ngorongoro takes about four hours. You'll enjoy these drive times, as they offer precious moments to spot animals in the wild.

How far is Lake Manyara from Ngorongoro Crater?

Lake Manyara is a 1.5-hour drive from Ngorongoro Crater. Located in Lake Manyara National Park, one of Tanzania's smaller parks, this is one impressive body of water. Visitors can explore 11 ecosystems, diverse landscapes, and high densities of animals.
A TRAVEL MAGAZINE BY TOURRADAR