TourRadar Recognizes Its Guides Of The Year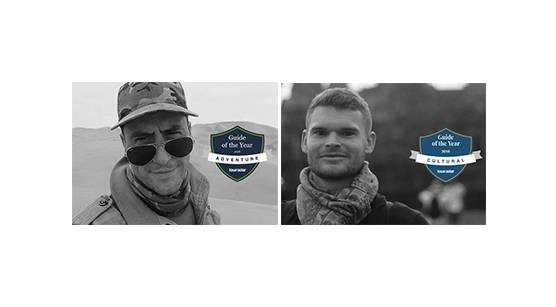 Ben Sims is TourRadar's Adventure Travel Guide of the Year and Will Aholt is its Culture Guide of the Year
TourRadar
named Ben Sims of Dragoman Tours its Adventure Guide of the Year and Will Aholt of Intro Travel its Culture Guide of the Year for their outstanding service with travelers over the past year. Since 2015, TourRadar has announced its
Guide of the Year Awards
to honor tour guides who have gone above and beyond to create amazing life-enriching experiences for travelers.
Ben Sims is an adventure travel guide for
Dragoman
, an independently owned overland tour operator. In 2018, Ben led Dragoman's Africa overland tours, earning consistent positive reviews and constantly going beyond the call of duty. As a guide, Ben showed an endless amount of enthusiasm and incredible knowledge about the wildlife that he and his travelers encountered.
"It's an honour to be named TourRadar's Adventure Guide of the Year," said Sims. "I love helping others make the most of their travel experiences and being honoured for simply doing what I enjoy the most is amazing."
Will Anholt is a tour guide for
Intro Travel
, focused on cultural tours for travelers visiting Vietnam and Cambodia. In 2018, Will was an outstanding group leader, working tirelessly to ensure travelers felt comfortable in new countries and enjoyed amazing touring experiences. Since 2018, due to his exceptional work, Will has been promoted to Vietnam and Cambodia Operations Manager for Intro Travel.
"I have the best job showing people from all over the world around Southeast Asia and sharing my passion for travel. I'm thrilled and truly honoured that TourRadar and Intro travellers voted for me as Culture Guide of the Year. It's these people who make it all worth it!"
TourRadar's Guides of the Year are determined by a combination of quantity and quality of reviews of their services on TourRadar.com. The Adventure Guide of the Year candidates must also adhere to the International Adventure Travel Guide Qualification and Performance Standards (ATGQ&PS) which includes providing evidence of technical training, certifications and sustainability. This year, TourRadar received over 200 application submissions for its Guides of the Year. To see other finalists and read more about TourRadar's Guides of the Year, visit
www.tourradar.com/awards/guide-of-the-year
.
A TRAVEL MAGAZINE BY TOURRADAR