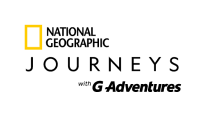 National Geographic Journeys with G Adventures
Headquarters in Toronto, Canada
View all tours
Number of tours

101
Age Range

12-99
Number of reviews

191
Rating

4.5

/5
Response rate

92%
Response time

within 1 day
National Geographic Journeys with G Adventures Reviews
(191)
Write a review
David

Written on June 9th, 2022

Like many other businesses, they are having some staffing issues. This business was particularly affected by the pandemic as nobody traveled for a year and they…

Read more

Written on March 22nd, 2022

The trip was a success and Esteban was a big hit. He made G Adventures look professional and never stopped helping us dumb anglos.

Angie

Written on January 20th, 2022

I booked a trip to South Africa with National Geographic... what I thought was a reputable company. A couple weeks before I was supposed to go, they canceled th…

Read more

Written on December 30th, 2021

A wonderful experience. Gave us a real taste of the central Pacific area of Costa Rica. Lots of activities to choose from depending on how active you want to …

Read more

Denisa

Written on December 20th, 2021

My husband and I enjoyed this 14 day Costa Rican tour by G adventures. The itineraries were excellent and well planned and on time. Josimar, the CEO and othe…

Read more

Lawrence

Written on April 3rd, 2020

Great tour, but unfortunately cut short because of COVID 19 pandemic. G Adventures staff members were extremely helpful in arranging accommodations and flights …

Read more

Carolyn

Written on March 24th, 2020

Super guide . Great resorts. Enjoyed every day.

Emily

Written on March 24th, 2020

G Adventures waited until we had arrived in Casablanca and cancelled the tour due to COVID on the same day we arrived. I understand about the urgency of the s…

Read more

Written on March 21st, 2020

The G Adventures/National Geographic Colombia Journey was all that I expected and more. It's a great mix of urban and rural touring, with a wide variety of act…

Read more

Written on March 20th, 2020

This tour was a wonderful experience. I particularly enjoyed the coffee farm and the Cocora Valley tour. Medellin was fascinating. There was a good mix of struc…

Read more
National Geographic Journeys with G Adventures Tours
National Geographic Journeys with G Adventures Destinations
Travel With Confidence
Summary

When you're ready to travel again, we're here to support you. Your safety, as well as the safety of our employees and partners, has always been our top priority, which is why new physical distancing and cleaning measures have been put in place on all of our tours. Our new Travel with Confidence policy features new health and safety procedures from the moment you arrive to the moment you leave, without taking away from having the time of your life. The policy will evolve as time goes on and as we continue to monitor local public health recommendations, but what won't change is our commitment to keeping you safe as you explore our big, beautiful world.
G Adventures has received the World Travel and Tourism Council's Safe Travels stamp, which provides travellers with assurance that we have implemented health and hygiene protocols that are aligned with WTTC's Safe Travels Protocols
As a major contributing partner in the creation of these recommendations, G Adventures is proud to be implementing ATTA's COVID-19 Health & Safety Guidelines , developed in collaboration with Cleveland Clinic, across all our tours.
Our Global Connection Officers
Our GCOs (the people who answer when you call us) are available 24/7 to help with any questions you have prior to your trip, so you can feel confident and safe before leaving. No matter what time of day, they're there to respond to you — even at 3AM. They'll be up to date on local regulations and restrictions and can guide you through your travel process as smoothly as possible. And if you don't feel well before travelling, there's our Book with Confidence policy that helps you reschedule your trip for when you do, which they can help you with too (terms & conditions apply). If you book flights with us and there are any changes, rest assured that the team will support you by making new arrangements on your behalf.
Smaller Groups
Our groups have always been small. This offers security, access, camaraderie, and a connection with your destination you won't get by travelling on bus tours or on your own.
Our Chief Experience Officers
Our CEOs are responsible for ensuring you have the time of your life while keeping you as safe as possible. Here's how they're ready to do that:
They're trained in First Aid, CPR, and other safety protocols
They're supported 24/7 by the field staff in our offices around the world who are well-equipped to handle emergencies
They can help you find local clinics if you're feeling sick
They'll receive new training to ensure they are up to date on all health and safety policies during these evolving times
They have extensive local knowledge to proactively help you navigate wherever you're travelling
Their local knowledge allows for greater flexibility when it comes to knowing the best time to visit certain highlights to avoid crowds whenever possible and suggesting the restaurants with the strictest hygiene practices or those where you can reserve your own table or room in advance
They'll wear face masks when necessary based on local guidelines and recommendations


You and Your Fellow Travellers

Our travellers' safety and wellbeing is our biggest concern. If you're not feeling well before your departure, we have a Book with Confidence policy that provides you with flexibility and freedom to delay leaving until you're back to 100% healthy (terms & conditions apply). If you have a fever or any other symptoms on tour, you may be required to have a doctor clear you before rejoining us. All travellers are requested to bring face coverings, whether they're buffs, face masks or bandanas (extra style points encouraged). We'll make every effort to have hand sanitizer available, but we recommend bringing your own.
Planes, Trains, Automobiles and More
Small private transport vehicles
Every surface in our well-kept fleet of private vehicles will get at least one daily deep cleaning
Each traveller will have a daily assigned seat
Hand-sanitizer will be required every time you board the vehicle
Facial coverings will be recommended while on-board
Our Boats
Every surface will get at least one daily deep cleaning
High-traffic areas will receive more frequent cleaning
Hand-sanitizer or hand washing will be required every time you board the boat, as well as before and after meals
To support physical distancing, meals may have assigned seating and there will be assigned slots for activities and rooming
Facial coverings will be recommended and welcomed on-board
Your crew is trained in health and safety measures (including food handling) and all cooking staff will follow up-to-date advice from health authorities
Local Transporation
Use of local transportation will be limited wherever possible. Please reference the Trip Details for each individual tour for specifics
If local transportation is used, precautions will be followed in adherence to local health and safety regulations to keep our travellers safe and sound.


Where You'll Be Staying Safe

We've always carefully selected our accommodation partners for their high standards and local roots. Travelling in small groups means that we stay at smaller hotels too, with fewer guests — which means less daily contact with others outside your group in public spaces. Now we are working with our accommodation partners to optimize their health, safety and cleanliness procedures, as well as creating additional measures for physical distancing. Here are some of the things we're working on to help keep you safe:
Daily deep cleaning and disinfecting of all surface areas inside your room with extra cleaning on light switches, door handles, TV remotes, and thermostats
No hotel staff will enter your room after it has been cleaned
Increased frequency of cleaning and disinfecting of all public restrooms and all surfaces in public areas. This might include the closure of public spaces such as gyms, bars, restaurants, and meeting rooms for periods throughout the day
Wherever possible, our groups will stay on the lower floors to limit elevator use
Hotels will implement physical distancing protocols in line with local regulations
This is just the beginning of our commitments to keeping you sleeping safe and sound. We will continue to evolve and roll-out these and additional policies as needed.


A Good & Safe Place to Eat

We have always carefully selected our food service partners and worked closely with them to ensure they are meeting health, safety, and cleanliness standards with their facilities, staff training, and food preparation and delivery. Wherever possible, we will reserve separate tables or private rooms at the restaurants we visit, opt for more "al fresco" opportunities when we can (gotta love that fresh air!), and ensure breakfasts can be "grab and go" boxes, while avoiding family style or self-serve buffets for meals. We want you to feel comfortable and safe as you savour every last bite.
Activities
You've always had freedom and flexibility to do your own thing on our tours with optional activities and experiences. Now, you'll still have those options with added measures to keep you healthy and safe. All equipment for activities on tour, including hiking poles, camping supplies, life jackets, snorkels, etc., will be cleaned thoroughly at least once a day and disinfected between use. When travellers are responsible for putting up their own tents on camping itineraries, you will be given the supplies required to disinfect your gear. We will also do our best to make activities and highlights stops happen during non-peak hours, so you can have fun and feel safe no matter what you're doing.
A Healthy Goodbye
If you're not feeling well at the end of your tour for any reason, let your CEO know and they can help get you access to medical care and support. Because we want you to head home after a life-changing experience feeling just as good (let's be honest, way better) than when you left.
Contact our Travel Experts
+1 844 311 8331
24/7 Support
Our team of experienced tour specialists have travelled to hundreds of countries around the globe and have decades of first-hand travel experience to share. Contact us now to have all of your tour-related questions answered!