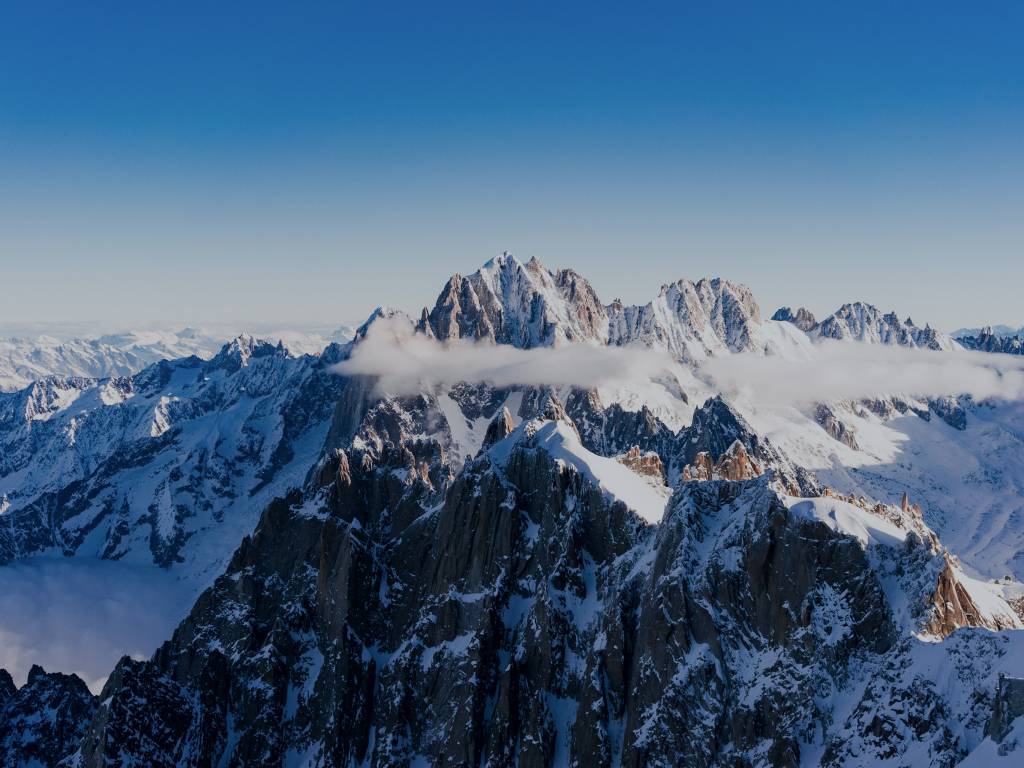 Gear List and Equipment for Mont Blanc
What you choose to pack has an enormous impact on the success rate of your climb. Remember, with mountain climbing, it's all about proper preparation. To climb Mont Blanc, you'll need a specific array of gear as well as the appropriate clothing to protect you from the often frigid temperatures.

Quality hiking clothing can be really expensive, but in most cases, it's necessary to ensure trustworthy clothing. Buy yourself liner socks, as well as heavyweight hiking socks to put over them. You'll also need a pair of heavy duty gaiters, and a quality pair of boots that are well insulated and broken-in to combat the conditions.

What clothing you pack is obviously going to be dependent on what you're comfortable carrying and your own understanding of your body's response to cold conditions, but packing a bottom, middle, and top baselayer is essential. As a general note, you'll want to make sure this base layer hugs your body well, but isn't interfering with your body's circulation. You'll also likely need both softshell and hardshell pants, and an insulated jacket or insulated down parka.

Keeping your hands warm is a crucial aspect of climbing, so ensure you don't skimp on the handwear. You'll need a pair of insulated mittens, softshell gloves, as well as a pair of climbing gloves.

Don't forget to pack the appropriate headgear as well, which would include a cap and wool hat, head torch, glasses made for walking on glaciers, ski goggles, and a climbing helmet.

It's also easy to forget that you'll need to pack some normal clothes with you for the days prior to the climb. In many cases, climbers leave these clothes back at a hotel or with a friend or guide on the ground and pick them up after their respective climb.

The clothing that you bring with you is going to be quite dependent on preference, but there is some technical gear that you simply need to have with you for safety reasons. For starters, be sure to get yourself a high-quality pair of mountaineering crampons (12 point). You'll also want to get yourself a high-quality ice axe, and be sure to double check with your guide upon arrival that the axe you've brought is suitable.

You'll also need some standard and locking carabiners, and your preferred trekking poles for the climb
Mont Blanc temperatures
JAN
FEB
MAR
APR
MAY
JUN
JUL
AUG
SEP
OCT
NOV
DEC
Average °C
-3
-7
-3
5
8
14
16
15
13
8
-1
-6
Average °F
26
19
26
41
46
57
60
59
55
46
30
21
High °C
-1
-5
-1
7
10
15
18
18
15
10
1
-3
High °F
30
23
30
44
50
59
64
64
59
50
33
26
Low °C
-6
-11
-7
1
5
9
12
10
7
2
-5
-9
Low °F
21
12
19
33
41
48
53
50
44
35
23
15
How to climb Mont Blanc
How do I prepare for Mont Blanc?

Successfully reaching the summit of Mont Blanc requires a high degree of preparation in both your route planning as well as your fitness levels. This is not a mountain which can be climbed on a whim, especially if you lack climbing and hiking experience. 

When should I climb Mont Blanc?

Mont Blanc is located in the northern hemisphere, which means the best time to climb is in the summer. June to September is the safest time to climb, but if you desire fewer crowds and you've got an impressive climbing resume, then the spring and fall is also an option. Learn more. 
 

What permits do I need?

Despite recent environmental concerns, as well as worries about popular routes facing overcrowding, there is currently no official permit required to climb Mont Blanc. Learn more.

Do I need a guide to climb?

Mont Blanc is the most dangerous mountain in the region and, as such, a guide is strongly recommended - but not required. It's strongly suggested that first-timers and inexperienced alpine hikers hire a guide.

How do I get to Mont Blanc?

Mont Blanc is actually quite accessible, as it can be reached via road, rail, or air. Fly into Geneva, Lyon, or Haute-Savoie Mont Blanc Airport with Geneva providing closest access (just under 90km away). Otherwise, drive to Chamonix, or catch a train from London. Learn more.

What should I pack/what equipment do I need?

Mont Blanc is one of the world's tallest mountains and, as such, you're going to need to bring an array of gear to enable a successful climb. You'll need an ice axe, helmet, crampons, trekking poles, gaiters, as well as the appropriate clothing to reach the summit. Learn more.
Mont Blanc routes
Gouter Hut Route. Distance: 4000 m, average duration: 2-3 days, success rate: 65-75%
Grand Mulets Route. Distance: 3000 m, average duration: 2-3 days, success rate: 70%
Cosmiques Route. Distance: 3500 m, average duration: 2-3 days, success rate: 60-75%
Haute Route. Distance: 180 km, average duration: 12-14 days
Tour du Mont Blanc (Mont Blanc Circuit). Distance: 170 km, average duration: 11 days, success rate: 100%
Mont Blanc tours & reviews
A TRAVEL MAGAZINE BY TOURRADAR