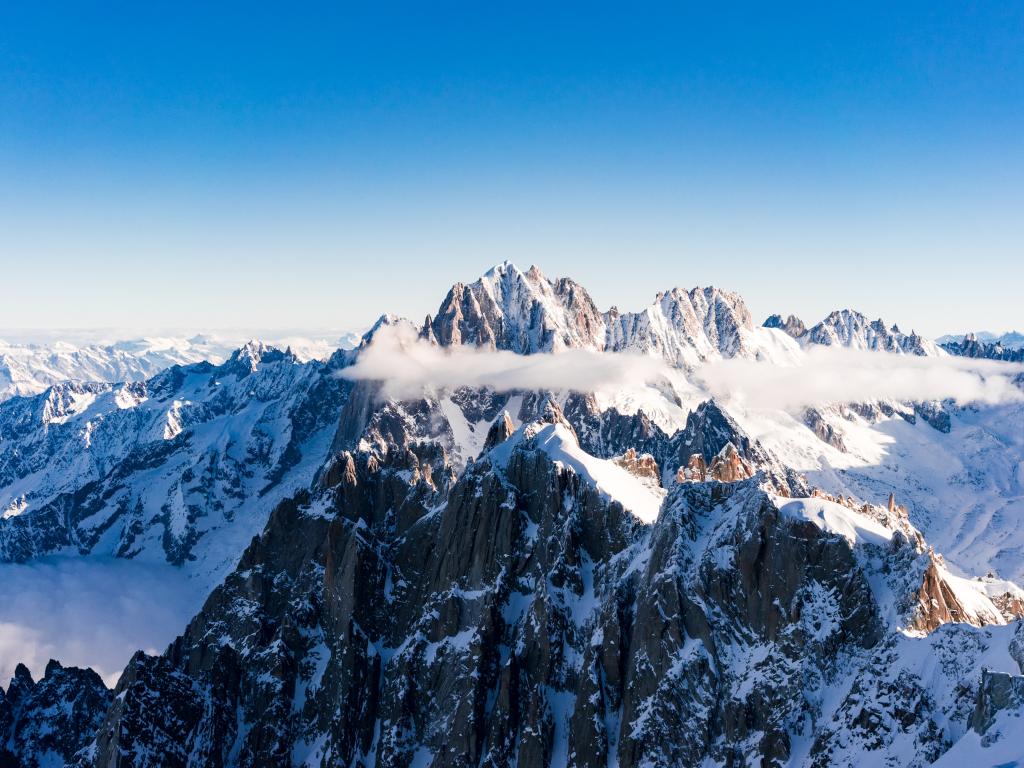 How to get to Mont Blanc
How to get to Mont Blanc
Mont Blanc is easier to get to than many famous mountains, and that's largely because of its proximity to well connected and highly industrialized European cities. The views of the mountain, as well as from the summit, are considered some of the world's best and, thankfully, there's infrastructure to ensure you'll have the opportunity to get to see them. 

Getting to Mont Blanc via air 

If you've decided to take the plunge and travel from nations such as Australia, Canada or America, your best bet is likely going to be try to nab a flight to London, as there are frequent, relatively inexpensive flights available. From London, there's a direct flight to Haute-Savoie Mont Blanc Airport, which is about an hour's drive from Mont Blanc. 

Conversely, you might find that's it's easier to fly into an airport in France such as Charles de Gaulle Airport, or Lyon–Saint-Exupéry Airport which is just over 200 kilometres away. Another option could be to fly into Geneva, which, surprisingly is the closest major airport to Mont Blanc. In fact, it should be noted that the Geneva Airport is actually closer than the much smaller Haute-Savoie Mont Blanc Airport, which quite literally has the name of the mountain in the airport's name. Before booking a flight, it makes sense to compare flights to cities within a reasonable distance of Mont Blanc in countries such as France, Italy, and Switzerland. 

Getting to Mont Blanc via rail

If you're looking to take a train, you've got a number of options depending on where you're starting from. Wherever you're arriving, there are two train stations which cater to those who are coming to climb Mont Blanc. The train station that you aim for is largely going to depend on where you're coming from. Wherever you're coming from it's likely that you'll have to, at some point, go through either Paris or Geneva.

If you're taking a train, it's going to be easiest for you to go from Geneva. You'll want to head towards the Chamonix-Mont Blanc Train Station, and it'll take roughly 3 hours. You'll most likely have two stops along the way in Martigly and Vallorcine.

Another option to consider is getting from Paris to Chamonix. The journey would take closer to 6 hours, assuming you're able to get on a speed train, and it usually involves switching to a regional train as you get closer to Chamonix. When thinking of routes, it's also worth considering getting trains to St. Gervais - Le Fayet Railway Station. It's a little farther from Mont Blanc in general, but not by much, and if you have a more direct route to St. Gervais - Le Fayet Railway Station that might make more sense than heading to Chamonix. 

Getting to Mont Blanc via bus
    
Buses leave from most major cities in Europe towards Chamonix and the region at large, it might just take you more time than you thought. You may have to get to a more major metropolitan city such as Paris, Lyon, or Geneva and then get a bus which specifically heads to the region but, generally speaking, it's not all that difficult. 

Geneva actually offers a bus directly from the Geneva Airport which heads to Chamonix and, at last check, was called the Alpybus which costs around 25 euros.  

Getting to Mont Blanc via car

Lastly, you can also drive to Mont Blanc. In many cases, it's worth exploring renting a car or driving from your location rather than taking a train (and it's also easier to bring your gear) as the drive from Geneva can be done in about half the time. It's also worth noting that driving does give you some flexibility if you realize that you need to make a last minute run for any additional supplies. Just be sure that you've arranged a place for you to park your vehicle for the duration of your climb.