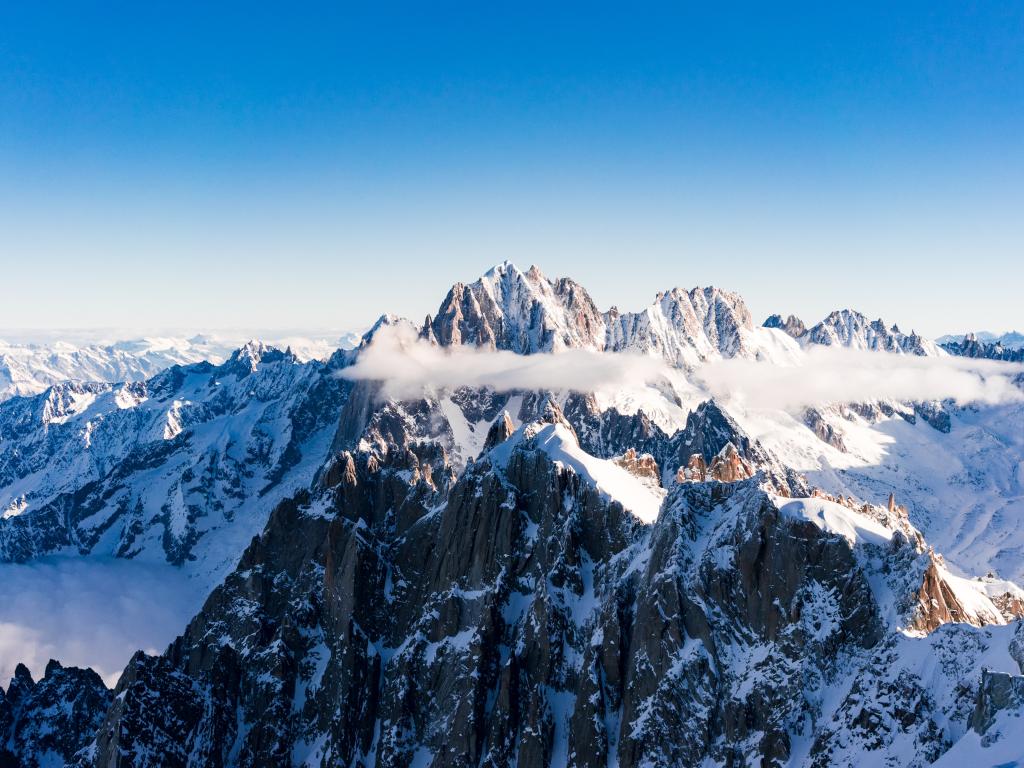 Requirements for Climbing Mont Blanc (Beginners and Experts)
Mont Blanc isn't known as an extraordinarily difficult mountain to climb from a technical standpoint, but it cannot be underestimated. The true challenge is more around physical fitness and endurance than sheer technical skill, but that's somewhat dependent upon the route that you're taking. In short, you should have serious mountain climbing experience, but also implement an extensive aerobic and cardio regime in the months leading up to the climb. You cannot over-prepare for a mountain like Mont Blanc, but you can certainly under prepare.

Many of the routes to climb Mont Blanc take around 2-3 days, but if you are not an experienced climber, then it might make sense to schedule a trip that's a little longer, though it will be more expensive. For example, you might want to schedule a trip that's 5 days long where you spend a day or two before you begin your ascension training, getting to know your guide and, most importantly, acclimatizing to the altitude. Acclimatizing to the altitude is going to be especially crucial if you're coming from a low or neutral altitude area. Keep in mind that Chamonix itself is over 1,000 metres above sea level, so you'll be dealing with some serious height from the onset.

Preparing for the Mont Blanc climb
A plethora of people climb, and most fatalities are attributed to improper preparation, so make sure you take the time to prepare the right gear, as well as your route. This, again, is where a guide can be extremely useful, as they know exactly what you need to have for a successful climb, and what it takes to get to the top. Also keep in mind that, like any mountain, different routes are going to require a different level of skill. It's not uncommon for inexperienced climbers to initially climb lesser summits near Chamonix, then come back at a later date to tackle Mont Blanc when they're more experienced.

For starters, you want to ensure that you're choosing the correct route when you're establishing how to tackle the mountain. If you're ascending by foot, for example, a common route is to begin in Saint-Gervais-Des-Bains, then reach the summit via the Gouter Route. You can also ascend Mont Blanc via skis but this should only be considered if you're a very experienced skier. Usually, this route is attempted in April and May though it can also be done in March and June.
You can base yourself out of Chamonix and spend a night at the Grand Mulets Refuge.

All in all, you have innumerable options to ascend in terms of both routes as well as method. It is, however, more common to ascend via foot, as well as generally safer if you're more accustomed to hiking than skiing. In either circumstance, you're going to want to have a guide unless you consider yourself an absolute expert in either discipline.
Mont Blanc temperatures
JAN
FEB
MAR
APR
MAY
JUN
JUL
AUG
SEP
OCT
NOV
DEC
Average °C
-3
-7
-3
5
8
14
16
15
13
8
-1
-6
Average °F
26
19
26
41
46
57
60
59
55
46
30
21
High °C
-1
-5
-1
7
10
15
18
18
15
10
1
-3
High °F
30
23
30
44
50
59
64
64
59
50
33
26
Low °C
-6
-11
-7
1
5
9
12
10
7
2
-5
-9
Low °F
21
12
19
33
41
48
53
50
44
35
23
15
How to climb Mont Blanc
How do I prepare for Mont Blanc?

Successfully reaching the summit of Mont Blanc requires a high degree of preparation in both your route planning as well as your fitness levels. This is not a mountain which can be climbed on a whim, especially if you lack climbing and hiking experience. 

When should I climb Mont Blanc?

Mont Blanc is located in the northern hemisphere, which means the best time to climb is in the summer. June to September is the safest time to climb, but if you desire fewer crowds and you've got an impressive climbing resume, then the spring and fall is also an option. Learn more. 
 

What permits do I need?

Despite recent environmental concerns, as well as worries about popular routes facing overcrowding, there is currently no official permit required to climb Mont Blanc. Learn more.

Do I need a guide to climb?

Mont Blanc is the most dangerous mountain in the region and, as such, a guide is strongly recommended - but not required. It's strongly suggested that first-timers and inexperienced alpine hikers hire a guide.

How do I get to Mont Blanc?

Mont Blanc is actually quite accessible, as it can be reached via road, rail, or air. Fly into Geneva, Lyon, or Haute-Savoie Mont Blanc Airport with Geneva providing closest access (just under 90km away). Otherwise, drive to Chamonix, or catch a train from London. Learn more.

What should I pack/what equipment do I need?

Mont Blanc is one of the world's tallest mountains and, as such, you're going to need to bring an array of gear to enable a successful climb. You'll need an ice axe, helmet, crampons, trekking poles, gaiters, as well as the appropriate clothing to reach the summit. Learn more.
Mont Blanc routes
Gouter Hut Route. Distance: 4000 m, average duration: 2-3 days, success rate: 65-75%
Grand Mulets Route. Distance: 3000 m, average duration: 2-3 days, success rate: 70%
Cosmiques Route. Distance: 3500 m, average duration: 2-3 days, success rate: 60-75%
Haute Route. Distance: 180 km, average duration: 12-14 days
Tour du Mont Blanc (Mont Blanc Circuit). Distance: 170 km, average duration: 11 days, success rate: 100%
Mont Blanc tours & reviews
A TRAVEL MAGAZINE BY TOURRADAR