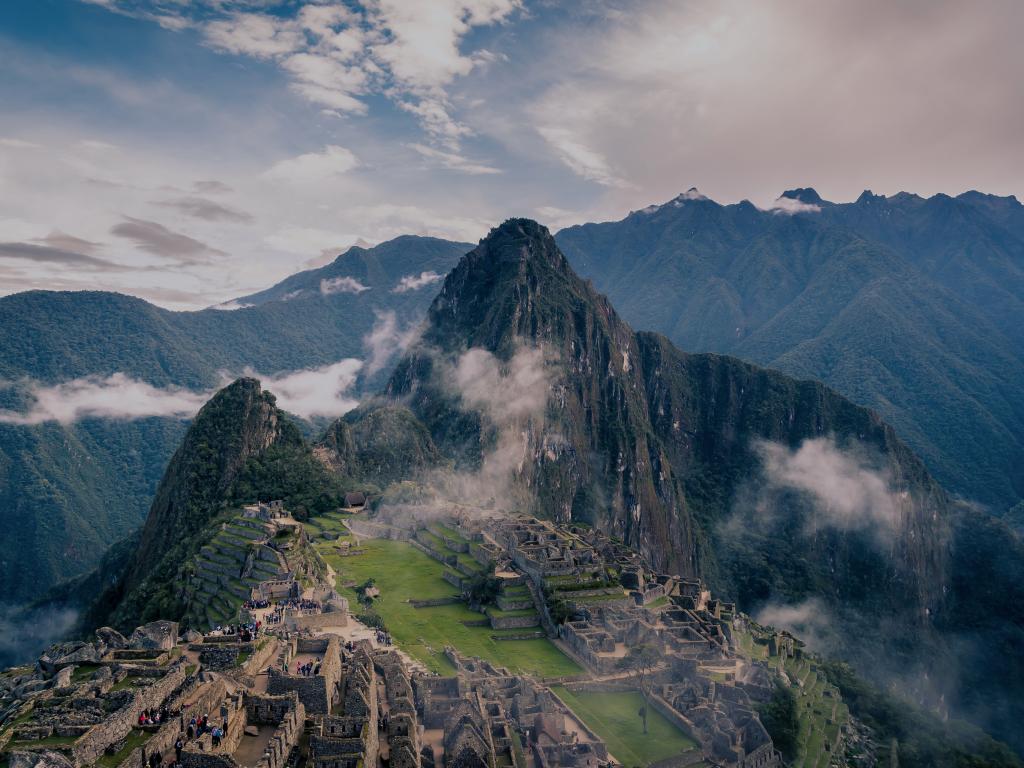 Salkantay Trek
Imagine having the freedom and flexibility of not having to worry about pre-booking non-refundable trail permits or being able to enjoy uninterrupted views of the Peruvian Andes all to yourself? If this sounds too good to be true, we promise it's not. This is the Salkantay Trek, where you can embark on a journey through the Andean Jungle, alongside the glacial lake of Humantay past Salkantay Mountain and finally, to the ancient Inca citadel of Machu Picchu.

With Machu Picchu set in your sights as the end goal, it goes without saying that each and every trek through the Sacred Valley will be a rewarding experience filled with phenomenal views. But, if it's a physically and mentally challenging journey that you're after, look no further than the Salkantay Trek. Or, if you want the best of both worlds; the Inca Trail and the Salkantay Trek, these two popular routes can be combined to create an unforgettable experience. 
 
In order to access the Salkantay Trek, most tour operators will pick up travellers in Cusco and drop off at Soraypampa, which is known and considered to be the formal starting point of the actual hike. 
 
The highest point for the Salkantay Trek can be found at the Salkantay Pass with an elevation of 4,600 m. Trekkers should be aware that altitude sickness is common and should aim to take the necessary precautions to reduce the change of any illness. 
 
The Salkantay Trek covers a distance of  55 kilometres, and can be completed in 4-5 days which includes a day spent exploring the Inca Citadel, Machu Picchu before ending in Cusco. 
 
On the Salkantay Trek, travellers can expect to hike through lowland jungles, past glacial lakes and over high alpine regions. 
 
There are no technical requirements for hiking the Salkantay Trek. 
Salkantay Trek difficulty rating
On this particular trek, you'll cross the Salkantay Pass which reaches an altitude of 4,600 m, so hikers should be prepared to contend with some altitude sickness. The trek can be done in 5 days, hiking 6-8 hours daily. The total length of the Salkantay Trek is 55km with daily ascents between 900m to 1000m, which means that previous hiking experience is highly recommended.
Salkantay Trek tips
The Salkantay Trek is most certainly challenging however if you're unsure of your ability to complete the journey, consider an itinerary that covers the Salkantay Trek over a greater number of days to allow more time to acclimatise and to ensure you have enough time to take the journey at your own pace. 
Don't forget to pack a variety of snacks in your bag for those moments when you need a burst of energy. 
Hiking permits are not required for the Salkantay Trek, however, you do need a ticket to enter Machu Picchu. 
It's difficult to predict how altitude sickness will affect you, so make sure you are prepared as possible by taking the necessary precautions including allowing enough time to acclimatise, by chewing coca leaves, drinking plenty of water and taking the appropriate medication if needed. 
Make sure you wear your hiking boots in before you hit the Salkantay Trek, as blisters could derail your entire journey. 
Machu Picchu weather
JAN
FEB
MAR
APR
MAY
JUN
JUL
AUG
SEP
OCT
NOV
DEC
Average °C
15
15
15
15
15
14
14
15
15
15
15
15
Average °F
59
59
59
59
59
57
57
59
59
59
59
59
High °C
24
25
25
25
25
25
25
25
26
25
26
26
High °F
75
77
77
77
77
77
77
77
79
77
79
79
Low °C
13
13
13
12
11
9
9
10
11
12
13
13
Low °F
55
55
55
54
52
48
48
50
52
53
55
55
Rainfall (mm)
138
141
151
62
23
17
22
24
44
75
86
121
How to climb Machu Picchu and the Sacred Valley
Machu Picchu routes
Inca Trail. Distance: 45 km, average duration: 4-5 days
The Lares Trek. Distance: 33-45 km, average duration: 4 days
The Salkantay Trek. Distance: 55 km, average duration: 5 days
The Choquequirao Trek. Distance: 65 km, average duration: 8-10 days
The Vilcabamba Trek. Distance: 62 km, average duration: 5 days
The Huchuy Qosqo Trek. Distance: 20 km, average duration: 3 days
The Quarry Trail. Distance: 26 km, average duration: 4 days
Machu Picchu tours & reviews
A TRAVEL MAGAZINE BY TOURRADAR