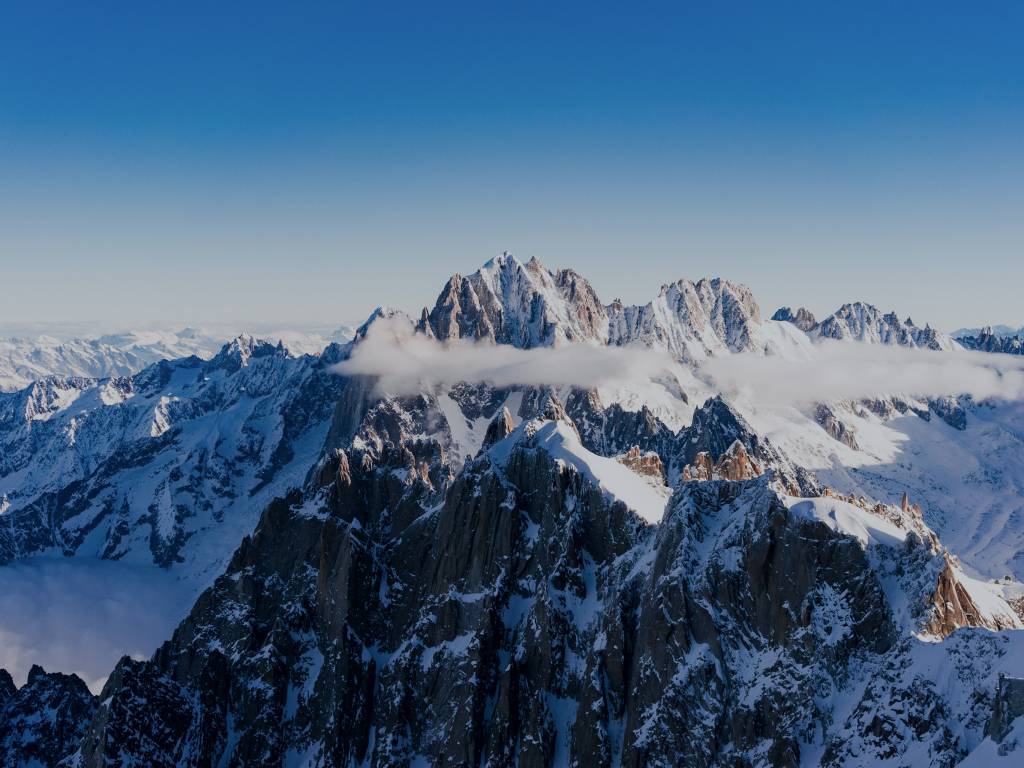 Gear and Equipment List for Mont Blanc
Find out everything experienced climbers pack on their journey along the trail of Europe's highest peak, Mont Blanc. We've consulted the experts and put together a detailed gear and equipment list to ensure your own climb will be a success! Read on to start preparing your own packing list and get ready for one incredible adventure along the Tour du Mont Blanc, a 170-kilometre long hiking trail!
See all Mont Blanc hiking tours
Mont Blanc temperatures
JAN
FEB
MAR
APR
MAY
JUN
JUL
AUG
SEP
OCT
NOV
DEC
Average °C
-3
-7
-3
5
8
14
16
15
13
8
-1
-6
Average °F
26
19
26
41
46
57
60
59
55
46
30
21
High °C
-1
-5
-1
7
10
15
18
18
15
10
1
-3
High °F
30
23
30
44
50
59
64
64
59
50
33
26
Low °C
-6
-11
-7
1
5
9
12
10
7
2
-5
-9
Low °F
21
12
19
33
41
48
53
50
44
35
23
15
How to climb Mont Blanc
How do I prepare for Mont Blanc?

Successfully reaching the summit of Mont Blanc requires a high degree of preparation in both your route planning as well as your fitness levels. This is not a mountain which can be climbed on a whim, especially if you lack climbing and hiking experience. 

When should I climb Mont Blanc?

Mont Blanc is located in the northern hemisphere, which means the best time to climb is in the summer. June to September is the safest time to climb, but if you desire fewer crowds and you've got an impressive climbing resume, then the spring and fall is also an option. Learn more. 
 

What permits do I need?

Despite recent environmental concerns, as well as worries about popular routes facing overcrowding, there is currently no official permit required to climb Mont Blanc. Learn more.

Do I need a guide to climb?

Mont Blanc is the most dangerous mountain in the region and, as such, a guide is strongly recommended - but not required. It's strongly suggested that first-timers and inexperienced alpine hikers hire a guide.

How do I get to Mont Blanc?

Mont Blanc is actually quite accessible, as it can be reached via road, rail, or air. Fly into Geneva, Lyon, or Haute-Savoie Mont Blanc Airport with Geneva providing closest access (just under 90km away). Otherwise, drive to Chamonix, or catch a train from London. Learn more.

What should I pack/what equipment do I need?

Mont Blanc is one of the world's tallest mountains and, as such, you're going to need to bring an array of gear to enable a successful climb. You'll need an ice axe, helmet, crampons, trekking poles, gaiters, as well as the appropriate clothing to reach the summit. Learn more.
Best Mont Blanc Treks and Routes
Gouter Hut Route

This is one of the most popular ways to reach the summit, as well as the shortest. Remember, due to its popularity, you'll need to book the Gouter Hut Refuge well in advance. It's considered the easiest route overall, but still requires serious climbing know-how and outstanding physical fitness.  

Distance: approximately 4000 metres from the typical starting point to the summit and back. 
Average duration: 2-3 days 
Average difficulty: Challenging - climbing experience and know-how is a necessity on this route, as some days will require upwards of 800m of difficult descent. You'll need experience using crampons, ice axes, and other climbing gear, as well as clothing which befits the extreme cold that can be experienced on the Mont Blanc massif. A very high degree of physical fitness, as well as mental toughness, will be required to reach the summit. You'll be hiking at times at an altitude over 4000 metres. 
Success rate: The success rate depends on whether you have hired a guide and the conditions that year, but tends to be around 65-75%

Grand Mulets Route

This route is beloved by skiers because of the access this route offers to the north face of Mont Blanc. As far as the ascent is concerned, it's actually the original route that was used to reach the peak by Jacques Balmat and Michel-Gabriel Paccard. Due to concerns over rockfall, it's recommended to ensure there are good weather conditions when embarking on this route. 

Distance: approximately 3000 metres from the typical starting point to the summit and back. 
Average duration: 2-3 days 
Average difficulty: Challenging - previous climbing experience is highly recommended, as the days will feature extensive treks and climbs, including a 7-hour trek to the summit which is typically done on the second day. Some parts of the Grand Mulets route are also badly crevassed, which makes previous climbing experience all the more important. This route will also include extremely high altitude (anywhere from 3200 to 4500 metres and beyond) 
Success rate: The success rate here depends on whether you've hired a guide and how you choose to implement the skiing component (not all climbers/skiers summit on this route), but around 70% is likely.

Cosmiques Route

This route is entirely on French territory and touches upon all three of the massif's peaks, which has garnered this route a reputation among climbers as one of the most challenging, but also perhaps the most beautiful. Make no mistake though, this route is very difficult, and though it doesn't necessarily take long to reach the summit, it's two days you better be prepared for. 

Distance: approximately 3500 metres from the typical starting point to the summit and back. 
Average duration: 2-3 days
Average difficulty: Challenging - Whether you're aiming to tackle the summit in 2 or 3 days or not, your final ascent is going to be extremely physically challenging. If you aim to summit in two days, your ascent/descent on the final day could take up to 12 hours, especially if your group is moving slowly. You'll need working climbing knowledge, and you'll need an understanding of how to utilize ice axes, crampons, and how to lay properly to maintain body heat. 
Success rate: The success rate depends on whether you have hired a guide and the conditions that year, but tends to be around 60-75%

Haute Route

This isn't the typical route when you think of Mont Blanc by any means. Rather, it's the name given to the famous route between Zermatt, Switzerland and Chamonix, France. Traditionally, it's conceived of as a route completed in the winter in roughly 7 days or in the summer, but it will take roughly 5-7 days longer. 

Distance: 180 km
Average duration: 12-14 days
Average difficulty: Moderate to challenging

Tour du Mont Blanc

This is, again, not necessarily a conventional "route" as it were, but rather a long-distance walk. It has 10km of ascent/descent overall, and the route offers gorgeous scenes through Italy, Switzerland, and, of course, France. This route essentially circles the Mont Blanc Massif. 

Distance: 170km
Average duration: 11 days 
Average difficulty: Moderate/Challenging. The Tour du Mont Blanc is highly customizable and, as such, it can include a more rugged and challenging path, or a mild one. Regardless, this route does require a base level of physical fitness, and you'll also need to be wearing the appropriate footwear and clothing to find success, but is doable with the right level of preparation and dedication. 
Success rate: 100%
Mont Blanc tours & reviews
A TRAVEL MAGAZINE BY TOURRADAR