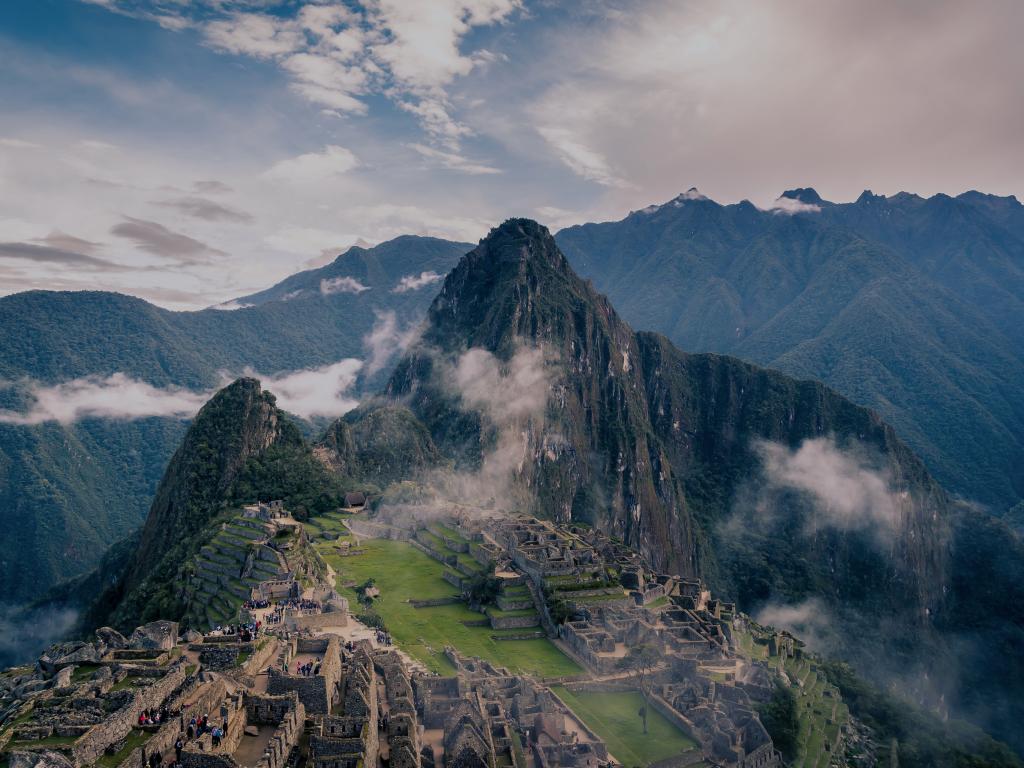 Lares Trek
Yes, the Inca Trail is absolutely beautiful, but if you're searching for an alternative trekking route to transport you through the Sacred Valley to Machu Picchu, consider the Lares Trek for your Andean adventure. If you're under the impression that the Lares Trek is a less-spectacular version of the Inca Trail, you'd be wrong. This trek starts at 3,200m and ascends to 4,600m, and will reveal to you some of the most beautiful views in the world. 

The Lares Trek may not include as many Inca ruins, but in no way does that mean the trail is devoid of any personality. You can set your eyes on marvellous agricultural terraces, fortresses, and rugged mountains, and enjoy views of the Andes that stretch as far as the eye can see. The best part is that you can enjoy all of the above (and more) without any disruption from other trekkers: you can almost bet on having the trail all to yourself. 
 
The Lares Trek officially starts from the town of Lares. However, most tour operators will pick up travellers in Cusco and take the 3-hour drive to Lares.
 
The highest pass on the Lares Trek will be on at the Ipsaycocha Pass, which reaches a height of 4,450 metres. 
 
The Lares Trek is a popular route for travellers searching for an alternative to the Inca Trail, mostly because it is the shortest route at just 33km and can be completed in just 3-4 days, plus time to explore Machu Picchu. 
 
On the Lares route, travellers can expect to see uninterrupted views of the snow-capped Cordillera de Vilcanota range while passing remote communities, farms, and crossing over rocky mountain trails. 
Lares Trek difficulty rating
The Lares Trek can be completed in 4 days, covering a total distance of 33 to 45 km, depending on the route you choose. To hike this trek you don't need any previous trekking experience, but you must be capable of walking 5-7 hours daily. With the highest altitude reaching 4,450 m, be prepared for potentially experiencing altitude sickness.
Lares Trek tips
Don't forget to look around you and take in the beauty as you trek along the trails in the Sacred Valley. 
Listen to your guide, as they are an invaluable resource and source of knowledge. 
You don't need to be an athlete to trek through the Sacred Valley, but you will need to start training beforehand, to physically and mentally prepare yourself. 
Just because you'll be trekking at a high altitude doesn't mean the bugs won't be able to reach you, so don't forget to pack insect repellant. 
A local's tip is to chew on coca leaves to help alleviate any symptoms of altitude sickness. 
Machu Picchu weather
JAN
FEB
MAR
APR
MAY
JUN
JUL
AUG
SEP
OCT
NOV
DEC
Average °C
15
15
15
15
15
14
14
15
15
15
15
15
Average °F
59
59
59
59
59
57
57
59
59
59
59
59
High °C
24
25
25
25
25
25
25
25
26
25
26
26
High °F
75
77
77
77
77
77
77
77
79
77
79
79
Low °C
13
13
13
12
11
9
9
10
11
12
13
13
Low °F
55
55
55
54
52
48
48
50
52
53
55
55
Rainfall (mm)
138
141
151
62
23
17
22
24
44
75
86
121
How to climb Machu Picchu and the Sacred Valley
Machu Picchu routes
Inca Trail. Distance: 45 km, average duration: 4-5 days
The Lares Trek. Distance: 33-45 km, average duration: 4 days
The Salkantay Trek. Distance: 55 km, average duration: 5 days
The Choquequirao Trek. Distance: 65 km, average duration: 8-10 days
The Vilcabamba Trek. Distance: 62 km, average duration: 5 days
The Huchuy Qosqo Trek. Distance: 20 km, average duration: 3 days
The Quarry Trail. Distance: 26 km, average duration: 4 days
Machu Picchu tours & reviews
A TRAVEL MAGAZINE BY TOURRADAR