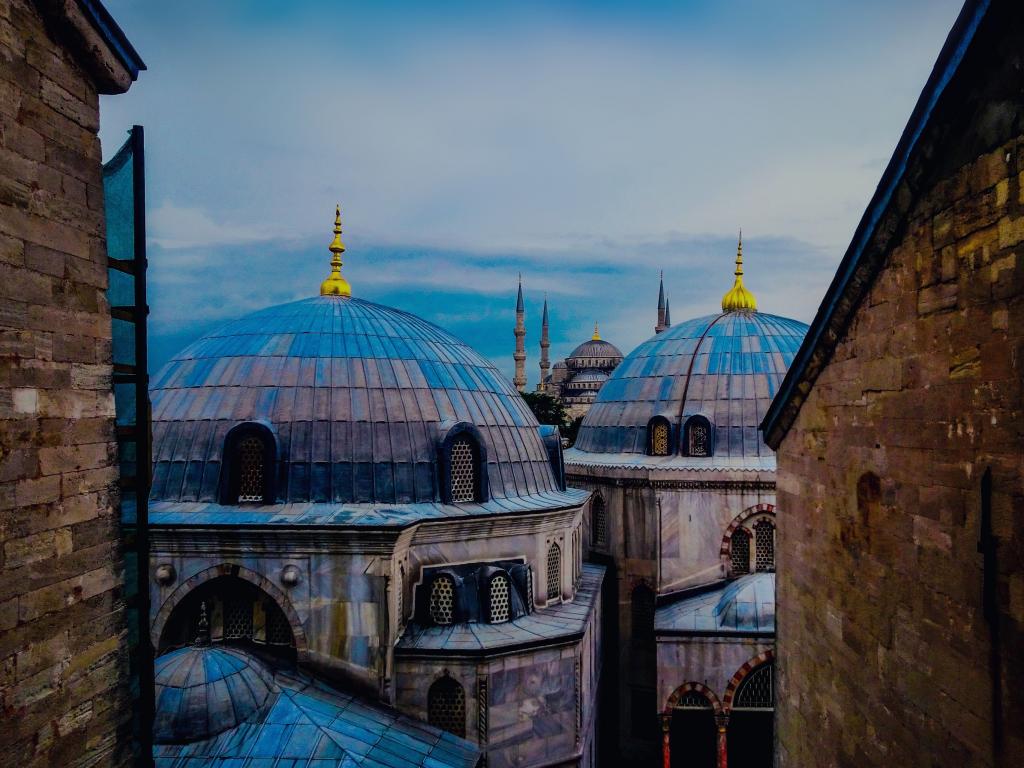 Turkey Travel Guide
A riot of colours awaits you in Turkey along with the ancient markets of Istanbul, the surreal landscape of Cappadocia and the staggering travertine terraces of Pamukkale. Straddling two different continents, it's a place where the East meets West and two civilisations collide. You're in for an incredible treat.
The Highlights


Cappadocia

Although storybook visions of colourful hot air balloons are what come to mind when you name drop Cappadocia, there's more to it than Instagram suggests. Temples cut into rocks and an underground city is more of what's on offer, whilst its valleys host hiking trails that are as scenic as the views from above.

Pamukkale

Though Cappadocia has reached an almost impossible level of popularity, Turkey boasts other sights that are equally picturesque. Take Pamukkale, for example. Its travertine terraces of hot springs have drawn weary, pamper-seeking travellers through the ages. Dip your feet in the Pamukkale Antique Pool in the nearby Hierapolis.

Ephesus

Three kilometres from the town of Selçuk is the ancient city of Ephesus. It was once one of the most important Greek cities in Asia Minor, and its ruins are now famous world over. There's much to see here but the most beautiful remnants might just be the Temple of Hadrian, Library of Celsus, Temple of Artemis and the amphitheatre. While you're there, stop by the House of the Virgin Mary. 
Gallipoli

The Gallipoli Peninsula has played its part in history and has endured several wars including World War I, whose haunting battlefields now host a number of war memorials. Learn about the ill-fated Gallipoli events by seeing the 3D exhibits at the Çanakkale Epic Presentation Centre in the village of Kabatepe as well as visiting the Lone Pine Cemetery and ANZAC Cove landing site.

Turquoise Coast

Also known as the Turkish Riviera, the Turquoise Coast certainly lives up to its name and you should make time for the likes of Fethiye, Antalya or Bodrum. This staggering coast boasts shimmering beaches and pristine waters, and sailing is the main pastime. But there are other things to see as well: ancient tombs and ruins, hilltop cities and the 500-kilometre Lycian Way for all hiking trips.

Saklikent National Park

Adventurous souls will be charmed by Saklikent National Park's natural beauty and outdoor offerings. It's home to the famed Saklikent Gorge, one of the deepest in the world, through which gentle rapids run and several waterfalls pour into. Take an invigorating swim in the chilly waters, go river rafting, rappel down a waterfall, and treat yourself to Turkish tea on the river bank.
The Basics
The Location

Turkey is a country bridging Europe and Asia, bordering Bulgaria and Greece in the west and Armenia, Georgia, and Iran in the Middle East. From New York, a non-stop flight is 9h 45m and from London, it is 3h 50m.

Capital City

Ankara is nestled in the heart of Turkey and is the second largest city in the country. It's a good waypoint when going to tourist destinations like Cappadocia.

Main Airport

The Atatürk International Airport is the main hub for domestic and international travellers. It is located in Yeşilköy, 24 kilometres from the city centre of Istanbul.

Code

IST

Closest City

Istanbul

Language Spoken

The official language of Turkey is Turkish. English is not spoken fluently across the country, so it might be best to learn basic Turkish phrases before your trip.

Currency

Turkey uses the Turkish Lira. The currency code is YTL. ATMs are widely available but it's advisable to keep some cash on hand at all times.

Visas

Australian, Canadian, UK and US citizens must purchase an e-Visa ahead of departure for stays of up to 60 or 90 days, depending on the country. Make sure you check visa requirements before you travel. 

Electricity

Electrical current is 230 volts, 50Hz; a UK-type plug with three flat pins. The standard voltage in the US is 110 volts, so to avoid frying your electronics, you may need a surge adaptor.

Vaccinations

Typhoid, Hepatitis A and B vaccinations are advised, but not compulsory. Consult your doctor 4 to 6 weeks before you depart.

Emergency Calls

Keep these phone numbers handy in case of emergency: 155 for the police, 112 for an ambulance and 110 for fire.
When to Visit
Turkey Tours
Visit Responsibly

Travelling responsibly means respecting the communities, culture and environment of the places you visit. Keep these tips in mind when travelling to Turkey:

Go green. Be environmentally conscious on the road by taking short showers; turning off the lights in your hotel room when you leave; and resisting the urge to collect any plants, seashells, or other natural flora.

Respect cultural differences. Before travelling, read about the local culture and customs – even just knowing the dress code and a few basic phrases in the local language will go a long way.

Support local businesses. Enjoy a more authentic experience and directly support the local economy by travelling with a local guide, eating in local restaurants, buying from local artisans, and staying in locally-owned and operated accommodations.

Wherever possible, avoid single-use plastics. Pack reusable items such as your own shopping bags, utensils, a water bottle, and a straw. These items are typically lightweight and compact, and will greatly reduce your consumption of plastics.

Be conscious of overtourism. Opt to visit the lesser-known regions of Turkey or travel outside the peak season – you'll likely even get a better deal and won't have all the crowds!

 

Sustainable Tourism in Turkey

Natural Life Protection Association (DHKD)
This foundation strives to preserve Turkey's rich plant and animal species as well as their habitats by raising awareness through conversation projects. Public and private sector companies also partner with the association to help create social awareness.

Turkey Goes Organic
Turkey is paving the way with all things organic. The Five Boutique Hotel is the first hotel in Turkey to be entirely organic. In addition, there are two incredible organic outdoor markets located in Istanbul: the Ekolojik Halk Pazari and City Farm, which offer a large variety of the freshest produce.

Ecotourism in Turkey
Turkey boasts many incredible destinations that are perfect for an eco holiday. One such place is the educational facility, Narköy. Located in the province of Kocaeli, Narköy serves both as a modern hotel and as an organic farm. The facility offers nomad tents, group lodging units, an organic-based restaurant, and a nature-filled forest. Moreover, visitors have the opportunity to partake in the various workshops offered such as "To be in Nature," "Make Your Garden," and "Permaculture."
FAQs about Turkey
Do you tip in Turkey?

Tipping is a modest and cash-based affair in Turkey. Give porters 2-3TL per bag; hotel staff 5TL; and Turkish bath attendants 10-20% of service provided. Tip tour guides collectively 10-20 TL, cab drivers by rounding up your fare and servers 10-15% of your total bill.

What is the internet access like?

Internet, as well as WiFi access, is available throughout Turkey, and free in most accommodations, restaurants and cafes, public transportation and airports. Mobile hotspots, which you can rent, are also on hand to give you constant access during your visit.

Is the tap water safe to drink?

Tap water in big cities goes through filtration, however, the plumbing in some places aren't the best. Locals traditionally drink bottled water, which is readily available and affordable, so you should follow suit.

Can I use my credit cards?

Visa and MasterCard are widely accepted while the more high-end businesses also accept American Express. Cash is still king, however, so it's good practice to keep enough on your person at all times.

 

What are the public holidays?

Turkey's public holidays include National Sovereignty Day on April 23, Labour and Solidarity Day on May 1, Democracy and National Unity Day on July 15, Victory Day on August 30, Republic Day on October 29, Ramadan, and Sacrifice Feast on the tenth day of the Islamic month Dhu'l-Hijjah. 

What are the toilets like?

You'll find both sit down and squat toilets all over the country. It's important to bring your own toilet paper as it is not always available, and it's good practice to throw used toilet paper in the rubbish bin instead of flushing them.

What should you wear in Turkey?

In most areas everyday clothing is acceptable, but a good rule of thumb is to stay on the conservative side where possible. In mosques, it is essential that you cover your knees and shoulders, don socks instead of going barefoot and cover your head in a light scarf.

Is Turkey safe for solo travellers?

Although Turkey is by no means a dangerous country, petty crime, assaults, scams and even druggings are not uncommon, and solo travellers (both men and women) are often the target. It's best to travel in groups or with a companion.
A TRAVEL MAGAZINE BY TOURRADAR