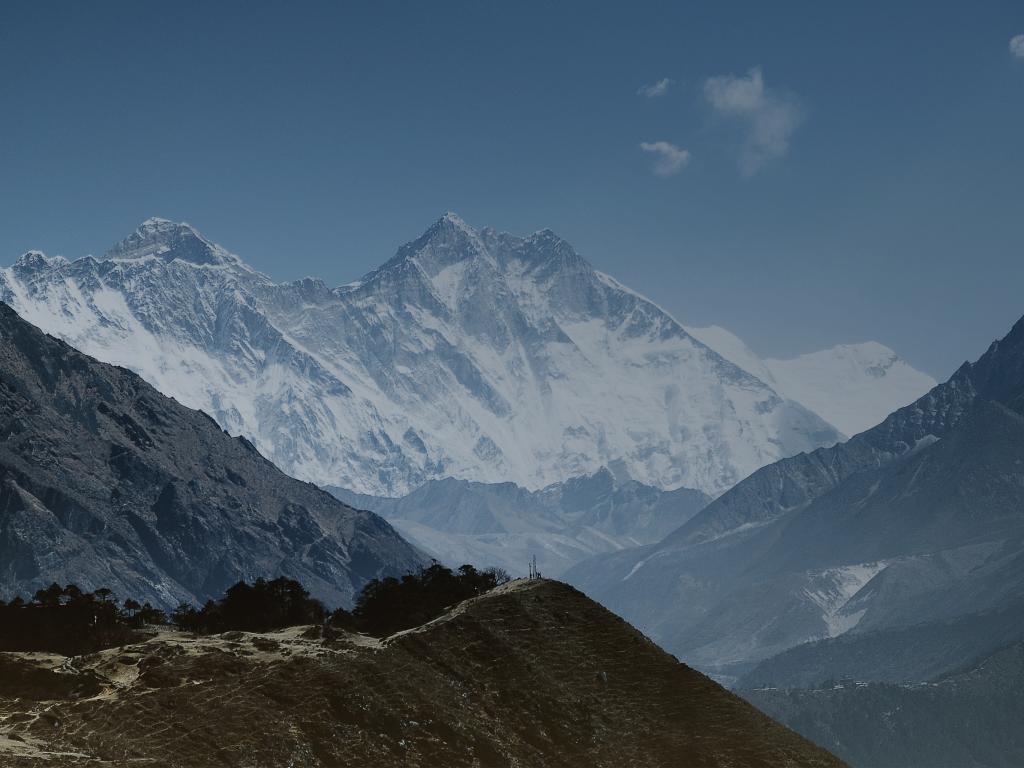 Nepal Travel Guide
If there was ever a place as close to Shangri-La as you could get on Earth, it's Nepal. With ts prayer flags quietly dancing in the wind or its towering, snow-capped peaks that dominate its skylines, Nepal has an ethereal, untroubled way that steers you to an astral vibe that is truly mesmerising. Nepal is full of enchantments waiting to be explored. 
The Highlights


Pokhara

This city about six hours from Kathmandu isn't just a jumping off point to the Annapurna Circuit and the Himalayas. Many adventures, albeit on a smaller scale, are also scattered about within the city. Go on a quiet, yet scenic boat ride on Phewa Lake. Hike to Patale Chhango only two kilometres from the city. Paraglide, zip line or do both. And of course, sample local dishes such as momos.

Sarangkot

No trek, big or small, is left unrewarded in Nepal. Climb up the steps from the hill village of Sarangkot and you're treated to a magnificent panorama of some of the Himalayas most dramatic peaks including the summit of the seventh highest mountain in the world. Come at dawn or at dusk (the golden hours). It's when the mountains are painted purple and orange that the view is at its most dramatic.

World Peace Stupa

There are 80 peace pagodas in the world, and Nepal is home to two of them. Before leaving Pokhara, visit its own Shanti Stupa set atop Ananda Hill just outside the city. It's a lovely place to hike to not only for the views it offers of the Annapurna range and Fewa Lake but also to inspire peace and serenity in you.
Chitwan National Park

It's both Nepal's first national park and a UNESCO World Heritage Site. While these accolades make Chitwan National Park a worthy addition to your Nepal list, its wildlife-focused adventures are what draw the crowds. A visit to a Tharu village as well as a canoe and elephant safari to see its rich wildlife are musts to complete your experience. Sloth bears, otters and tigers may also be spotted. 

Bhaktapur

This ancient city is worth ticking off your list to learn about the history and culture of Newar people. Bhaktapur boasts exquisite palace courtyards, wood and stone artworks and pagoda-style temples. Walk around Bhaktapur Durbar Square and stop at some of the pagodas. Admire the World's Tallest Lord Shiva statue. If you can, time your visit during one of the festivals in town. 

Annapurna

Tackle the Annapurna circuit, a trail that takes you through the Annapurna mountain range crossing two river valleys and the Thorung La pass. It's a laborious trek that takes about two weeks, and you must train before your trip. But it's also a rewarding one at that, passing waterfalls, verdant valleys, awe-inspiring views of neighbouring peaks. Maybe even take a dip in a natural hot spring.
The Basics
The Location

A country in southern Asia in the Himalayas, Nepal borders China, India and Bangladesh. It's a 19-hour flight from New York with a layover. From London, it's about 12 hours, also with a stopover. 

Capital City

Kathmandu is situated in the Kathmandu Valley in central Nepal. It's the largest city in Nepal and best known for its old town and as the gateway to the country's best attractions. 

Main Airport

Kathmandu's Tribhuvan International Airport is the main hub for international travellers. It is located in Kathmandu, 5.5 kilometres from the popular neighbourhood of Thamel. 

Code

KTM

Closest City

Kathmandu

Language Spoken

The official language of Nepal is Nepali. As English is the language of commerce, it is widely spoken, especially among educated Nepali. Note that many speak a unique dialect called Nenglish or Nepali English.

Currency

Nepal uses the Nepalese Rupee. The currency code is NPR. Make sure to bring traveller's cheques and some cash, as ATMs can be unreliable or limited to local banks especially outside Kathmandu and Pokhara. Be aware of power failures when using ATMs.

Visas

For most citizens travelling to Nepal, a visa is issued upon arrival for 15, 30 or 90-day stays. Be aware that you will be limited to 150 days for each 12 month period as a tourist. Volunteering on a tourist visa is strictly prohibited. 

Electricity

The electrical current in Nepal is 220V/50hz using either the three round prongs, small or big, as well as two round prongs. 

Vaccinations

Boosters for Diphtheria, Hepatitis A, Tetanus and Typhoid are advised. Other recommended vaccinations are Japanese Encephalitis, Rabies, Cholera and Hepatitis B. Consult your doctor 4 to 6 weeks before you depart.

Emergency Calls

The phone numbers to call in case of emergency are 100 for the police, 102 for an ambulance and 101 for a fire.
When to Visit
Nepal Tours
Visit Responsibly

Travelling responsibly means respecting the communities, culture and environment of the places you visit. Keep these tips in mind when travelling to Nepal:

Go green. Be environmentally conscious on the road by taking short showers; turning off the lights in your hotel room when you leave; and resisting the urge to collect any plants, seashells, or other natural flora.

Respect cultural differences. Before travelling, read about the local culture and customs – even just knowing the dress code and a few basic phrases in the local language will go a long way.

Support local businesses. Enjoy a more authentic experience and directly support the local economy by travelling with a local guide, eating in local restaurants, buying from local artisans, and staying in locally-owned and operated accommodations.

Wherever possible, avoid single-use plastics. Pack reusable items such as your own shopping bags, utensils, a water bottle, and a straw. These items are typically lightweight and compact, and will greatly reduce your consumption of plastics.

Be conscious of overtourism. Opt to visit the lesser-known regions of Nepal or travel outside the peak season – you'll likely even get a better deal and won't have all the crowds!

Sustainable Tourism in Nepal

National Parks and Wildlife Conservation Act of 1973
Nepal made conservation and protection of the natural environment a priority in the early 1970s. The nature conservation act covers the popularly visited Annapurna region, UNESCO sites like the Chitwan National Park and Sagarmatha National Park, and the Gauri Shankar conservation area.

Using Tourism to Alleviate Poverty in Nepal
In 2007, Nepal launched the Tourism for Rural Poverty Alleviation Programme (TRPAP). This program was designed to use tourism to help address disadvantaged groups by focusing on human resource issues, sustainable tourism planning, and collaboration between the local private and public sectors. When assessing the effectiveness of the program, it has been noted that the project improved infrastructure in select rural areas, thousands of people received skills training for tourism, and there has been increased access to capital for small tourism businesses.
 
FAQs about Nepal
Do you tip in Nepal?

In Nepal, tip 10% at restaurants and hotels for good service, 100-200 NPR per day for tour guides, and round up your taxi fare. At expensive restaurants, service charges on your bills might not make its way to your server so tip directly and always be discreet when handling tips.

What is the internet access like?

Internet connection is widely available, but it can range in quality and is often affected by power outages. WiFi, often free, is available in most tourist destinations and hotels while 4G is available in most towns if you choose to get a mobile.

Is the tap water safe to drink?

Don't do it. Buy bottled water, boil the tap water or use water purification pills. Make sure that the seal on your bottled water isn't broken when purchasing.

Can I use my credit cards?

Credit cards are widely accepted in Kathmandu and Pokhara at most tourist restaurants, shops and hotels; however, cash is still king. Plus, most credit card transactions have an extra surcharge and outside of the two cities, credit cards are not widely used.

What are the public holidays?

Holidays include Prithvi Narayan Shah's Birthday (Jan 10), Basanta Panchami (Jan/Feb), Maha Shivaratri (Feb/Mar), Nepali New Year (Apr 14), Janai Purnima (Jul/Aug), Teej (Aug/Sept), Constitution Day (Sept 19), Indra Jatra (Sept), Dasain (Sept/Oct), and Tihar (Oct/Nov).

What are the toilets like?

Nicer tourist locations and hotels have western-style toilets. However, squat toilets are still the norm. Most just provide water to clean. Bring an emergency supply of toilet paper and put any used paper in rubbish bins.

How should you dress in Nepal?

Dress modestly but comfortably. Baggy pants, midi or long skirts and loose tops are recommended for women, even kurtas and shalwars if you want to fit in, while longer length shorts, pants and t-shirts are advisable for men.

How can you help preserve Nepal's natural beauty?

Responsible and conscientious tourism is of great importance. Carry your rubbish and dispose of it properly when trekking, use biodegradable detergent when washing in streams, avoid disturbing the flora and respect the culture.
A TRAVEL MAGAZINE BY TOURRADAR