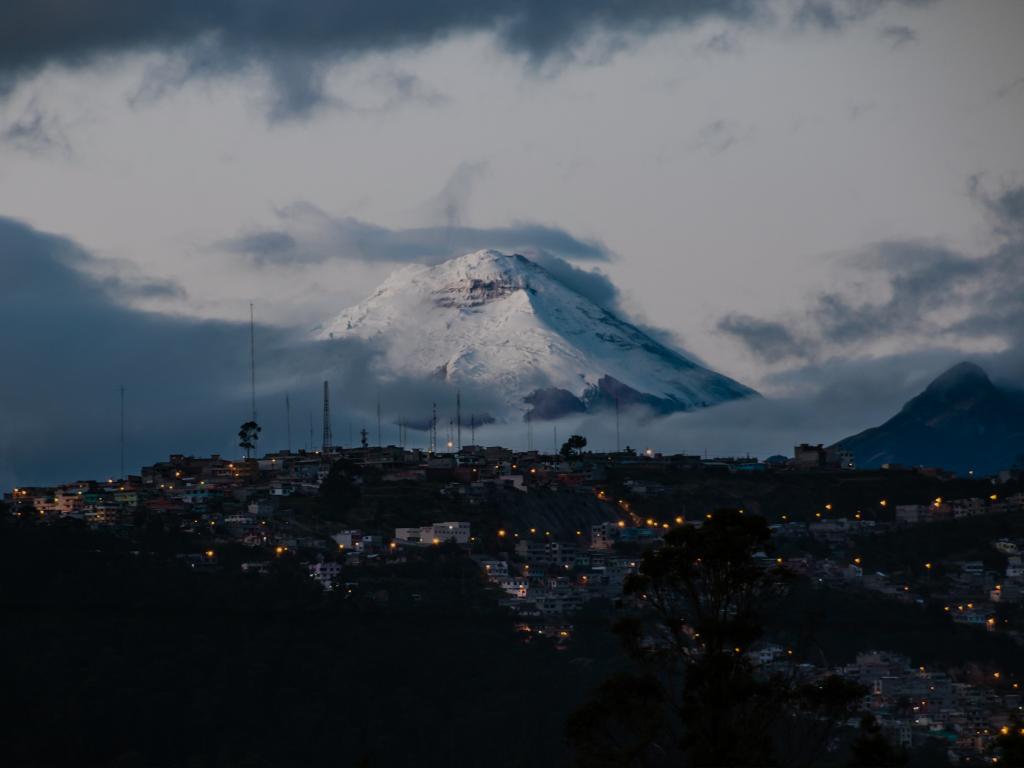 Ecuador Travel Guide
As one of the few countries on Earth where the two hemispheres meet, Ecuador is a country of curiosities. It's home to Chimborazo which boasts a summit that is the farthest point you can get from Earth's inner core. Then, there's Quito, the highest capital in the world and the infamous islands that inspired the Theory of Evolution. Safe to say, there's plenty waiting to astound you in Ecuador.
The Highlights


Quito

The capital city and UNESCO World Heritage Site of Quito is not to be missed – even if you're only there to stand on both sides of the equator at the same time. Get that out of the way and then explore the rest of the city. See its stunning monuments and architecture, visit its captivating museums and shop until you drop at the Artisan Market. 

Llanganates National Park

This national park is more than just the setting for legends and stories of buried treasures. Llanganates is home to ocelots, spectacled bears, tapirs, toucans and other wildlife. Whether you're going on a guided hike, river rafting, zip lining or simply wildlife watching, you're in for memorable adventures. 

Sangay National Park

Animal lovers, volcano watchers, waterfall enthusiasts and trekkers alike will find something to worship about Sangay National Park. The UNESCO World Heritage Site is a refuge for rare animals as well as home to several volcanoes and waterfalls worth trekking to. From wildlife watching to discovering endemic plant species to climbing an inactive volcano, there's a myriad of things to do.
Chimborazo Volcano

Ecuador's Avenue of Volcanoes is undeniably awe-inspiring, but climbing the snow and ice capped summit of the Chimborazo is a must for extreme adventurers. Trekking this Andean stratovolcano is one for the bucket list, and even if you can't make it all the way to the top, an easy hike to where the glacier starts or admiring it from a nearby village is enough.

Cuenca

Though Cuenca's centre is listed as a UNESCO World Heritage Site due to its beautiful historical buildings, the city boasts more than just its architecture. Learn how Panama hats are made, dine at the restaurant dedicated to Che Guevarra, take a walk along La Calle Larga and enjoy the views at El Turi. When you're finished exploring, use the city as your jumping off point to Cajas National Park.

Banos

It's not hard to fall in love with Banos, Ecuador's gateway to the Amazon. Also known as Baños de Agua Santa, this small city south of Quito is where many heroic journeys and extraordinary adventures begin including rafting the rapids to hiking to one of the 60 waterfalls nearby and exploring the famous jungle. Then spoil yourself by sampling local delicacies and taking a dip in a hot spring.
The Basics
The Location

Ecuador is a country in South America, bordering Colombia, Peru and the Pacific Ocean. From New York, a non-stop flight is about 6h 15m. From London, a flight is about 15 hours, with a stopover.

Capital City

Quito is located on the lower slopes of the volcano Pichincha. It is the second-highest official capital city in the world and closest to the Equator. 

Main Airport

Quito's Mariscal Sucre International Airport is the main hub for domestic and international travellers. It is located 18km from the city of Quito in the Tababela Parish. 

Code

UIO

Closest City

Quito

Language Spoken

The official language of Ecuador is Spanish. English is spoken in most businesses and restaurants catering to tourists.

Currency

Ecuador uses the US Dollar. The currency code is USD. ATMs are found in most cities and towns, though some can run out of money. Keep smaller bills on hand as some vendors won't accept larger bills.

Visas

For Australian, Canadian, UK and US citizens, no prior visa is required and will be issued free upon arrival. Stays of up to 90 days in Ecuador are allowed in most cases. 

Electricity

Quito uses 110V/60hz as well as US Type A and Type B plugs. An adapter or converter might be necessary if you're not coming from the United States.

Vaccinations

Typhoid, Hepatitis A and B, Rabies and antimalarial tablets are advised. Proof of Yellow Fever Vaccination is required if travelling from a high-risk country. 

Emergency Calls

The phone numbers to call in case of emergency are 101 for the police, 131 for an ambulance and 102 for a fire. 911 is used in major cities as the general emergency number.
When to Visit
Ecuador Tours
Visit Responsibly

Travelling responsibly means respecting the communities, culture and environment of the places you visit. Keep these tips in mind when travelling to Ecuador:

Go green. Be environmentally conscious on the road by taking short showers; turning off the lights in your hotel room when you leave; and resisting the urge to collect any plants, seashells, or other natural flora.

Respect cultural differences. Before travelling, read about the local culture and customs – even just knowing the dress code and a few basic phrases in the local language will go a long way.

Support local businesses. Enjoy a more authentic experience and directly support the local economy by travelling with a local guide, eating in local restaurants, buying from local artisans, and staying in locally-owned and operated accommodations.

Wherever possible, avoid single-use plastics. Pack reusable items such as your own shopping bags, utensils, a water bottle, and a straw. These items are typically lightweight and compact, and will greatly reduce your consumption of plastics.

Be conscious of overtourism. Opt to visit the lesser-known regions of Ecuador or travel outside the peak season – you'll likely even get a better deal and won't have all the crowds!

Sustainable Tourism in Ecuador

National Sustainability Standards for Tourism
Ecuador's tourism industry has adopted a set of standards that ensure that tourism throughout the country is carried our sustainably. These standards are the result of a collaboration between the Ministry of Tourism of Ecuador and the Global Sustainable Tourism Council (GSTC), and have received a mark of "Recognition" by the GSTC that their standards are aligned with the universal standards set by the council.

Bountiful Biodiversity on the Galapagos Islands
When it comes to impressive flora and fauna, the Galapagos islands are tough to beat.The Galapagos archipelago and surrounding waters are a UNESCO World Heritage Site and more than 95% protected under the status of conservation. Travellers are welcome in controlled numbers, and while the entry fees to the Galapagos National Park contribute to conservation. Throughout the rest of the country, there are also many opportunities to experience nature through ecotourism.

 
FAQs about Ecuador
Do you tip in Ecuador?

Tipping is customary in Ecuador. Typically, tour guides are tipped $5 per person, per day and drivers $3 per day while bellhops are given $1 per bag. Additionally, cab fares are rounded up and most restaurant bills already have a service charge included so leaving a 3-5% tip is at your discretion. 

What is the internet access like?

WiFi is available in most cities and towns across the countries, even in guesthouses, large shopping malls, restaurant chains and airports.

Is the tap water safe to drink?

Tap water isn't safe to drink in Ecuador. Only drink bottled or boiled water.

Can I use my credit cards?

Yes, Visa, Mastercard, American Express and even Diner's Club are widely accepted throughout Ecuador. 

What are the public holidays?

Official holidays in Ecuador include Simón Bolívar Day on July 24, Independence Day on August 10, Guayaquil Independence Day on October 9, and Cuenca Independence Day on November 3. The country also celebrates Christmas Eve, New Year's Eve and Carnaval as an unofficial holiday. 

What are the toilets like?

Sit down toilets are available all over the country. You must remember, however, that plumbing isn't the best and flushing toilet paper is a huge no unless you're in a luxury hotel with better facilities. To avoid clogged toilets, get in the habit of disposing of used toilet paper in provided bins.

Is it safe to travel Ecuador solo?

Ecuador is generally safe for solo travellers, both men and women. However, it's very important to exercise due caution as mugging and assault can happen at night. Travelling in a group or with a companion is safest.

How do you get around in Ecuador?

Getting around in Ecuador isn't always the easiest. However, you can get around Quito by taking taxis and buses, of which there are three lines: Ecovia, Trole and Metrovia. There are also buses that can take you in-between cities and towns if flying isn't an option.
A TRAVEL MAGAZINE BY TOURRADAR