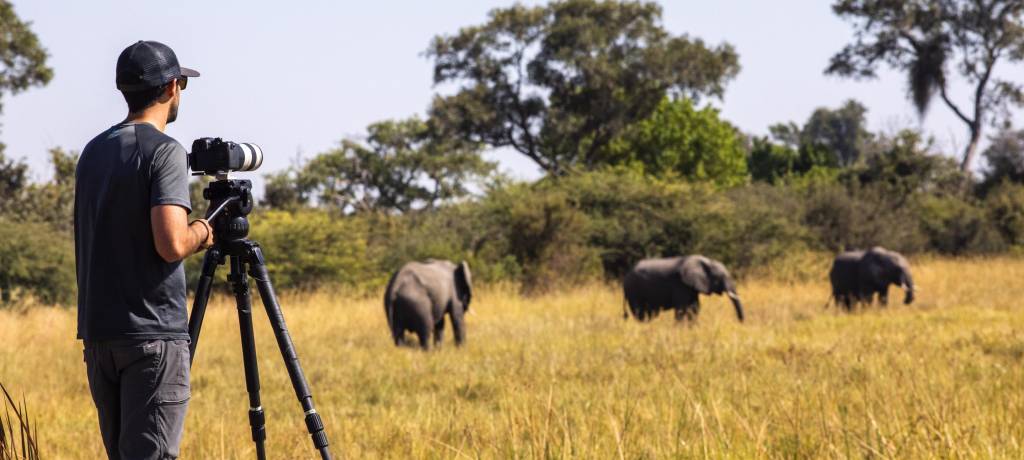 Photographic Safari Holidays
Hone your photography skills and capture all the magic from your game drives on a photographic safari — the ultimate tour for photography enthusiasts. These safari holiday packages are led by professional photographers, so whether you choose to explore the grassy plains of South Africa or the swampy inland of Botswana, you're guaranteed to come away with stunning images that will last a lifetime.
Best African photo safari tours
Popular destinations for photography safaris
Best national parks for photographic safaris
Boasting unbeatable vistas, an astounding amount of wildlife and spectacular big-game viewing, Serengeti National Park and the Masai Mara are two of Africa's top national parks for a photo safari.
Lions, cheetahs, elephants, zebras, and hippos wander around their natural habitat, and wildebeest make their way across the land for their annual migration. The famous Masai Mara National Reserve is a prime destination for compelling wildlife photography.

See all tours

Tanzania's Serengeti National Park is one of the best safari destinations in the world. Embark on a safari and take a shot of the awe-inspiring Great Migration.

See all tours

Kruger National Park is another fantastic destination for photo safari tours: this famous game reserve is home to the big five, as well as the cheetah and the endangered wild dog.

See all tours
Golden rules of wildlife photographers
Don't disturb the wildlife

One of the most important unspoken wildlife photography rules is: observe, don't disturb. Wildlife should always come first, so ensure you're taking every effort to minimise disturbances that may occur while you're taking photos. This also means abiding by the Leave No Trace principles!

Keep your distance

The animals you're photographing should never feel threatened by your presence. Tempting as it may be to get a great photo, it isn't fair to the animal. Getting too close also puts you at greater risk of danger, so be sure to observe and take photos from a reasonable distance.

Don't feed the animals

Feeding animals is unethical for several reasons: it causes a disruption to their natural diet, it alters the way animals interact with humans, and it puts your personal safety at risk. Additionally, baiting wildlife is illegal in some countries and it can seriously harm the animal.

Be patient

The key to getting that unforgettable image is patience. Wild animals are completely unpredictable, and you may have to spend hours (or even days!) with an individual or group of animals to get that perfect shot.

Keep quiet

Remember that when you're out photographing in the wild, you are in other species' terrain — so, be slow, quiet, and try your best not to disturb wild animals as they go about their business. Become part of the landscape rather than an intrusion upon it.

Forget about selfies

Attempting to take a selfie with a wild animal is the ultimate no-no when it comes to wildlife photography! Not only can it cause the animals distress, but getting too close may provoke a violent protective response.
Photographic Safari: What you need to know
Why should I go on a photographic safari?

Photographic safaris are specially designed for best photo opportunities (for wildlife and light) and give enough time for photographers to take their best shot. Tours usually include a professional photographer as a guide.

Are photographic safaris worth it?

When questioning whether a photographic safari is worth the expense, you need only ask yourself if you are passionate about photography and looking for the best scenery? If so, then definitely yes. 

Will there be a professional photographer on the tour?

You can expect a professional photographer to be in attendance on most photographic safaris.

How fit do I have to be to take part in a photographic safari?

Depending on the tour, the only physical requirements will be an ability or willingness to tolerate harsh weather conditions and to be able to carry your gear when required.

What's the group size of a photo safari?

Photographic safaris are limited to small group sizes, allowing you to better connect with your professional photographer guides and to ensure you make the most of every wildlife encounter. One-on-one attention is guaranteed on every trip, but if you'd prefer a more personalised and tailor-made experience, you may want to consider a private safari tour instead.

How experienced do I have to be in photography?

You don't have to be a seasoned pro to join a photographic safari! Tour options are available for every skill level, from absolute beginners to experts and everyone in between. The only requirement is that you know the ins and outs of your camera and have an understanding of photography basics (including settings like aperture, shutter speed, and ISO).

When am I going to have the opportunity to take pictures?

Whether it's an early morning game drive, an afternoon bush walk, or a sunset hot air balloon ride, every safari excursion offers endless opportunities for unique and spectacular wildlife photos.
A TRAVEL MAGAZINE BY TOURRADAR