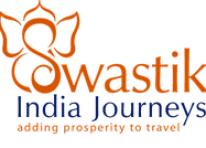 Number of tours

26
Age Range

18-85
Number of reviews

775
Rating

4.8

/5
Response rate

100%
Response time

less than 1 hour
Written on December 23rd, 2020

Our experience with Swastik India Journeys was amazing. Many great memories made.Highly recommend this company.

Written on December 4th, 2020

This two weeks India tour was amazing. Saw epic destinations across the country. The itinerary was incredible. Team Swastik India was always there to assist us.…

Read more

Written on October 10th, 2020

We did this tour before pandemic. It was a wonderful experience. Perfectly organized. All hotels were excellent. Castle stays were amazing. Our driver Sushil to…

Read more

Written on September 15th, 2020

It was the best tour. We had a wonderful experience. India is an amazing country with so much to offer. We are glad that we chose Swastik India and Karni as our…

Read more

Written on September 13th, 2020

It was a wonderful experience. Our driver Swami was the best.

Written on September 7th, 2020

It was an amazing experience.Itinerary was very good.Hotels we stayed in were luxury. Leopard safari was a very unique experience for us. We enjoyed allot.

Written on August 26th, 2020

It was an excellent tour. Everything was just perfect. Hotels were amazing and guides were very knowledgeable.

Written on August 25th, 2020

It was an awesome experience. Whole team of Swastik India were responsive and professional. Would love to do more tours with Swastik India.

Written on August 9th, 2020

Enjoyed every minute of this tour. Guides did a great job.

Written on July 29th, 2020

One of the best tours we had in years.Had an amazing time. Would definitely recommend this tour to my friends.
Swastik India Journeys Tours
Swastik India Journeys Destinations
Swastik India Journeys Videos
Why Swastik India Journeys?
The Meaning of Swastik

Swastik symbol has a lot of relevance for people in India. Though Swastik sign is adopted by people of all religions, it is especially popular amongst the Hindus. The term Swastik has been derived from the Sanskrit word "Svastika", which means well being. Swastik is considered to be a mark of auspiciousness and good fortune. The symbol of Swastik is considered to be highly auspicious and thus it is quite often used in the art and architecture of Hindus. It finds a special place for itself in the wedding decorations. Swastik designs can be found in temples, doorways, clothing, cars etc. Most of the wedding cards have the Swastik symbol imprinted on them.
Why Swastik India Journeys?
We are one of the leading Tour Operators of India providing the best packages for India. With personalized service, our business model is largely based on attention to detail, honesty and integrity. Making our guests the top priority, we choose the finest hotels and restaurants that give much satisfaction, comfort and relief. Our extraordinary services are integrated with great values. Our Service is All Inclusive. To make the journey even easy going and comfortable, there are English speaking guides and tour escorts to aid in each step of your India trip. With our well trained and expert drivers, we will provide you comfort along with safety during sightseeing. Our service is high class, and this is perhaps the best reason why travelers around the world return to us every time they visit India with their friends and family. At Swastik India Journeys, we promise for a lifetime vacation.
The Swastik India Journeys Difference
We will take you to the ancient traditions, hills and backwaters, coffee plantations and numerous historic places.
We look forward to provide you the best service, give you right guidance to enjoy various festivals, wonders and exciting journeys. Our customized service will make you repeat fascinating India trip every year. We have kept buckets of pleasant memories that you are going to create on the land of Incredible India.
We warmly welcome you to venture India and discover its hidden treasures with Swastik India Journeys .
Swastik India Journeys Guides
Questions & Answers
What are the extra charges I'll have to pay during the tour?

Some of the extra charges which you'll have to pay during the tour are as follows: - Monument Entrance & Camera Fees - Charges for Lunch & Dinner. Daily breakfast will be included in your package. - For any extra services not specifically mentioned in the inclusions

What if I face some problems or need any assistance during the tour?

Swastik India Journeys has 24x7 customer support team. Our team will keep in touch with you via email, phone or WhatsApp during the whole tour. We target to resolve all problems within half an hour.

What if I'm a solo female traveller?

Swastik India Journeys is a recognised travel agency. If you are a female traveller we make sure of your safety and security. Our 24x7 customer support team will always keep in touch with you via phone, E-mail or WhatsApp. They will make sure that you are having a great time on your tour. We regularly have solo female travellers with us and they all have left us comments that they've had great experiences with us, and have felt safe during their travels.

Does Swastik India Journeys have Guaranteed Departures?

Yes! Swastik India Journeys guarantees that if you make a booking for one of their tours, the tour will 100% go ahead as planned. If no other travellers book the tour for the same date you are travelling, then a private tour will be organised for you.
Contact our Travel Experts
+1 844 311 3006
24/7 Support
Our team of experienced tour specialists have travelled to hundreds of countries around the globe and have decades of first-hand travel experience to share. Contact us now to have all of your tour-related questions answered!