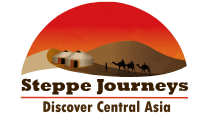 Number of tours

17
Age Range

3-80
Number of reviews

23
Rating

4.7

/5
Response rate

96%
Response time

6 hours
Louis

Written on November 7th, 2022

I enjoyed my time visiting Uzbekistan. Odil from Steppe Journeys was professional and helpful. While each destination is guided by a different tour guide, I fou…

Read more

Fabienne

Written on August 4th, 2022

Very well organized, qualified guides, nice hotels, couldn't wish for more! The visited places were stunning and perfectly chosen! Can only recommend!

Steppe Journeys commented on this review

Dear Fabienne Thank you very much for your feedback on the tour. We are very pleased to hear you had a great time in Uzbekistan. Cheers Odil

Written on July 17th, 2022

We had a fantastic time exploring Uzbekistan on this great tour. We had originally planned to do the 8 day cultural tour and add on a 5 day camping trip with an…

Read more

Steppe Journeys commented on this review

Hi Adam Thank you very much for your feedback on the tour. Happ to know you enjoyed your trip with Steppe Journeys very much and we would be glad to see you again on our tours in Central Asia. Cheers Odil

Written on May 29th, 2022

One of the great tour, we enjoyed most. Nice places, nice food. Great tour organizer. Odil from Stepp journey took care of us very well. Well organized transpor…

Read more

Steppe Journeys commented on this review

Mr Anwar Thank you very much for your feedback on the tour. We are very delighted you have enjoyed you ur trip in Uzbekistan. We would glad to see you again on our tours in Central Asia. Sincerely yours Odil from Steppe Journeys

Nicola

Written on May 15th, 2022

Odil (owner and organiser) was amazing. VERY responsive, kind, helpful and knowledgeable. I was a bit of a fussy customer (changing my itinerary at the end to…

Read more

Samena

Written on May 12th, 2022

A beautiful country with wonderful people I highly recommend everyone to visit. Tour was amazing and well organised

Steppe Journeys commented on this review

Dear Samena Thank you for your review. I am happy you have enjoyed the trip and will be always happy to see you in Central Asia. Assalamu Aleykum

Written on April 25th, 2022

Very well organized, nice hotels and great guides - I can just recommend it!

Steppe Journeys commented on this review

Hi Saskia Welcome back home, I am very thankful to you for your appreciation of our work. Happy to hear you had a great time in Uzbekistan. Cheers Odil

Written on November 24th, 2021

This tour is a great experience to have this unique occasion to see the marvelous building present in old silkroad cities. In presence of talented french speaki…

Read more

Steppe Journeys commented on this review

Thank you very much for your feedback. It is a great pleasure to have your review on the tour. Thanks Steppe Journeys team

Written on March 19th, 2020

Knowledgeable guides that spoke very good English. Enjoyable scenery on high speed train journeys. Comfortable hotels in good locations. Uzbekistan is a beautif…

Read more

Written on November 6th, 2019

It was a good tour and I enjoyed it very much in a small group. The guides are different in each city but they are well trained and have a lot of knowledge, esp…

Read more
Steppe Journeys Destinations
Questions & Answers
Is there a dress code?

In general you can dress how you wish as if you were in your home country. However when entering open mosques during sightseeing it is recommended for women to cover their heads with light scarf and wear shorts that are longer than knee length.

Is WIFI available?

WIFI is usually available in all hotels however sometimes there can be an additional charge for this, you also have the option of using the internet at a local cafe.

What is the voltage so I can charge my devices?

Voltage throughout the region is 220-250V. You will find in most of the hotels there are European-style sockets with 2 round pins. You may wish to take an adaptor if yours is different.

Are you able to drink the tap water?

It is recommended to always drink bottled water rather than tap water, bottled water will be readily available for you.

What is the local language?

Generally through Central Asia, Russian is the 'second language' and people in the service and tourism sectors often speak English and a range of other European languages. Official languages are: Uzbekistan = Uzbek, Kazakhstan = Kazakh, Kyrgyzstan = Kyrgyz , Turkmenistan = Turkmen. These all belong to the Turkish language group.

Is it possible to use credit cards?

Merchants will generally prefer you to pay in cash however in any high standard hotels you will be able to pay via Mastercard or Visa without any issues.

Are we able to change money and what is the local currency?

Only four currencies are convertible in Central Asia which are; US dollar, Euro, UK pounds and Japanese yen. There are exchange offices located at airports on arrival, hotels and local banks to change any money you wish. Uzbekistan's currency is 'soum', Kazakhstan 'tenge', Kyrgyzstan 'sum', Tajikistan 'somoni' and Turkmenistan 'manat'.

What is the weather like in central Asia?

You will find that Uzbekistan has a strictly continental climate: summer is hot and winter is cold. The best time to travel in that area is spring, summer or autumn; if you like dry cold with a snowy winter then it is best to visit in winter as it can be very beautiful also at that time.
Contact our Travel Experts
+1 844 311 8331
24/7 Support
Our team of experienced tour specialists have travelled to hundreds of countries around the globe and have decades of first-hand travel experience to share. Contact us now to have all of your tour-related questions answered!