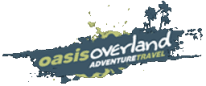 Number of tours

49
Age Range

18-99
Number of reviews

56
Rating

4.1

/5
Response rate

100%
Response time

within 1 day
hayley

Written on December 25th, 2022

What a trip of a lifetime! Strongly recommend traveling Africa with Oasis - it was a truly unforgettable experience! I did the 75 day Nairobi to Cape Town tri…

Read more

Pakistan Karakorum Highlights & Chitral Valley (21 Days)

Written on October 28th, 2022

If you are looking for somewhere off the beaten track and gorgeous scenery then this is somewhere that you probably wouldn't have considered but it is highly re…

Read more

Mariana

Written on October 27th, 2022

The tour of a lifetime. So worth it I can't even explain. I've been a lot of places, but this was a whole experience.

Written on October 27th, 2022

Not the best experience I have expected. Staff need to be more active and involved which was not the case compare to other overland agencies I have travel with.…

Read more

Casablanca To Marrakech (8 Days) Moroccan Highlights

Written on April 20th, 2020

the Tour .... did NOT happen! various governments got in the way with border closures and other regulations due to COVID19 so not our fault that we 'experience…

Read more

Oasis Overland commented on this review

Dear Ian Thank you for your feedback. As you have mentioned, yes this trip was unable to run due to the current Covid-19 / Coronavirus Pandemic, which we too were very sad to not be able to run. We have responded to your request for a refund, in that your request is being processed by our general manager, and we will get back to you as soon as possible. As you can imagine we are dealing with a lot of communications at this point in time, and as a very small team we are doing our best to get back in touch with everyone, which unfortunately is taking longer than normal due to the for mentioned circumstances. We are sorry to hear you would not recommend us, as we have always had great feedback on all our Morocco trips, and if you would like to use a credit note then we would still love to see you on a future trip with us, whether at the end of this year or next year, and once it is safe to do so, as that is our priority. Best wishes Katie Oasis Overland

Kristen

Written on March 16th, 2020

Amazing experience! Before arriving, I was nervous about what overlanding would be like, especially as someone who had never camped before. It was exactly what …

Read more

Written on November 3rd, 2019

Overland trip to Africa has been a life time dream which I manage to fullfill through Oasis Overland. I chose 59 days trip fron Nairobi to Cape Town. Jim had be…

Read more

Pakistan Karakorum Highlights (15 Days)

Written on October 9th, 2019

It came as a surprise that it was only the two of us on our group tour, and we would have appreciated knowing beforehand that no one else had booked the tour. T…

Read more

Oasis Overland commented on this review

Dear Christina Thank you for your review and for your recommendations. I have passed your comments on to our local operator in Pakistan to ensure that information is provided to future clients on the day ahead and regarding internet and phone access. I also enquired specifically about sheets not being changed in hotel rooms as this is not acceptable. Our operator tells me that on the occasion this happened, he spoke to the hotel manager who then arranged for the sheets to be changed. I'm glad this was resolved for you at the time and thank you for bringing it to our attention so we can monitor it in future. It is quite usual for our groups to Pakistan to be very small as Pakistan is not a mainstream destination for tourists. We are very happy to share information such as group size when asked. I'm pleased that you got used to it and in fact enjoyed the experience and in particular that your guide Islam and driver Karim did a great job in making your trip to Pakistan memorable. Kind regards Ceris Oasis Overland

Cusco To La Paz (14 Days) Peru & Bolivia Explorer

Written on September 16th, 2019

Was awesome!!! Ricardo was the best guide ever, always there when you need him, and helped us to organise stuff when we went off on our own. Highly recommend th…

Read more

Oasis Overland commented on this review

Thanks so much for the feedback - always great to hear that our tour leaders really made the difference on this trip and that you had an awesome time! - Really hope to see you on a future Oasis Overland trip either in South America, Africa or Asia. Thanks again from everyone at Oasis Overland

Marrakech To Marrakech (9 Days) Morocco Highlights

Written on August 29th, 2019

This tour was fantastic! The operators at Tourradar and Oasis Overland were very accomodating and arranged airport pick up and extra night at the hotel due to m…

Read more
Oasis Overland Videos
Responsible Travel
We, at Oasis Overland, realise the important role we have to play in ensuring that our trips are run responsibly to maximise the potential benefits to local communities and minimise the negatives. We believe that our trips should benefit local people and their environments, or at the very least not harm them.


Tourism is said to be the world's largest employer accounting for about 10% of global GDP and employing over 10% of the world's workforce. Not only does it play a crucial role in world economics, it has a significant impact on many people's day to day lives. If managed well it can be used to preserve natural environments, wildlife and people's lifestyles and help people climb out of poverty but if managed poorly it can destroy natural environments and habitats and lead to serious human rights abuses.
Frequently Asked Questions
Do I need insurance?

Yes – as has always been the case you will need to have insurance to be able to join one of our overland trips. Many insurances will not be valid if you are travelling from the UK to places that are against UK FCDO advice, so please check with any insurance providers whether your insurance will be valid, and exactly what it will cover you for, and if it has COVID-19 coverage.

Will I be able to do all the local optional excursions?

Local Operators who rely on tourism will be very excited to have you and Oasis Overland back! These are booked and arranged on route, and your tour leader will explain these to you as you are going along.
Contact our Travel Experts
+1 844 311 8331
24/7 Support
Our team of experienced tour specialists have travelled to hundreds of countries around the globe and have decades of first-hand travel experience to share. Contact us now to have all of your tour-related questions answered!