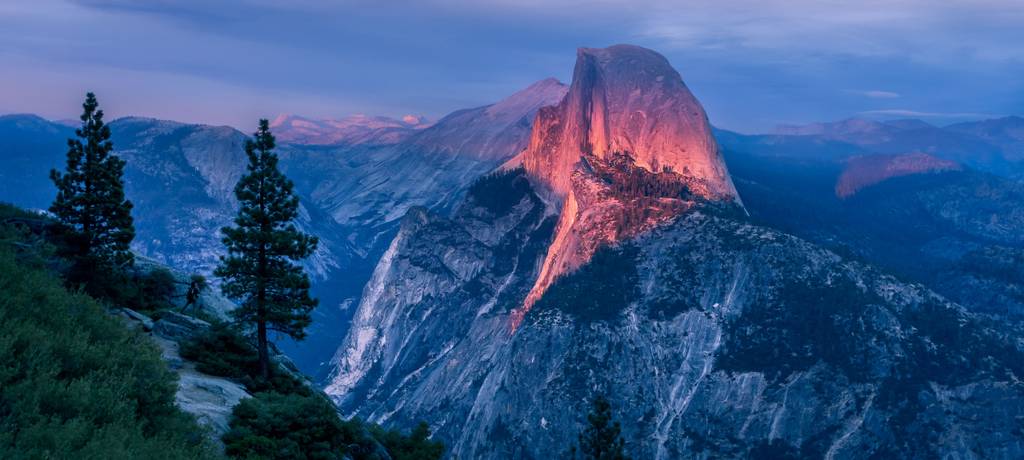 Yosemite National Park
Within Eastern California lies Yosemite, the world-famous national park known for its stunning scenery and hiking trails. There are several mountains within Yosemite National Park as well as a number of impressive lakes, forests, and rivers. The trails surrounding these natural features vary in both difficulty and length, making the area suitable for hikers and adventure enthusiasts of all levels.
See Yosemite Hiking Tours
Yosemite General Facts
The Location

Yosemite National Park is located in the United States of America in the state of California. 

Coordinates

The latitude and longitude coordinates for Yosemite National Park are: 37.8651° N, 119.5383° W

Elevation

There are several peaks in Yosemite National Park. The highest point is Mount Lyell which stands at 3,999m (13,114 feet). 

Prominence

In topography, prominence refers to and characterizes the height of a mountain's summit by the vertical distance between it and the lowest contour line encircling it but containing no higher summit within it. The prominence of Mount Lyell, the highest point in Yosemite National Park, is 577m (1893 feet). 

Parent Range

The central Yosemite Sierra is the parent range in Yosemite National Park.

Peak

Yosemite National Park has a number of peaks. The three highest are Mount Lyell at a height of 3999m (13,114 feet), Mount Dada at a height of 3981m (13,057 feet) and Kuna Peak at a height of 3963m (13,002 feet). 

Length

Yosemite has a number of different hikes ranging in length and difficulty. The shortest hike is Glacier Point which is 1.6km (1 mile) round trip. There are several longer thru-hikes that pass through Yosemite. The best known of these is the John Muir Trail which is 339.5km (211 miles). 

Arrival

There are several spots where you can arrive in Yosemite, however the most common place to arrive is in Yosemite Valley. It's about four hours from San Francisco and six hours from LA.
Yosemite National Park Trails
Panorama Trail

Panorama Trail is considered to be the best hike in Yosemite National Park. It makes for a long day, but it has a bit of everything: waterfalls, valleys, and stunning views. This trail is definitely not suitable for families with young children.  

Distance: 23.9km 
Average duration: 7-9.5 hours 
Average difficulty: Panorama Trail is one of the more difficult hikes in Yosemite. Hikers rate it a solid 5/5 in terms of difficulty. 

Mount Dana

Yosemite's second highest peak, Mount Dana offers spectacular views at the summit and along the way. It's best to leave this hike until later in the summer when most of the snow has melted; the trail is less slippery and therefore safer at this time of the year.

Distance: 8.6km 
Average duration: 4.5-6 hours
Average difficulty: Hikers rate Mount Dana Trail a 4/5 in terms of difficulty. 

Cloud's Rest

One of the more difficult hikes in the park, but incredibly scenic. Cloud's Rest is known to have some of the best viewpoints within the entire park. 

Distance: 20.5km 
Average duration: 7-9 hours 
Average difficulty: Hikers rate Cloud's Rest a 4/5 in terms of difficulty.  

Yosemite Valley

More a walk than a hike, Yosemite Valley is an easy trail suitable for all levels. Don't let the lack of difficulty deter you though, it's a beautiful route offering views of mountains, waterfalls, meadows, granite walls, and the Merced River. 

Distance: 11km
Average duration: 1-6 hours 
Average difficulty: Yosemite Valley is one of the easiest trails in Yosemite National Park. Hikers typically rate it a 1/5 in terms of difficulty. 

Half Dome

The most iconic hike in Yosemite, Half Dome is strenuous but the climb is worth it and is incredibly popular in hiking communities. Those interested in this trail must have a permit. 

Distance: 22.7km or 17 miles
Average duration: 10-14 hours
Average difficulty: Very difficult, Half Dome is one of the most difficult hikes in Yosemite. 

John Muir Trail

Considered to be the premier hiking trail in the USA, the John Muir Trail is a multi-day hike that starts (or ends) in Yosemite and goes to Mount Whitney. Permits are required. 

Distance: 339.5km (211 miles)
Average duration: 2-3 weeks 
Average difficulty: John Muir Trail has various levels and difficulties throughout. Due to the length of the trail and the elevation, it is considered to be a challenging trail. Training is absolutely required.
Seasonality & Climbing Requirements
How do I prepare for Yosemite National Park?

Yosemite is relatively easy in terms of popular hikes but you still need to prepare. Obtain the required permits if needed and train thoroughly ahead of time by walking and hiking long distances with your packs; the heat and elevation can be exhausting for even the fittest travellers. Learn more.

When should I climb Yosemite?

The best season for hiking and trekking is summer. June, July, and August are the busiest and most popular times because this is when all of the routes and trails are open. However, the months of September and May are often preferred because it's not as hot or crowded.

What permits do I need?

Most day hikers will not need any permits in Yosemite National Park. But if you are staying overnight in the park, or trekking Half Dome, permits are required. Your best chance at getting a permit for your desired route(s) is to apply well in advance.

Do I need a guide to climb?

You do not require a guide to hike or trek anywhere in Yosemite National Park. That being said, some individuals do prefer guides and there are many local guides available for hire. 

How do I get to Yosemite?

Mount Kilimanjaro welcomes hikers of all levels of fitness and ability, but if you're planning to reach the summit, careful planning and vigorous training is vital. Consider adding extra time to your itinerary to avoid altitude sickness and to enjoy your time climbing Kilimanjaro.

What should I pack/what equipment do I need?

What you bring depends on when you visit and the length of your stay. Remember to pack layers to adjust to the changing temperatures and make room to carry plenty of drinking water and sunscreen as the elevation and heat are exhausting. Bear spray is strictly prohibited at Yosemite National Park. 
Yosemite Tours & Trips
HIKING & TREKKING TRAVEL INSPIRATION BY TOURRADAR