Ski Travel Companies
Compare 47 ski tour operators offering amazing winter adventures all around the world. TourRadar - booking tours made easy.
Find Your Perfect Winter Adventure
Looking for a holiday where you can eat, sleep, hit the slopes, and repeat? Whether you'd like to visit Japan or Canada, New Zealand or Switzerland, we can help you turn your dream winter getaway into reality.
Best Ski Tour Operators
After reviewing traveller feedback on all ski tour operators, our Travel Experts have hand-selected five of the top companies with the best reviews across the board. HOFNAR ranks first with an average rating of 5 out of 5 stars for its tours in Switzerland.
Best Ski Specialists by Destination
If you've already decided where you'd like to go, check out our list of ski tours categorised by continent below.
What You Need To Know About Ski Tours
How do I find the ideal tour?

Finding your perfect ski trip is a breeze on TourRadar! Check out our recommendations above for some of the top-rated tours, or browse our full range of ski and snowboard trips and use our handy filters to narrow down your options until you find The One!

Who else will be on my ski trip?

You'll find ski trips for all ages and skill levels on TourRadar, so you can spend your holiday hitting the slopes with a group of like-minded people. If you're not sure which tour is the best fit for you, don't hesitate to reach out to our customer support team.

Do I need to bring ski equipment?

Ski and snowboard gear is typically available to rent at your chosen destination, so there's no need to bring any with you (unless you'd prefer to bring your own, of course). Be sure to check with your tour operator before travelling.

How active do I have to be to participate in a ski tour?

You'll find ski trips designed for all ages and fitness levels, from beginners to seasoned experts and everyone in between. That being said, you're more likely to enjoy your trip if you have a good level of fitness and an active lifestyle. If you're not sure which tour is the best fit for you, don't hesitate to ask one of TourRadar's Travel Experts for guidance.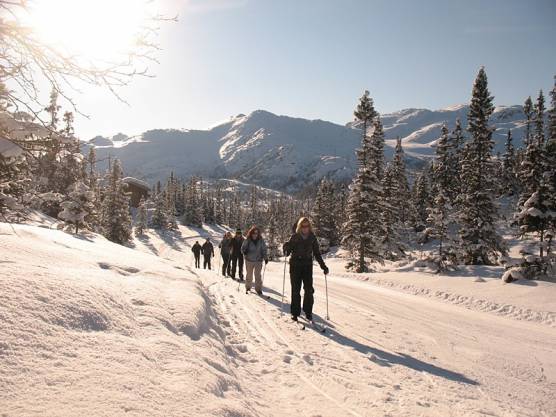 A Top-Rated Skiing Tour You'll Love
After combing through hundreds of itineraries and traveller reviews, our Travel Experts noticed one trip stood out from the rest: 
Cross-country Skiing: Kvitavatn
operated by Exodus
, an eight-day tour that starts in Oslo and travels to the highest mountain in southern Norway.
Highlights of the tour:
Fall in love with the beautiful Norwegian winter
Go off-track and ski through the vast wilderness
Take downhill skis or explore the forests by snowshoe
Spend your evenings curled up in cosy mountain lodges
Age range:
14 to 99 years
Includes: 
5 days guided cross-country skiing  
View Tour
Tours Recommended by Our Travel Experts
Browse and Compare All Ski Tour Operators