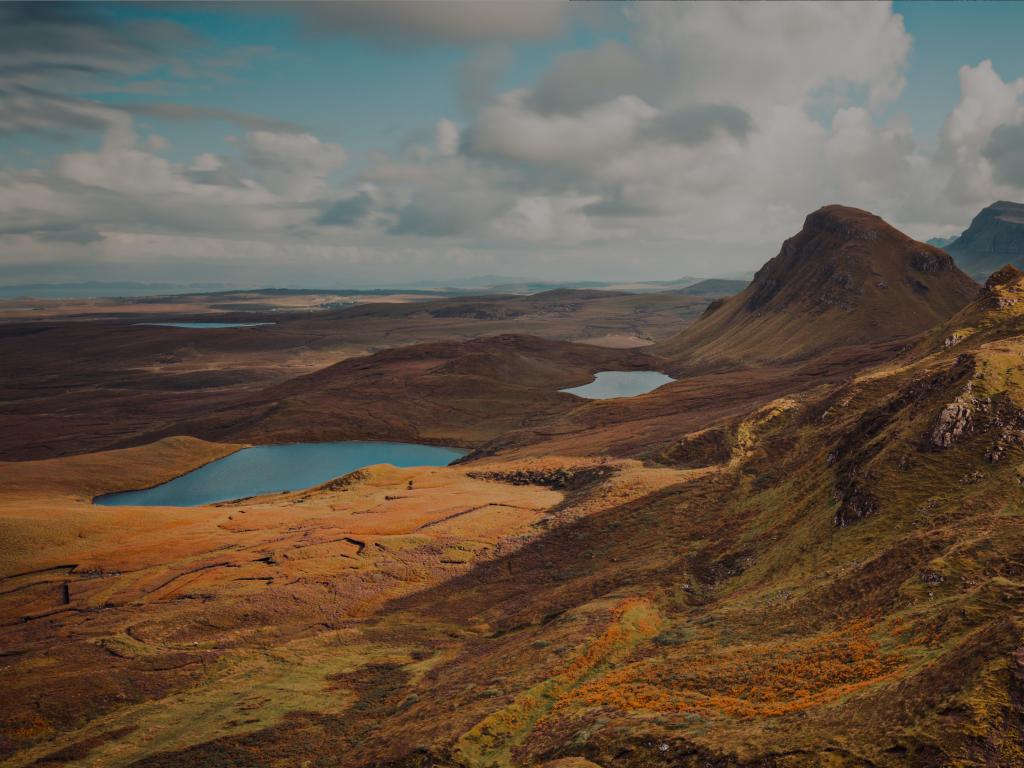 Scotland Travel Guide
From towering mountains and mysterious lochs to historic castles tucked-away in the Highlands, Scotland is filled with experiences waiting to be discovered. This small, but mighty country harbours some of the friendliest and most down-to-earth people who welcome visitors with open arms. So, whether you're a lover of the great outdoors or a history fanatic, we can assure that Scotland has it all.
The Highlights


Edinburgh

Scotland's capital is romantic, glamorous and is most certainly dramatic. Complete with a backdrop of spires and castles, rolling hills and Arthur's Seat looking out towards the sea – Edinburgh is impossibly handsome. Here you will find traditional style pubs and taverns, quirky shops and plenty of hidden corners that are calling to be explored.

Stirling Castle

Forget what you saw in Mel Gibson's iconic film 'Braveheart' that reenacts the battle for Scottish independence. A visit to Stirling Castle offers an authentic slice of history and presents commanding views from the top. History-lovers will enjoy walking through the vast Great Hall and marvel at the many relics and artefacts that played a significant role in shaping the history of Scotland.

Callanish Stones

Erected in the Neolithic era, no one really knows how the Callanish Stones came to form one of the most complete rock circles in Britain. What we do know, however, is that this mysterious formation is worth your time and attention when travelling through Scotland. Located by Loch Roag overlooking the surrounding rugged terrain, this is an incredible place for history buffs to visit.
Glasgow

Glasgow is the modern hub of Scotland and offers a lively bar scene to keep you entertained plus trendy boutiques to rival the likes of those in Edinburgh. Spend your days exploring the Glasgow Cathedral, the Riverside Museum or the Glasgow Science Centre and more. At night, take time to get acquainted with indulgent Scottish cuisine and the Glasgow food scene.

Orkney

This is your chance to explore dramatic landscapes and towns steeped in rich Viking history that delivers on every level. Explore the Maeshowe tomb, the mysterious Skara Brae Neolithic village and the Ring of Brodgar. With its amazing vistas and vast landscapes at your fingertips, Orkney is certainly not to be missed.

The Isle of Skye

Make your way along the meandering coastal roads to the Isle of Skye where unforgettable views can be found at every turn. Focus your camera lenses on the postcard-worthy good views and soul-stirring Scottish scenery. This gem of Scotland and the largest of the Hebrides Islands and exemplifies the beauty of the region.
The Basics
The Location

Scotland is a country and forms part of the United Kingdom that occupies the northern part of Great Britain. It is located on the north-west coast of Continental Europe and shares a border with England. From New York, a non-stop flight is 6h 35m to Edinburgh and from London, just about 1.5 hours.

Capital City

Edinburgh is located on Scotland's east coast and overlooks the sea, and is an impressive, medieval-style town.

Main Airport

Scotland's Edinburgh International Airport is the main hub for domestic and international travellers. It is located in the Islington area of the City of Edinburgh and is eight miles west of the city centre.

Code

EDI

Closest City

Edinburgh

Language Spoken

The official language of Scotland is English, while Scots and Scottish Gaelic and Lallans are minority languages.

Currency

Scotland uses the Pound sterling. The currency code is GBP. It is safe to withdraw money from banks or ATMs while you're there.

Visas

For Australian, Canadian, New Zealand and US citizens, no prior visa is required and you may enter the UK without a visa for up to 6 months. Visa information can change often and varies from country to country. We recommend checking your country's travel advisories in advance of booking a trip.

Electricity

Electrical current is 230 volts, 50Hz; a UK-type plug with three flat pins. The standard voltage in the US is 110 volts, so to avoid frying your electronics, you may need a surge adaptor.

Vaccinations

No vaccinations are required to travel to Scotland. Make sure you consult your doctor with your itinerary 6 to 8 weeks before you depart.

Emergency Calls

The phone numbers to call in case of emergency are 999 for the police, 101 for a non-emergency response.
When to Visit
Scotland Tours
Visit Responsibly

Travelling responsibly means respecting the communities, culture and environment of the places you visit. Keep these tips in mind when travelling to Scotland:

Go green. Be environmentally conscious on the road by taking short showers; turning off the lights in your hotel room when you leave; and resisting the urge to collect any plants, seashells, or other natural flora.

Respect cultural differences. Before travelling, read about the local culture and customs – even just knowing the dress code and a few basic phrases in the local language will go a long way.

Support local businesses. Enjoy a more authentic experience and directly support the local economy by travelling with a local guide, eating in local restaurants, buying from local artisans, and staying in locally-owned and operated accommodations.

Wherever possible, avoid single-use plastics. Pack reusable items such as your own shopping bags, utensils, a water bottle, and a straw. These items are typically lightweight and compact, and will greatly reduce your consumption of plastics.

Be conscious of overtourism. Opt to visit the lesser-known regions of Scotland or travel outside the peak season – you'll likely even get a better deal and won't have all the crowds!
 

Sustainable Tourism in Scotland

Visit Scotland
Visit Scotland, the nation's tourism board, has created and published a responsible tourism plan for Scotland. The plan includes actions that the organization itself will be taking, as well as how they will help local tourism businesses ensure that tourism is carried out sustainably and has a positive impact on the country.

Scotland's Outdoor Access Code
Scotland is famed for its scenic highlands and great outdoors. As a result, responsible enjoyment isn't just a practice in Scotland, but it is written into the nation's laws. The Scottish Outdoor Access Code is a set of rules for responsibly enjoying the outdoors and the code is based on 3 key principles; respect the interests of others, care for the environment, take responsibility for your own actions.

Sustainability in the City
There are plenty of opportunities to experience Scotland's epic cities sustainably. Edinburgh, the capital city, was voted the UK's Greenest City in 2019. Some reasons for this include its many charging points for electric vehicles, zero-waste event and festival venues, and a wide variety of eco-friendly hotels. Meanwhile, Glasgow, which translates to 'dear green space' in Gaelic, also employs an efficient recycling program, renewable energy schemes, and the installation of energy-efficient LED street lights.
FAQs about Scotland
Do you tip in Scotland?

There isn't much of a tipping culture in Scotland, but it is recommended to leave a tip of 10-15% in a restaurant. Make sure you check if the service charge has already be included in the bill. In smaller, family-run restaurant, tipping is not customary, but a few extra pounds would not go astray.

What is the internet access like?

Internet connection can range in quality, but you should have no problem with day-to-day tasks like emailing or surfing the web. WiFi is available in many cafes, hostels and hotels for free, but outside urban areas, this is not as common. There are many pay-as-you-go mobile data plans available.

Is the tap water safe to drink?

Yes. Scotland boasts exceptionally clean water and is safe to drink. Bottled water is readily available.

Can I use my credit cards?

Yes, credit cards are widely accepted throughout Scotland. Please check with your bank about any foreign transaction charges.

What are the public holidays?

Along with common public holidays such as New Year's Day, Christmas and Good Friday, Scotland has the has Early May Bank Holiday May 6, Spring Bank Holiday May 28 and August Bank Holiday on August 6.

What are the toilets like?

Public toilets in Scotland are generally quite clean. It is customarily free to use public toilets, however, when at local cafes and restaurants, they commonly request that you purchase something prior to using the facilities.
A TRAVEL MAGAZINE BY TOURRADAR