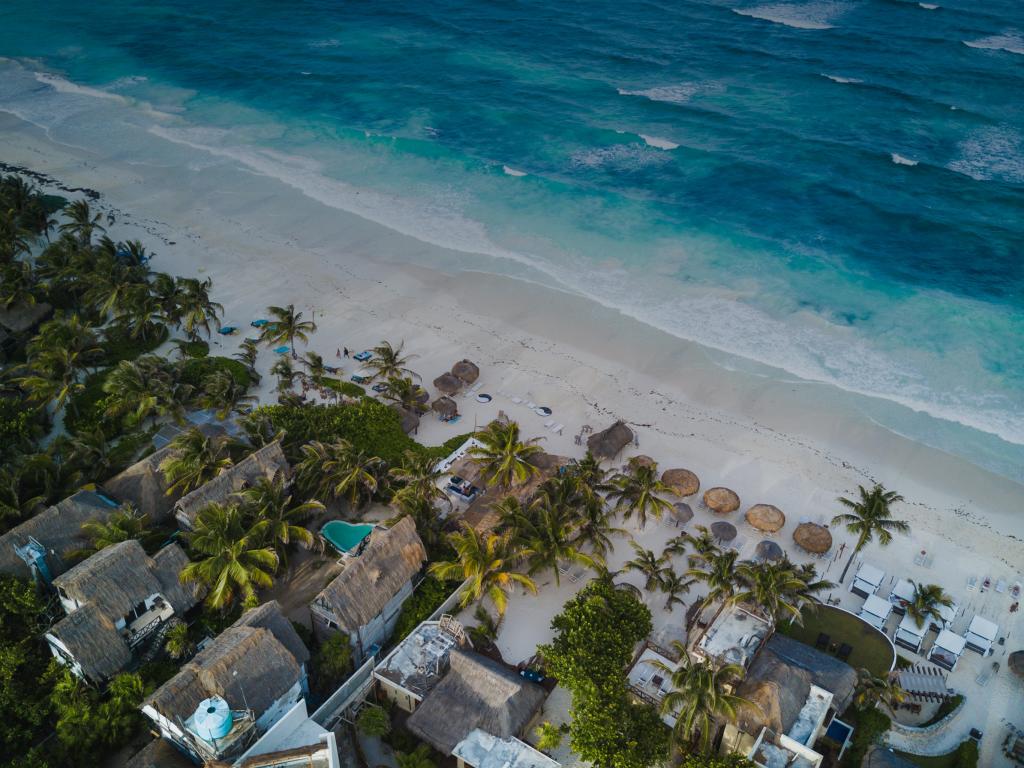 Mexico Travel Guide
Mexico embodies the spirit of a true 'fiesta', and nowhere else in the world knows how to party with the same gusto as this Latin American nation. Eating your way through flavoursome cuisine, sipping tequila and taking in the colourful traditions are just some of the many unforgettable experiences to be found in every corner of Mexico. You just have to get there to see for yourself.
The Highlights


Tulum

As one of the top beaches in Mexico – or some might argue across the Caribbean – Tulum is the go-to destination if you're ideal day starts and ends being surrounded by azure water, powdery sand and palm trees galore. Explore the archaeological site of Cobá, relax at Playa Paraíso and Las Palmas or hire a bike and explore Tulum on two wheels. 

Tequila

Get to know the town of Tequila where – wait for it – the emblematic beverage Tequila originated. The city of Tequila is full of distilleries, restaurants and bars to explore along with the sweeping views of nearby agave crops. Tequila itself is more than just a spirit, and a visit to this colourful town makes for an unforgettable experience that you'll be talking about for years to come.

Chichén Itzá

Chichén Itzá is hard to miss while you're in Mexico. As one of the best restored Yucatán Maya sites, yes the complex is likely to be filled with visitors from around the world but is most certainly worth a visit. There are plenty of ways to fill your time at Chichén Itzá: go solo and explore at your own pace, join a day tour or learn from a local guide to help you delve deeper into history.
Guanajuato

If you're searching for one of the most awe-inspiring destinations in Mexico, Guanajuato is where you need to be. Ornate colonial-style buildings line the narrow streets, and brightly-hued houses provide scenic views that you could only dream of. Alos, each year, Guanajuato plays home to the noteworthy art festival, Festival Cervantino which originates from the mid 20th-century.

Mexico City

Mexico City is energetic and oh-so memorable. Explore this city one breath-taking step at a time as you weave through markets such as La Ciudadela for local crafts, Mercado de San Juan for culinary delights and La Lagunilla for everything else. Then, you can visit one of the oldest buildings in the country, Catedral Metropolitana, before rounding off the day with a serving of hearty Mexican fare.

Oaxaca

As a culturally rich and dynamic city lined with legendary beaches and signature dishes, Oaxaca is a destination that will enthral most travellers. In addition to the many markets and cobbled streets for you to wander through, Oaxaca can be used as a starting point to visit the nearby Mezcal distilleries.
The Basics
The Location

Mexico is a country located in the southern portion of North America. From Toronto, a non-stop flight is 4h 15m, and from London, it is roughly 11 hours direct.

Capital City

Mexico City is situated in the Valley of Mexico (a highlands plateau in central Mexico). 

Main Airport

Mexico City International Airport is the main hub for both the domestic and international traveller and is one of Latin America's busiest airports. It is located in Mexico City and is 5km from downtown Mexico City.  

Code

MEX

Closest City

Mexico City

Language Spoken

The official language of Mexico is Spanish. In the tourist hot spots and along the coast, English is commonly spoken however in the remote towns there may be less fluent English speakers. 

Currency

Mexico uses the Mexican peso. The currency code is MXN. Before you travel, it is advisable to check with your local bank for international exchange rates.

Visas

Nationals from many countries, including New Zealand, Australia, Canada, the US and UK do not require a visa to enter Mexico as tourists and can stay in Mexico for up to 180 days. Check your country's travel advisories before you travel. 

Electricity

In Mexico the standard voltage is 127 V and the frequency is 60 Hz. The standard voltage in the US is 110 volts, so to avoid frying your electronics, you may need a surge adaptor. 

Vaccinations

No formal vaccinations are required to enter Mexico, however, it is suggested to consult a medical professional before you travel and receive a booster for Typhoid, Hepatitis A and B. 

Emergency Calls

The phone numbers to call in case of emergency in Mexico is 911. 
When to Visit
Mexico Tours
FAQs about Mexico
Do you tip in Mexico?

A tip (called a propina in Mexico), is the best way to show your gratitude for good service or quality food. It is recommended that you leave 10-20% of the total cost of the bill for meals. 

What is the internet access like?

You will have no issues logging on to the internet in Mexico. WiFi hotspots are widely available across Mexico, and even in some of the country's more rural areas and are available in many cafes, hostels and hotels for free. 

Is the tap water safe to drink?

As a general rule, it is best to stick to bottled water in Mexico as the water is not completely safe to drink.

Can I use my credit cards?

Yes, credit cards are widely accepted throughout Mexico, and most ATMs will accept your Visa or MasterCard. Please check with your bank about any foreign transaction charges.

What are the public holidays?

Aside from Christmas, Good Friday and New Year's Day, public holidays in Mexico include Constitution Day on the first Monday in February, Benito Juárez's birthday on the third Monday in March and Independence Day on September 16. Expect some disruptions during Day of the Dead celebrations.

Is Mexico safe for travellers?

Yes,  Mexico is generally safe and with so many visitors that travel to Mexico each year means there is a wide network of friendly backpacking hostels or social guesthouses. However, some areas are prone to violence. Travel in a group to avoid trouble.
A TRAVEL MAGAZINE BY TOURRADAR