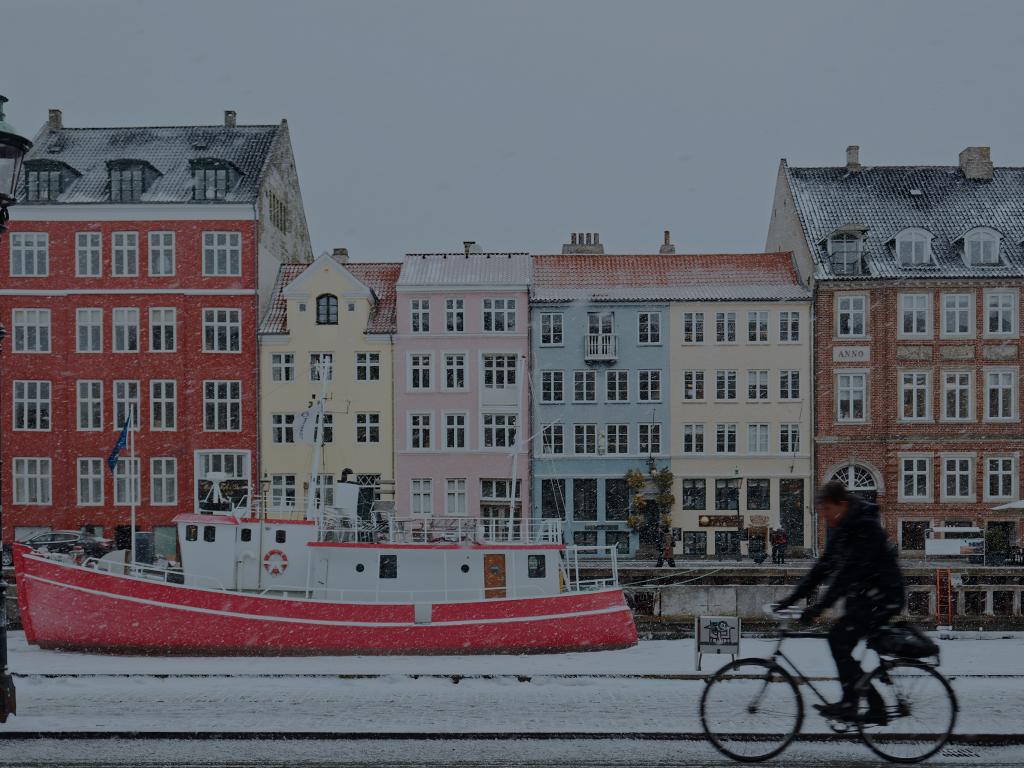 Denmark Travel Guide
Denmark possesses an undeniable cool-factor that can only be found in Scandinavia. It's effortless and relaxed. Cycling is ubiquitous. It's clean and eco-friendly and the birthplace of Hans Christian Andersen. And how could we forget about the vibrant cultural scene where Michelin-starred restaurants rule? The rest, you'll have to see for yourself during a fleeting visit. 
The Highlights


Frederiksborg Castle

This grand Renaissance castle was built by Danish King Christian IV back in the early 17th-century and is the ideal place for a day trip from Copenhagen. Inside the castle, you will find decadent ceiling adornments to rival the likes of the Palace Versailles in France and a vast collection of portraits. Make sure you spend time in the breathtaking baroque gardens and keep your camera closeby. 

Aarhus

Visitors come to Denmark to visit Copenhagen, but they stay to explore towns such as Aarhus and to experience the burgeoning restaurant scene or visit world-class museums. You won't be short of experiences to behold, but if you're looking for inspiration, visit the Latin Quarter or watch a show at the Scandinavia's largest concert hall. Aarhus is a must, no matter what type of traveller you are. 

Copenhagen

Aside from being frequently listed as home to the happiest people in the world, Copenhagen is sophisticated, modern and the epitome of Scandi-cool. You can unleash your inner-child at the world's oldest amusement park at Tivoli Gardens. Take a photo with The Little Mermaid Statue. Spend time walking in Nyhavn. Visit the Christiansborg Palace. The list of experiences is endless.
Nørrebro

Copenhagen's multi-cultural heart is packed with things to do, day and night. Walk to Hans Christian Andersen's grave in tranquil Assistens Cemetery or visit Superkilen, a vibrant recreational space designed to celebrate diversity. Some of Copenhagen's coolest streets can be found in Nørrebro, including Jægersborggade — a hotspot for art galleries, vintage clothing stores, and some of the best coffee shops in the city.

Skagen

As a seaside playground for both the Danes and holidaymakers, Skagen is located at Jutland's northern tip. The remarkable scenery of Skagen is made up of verdant forests, white sand beaches and grasslands – perfect for nature lovers. And the best part is the natural phenomenon where the Kattegat and Skagerrak sea meet at a sandy stretch. See for yourself where two seas collide. 

Bornholm

This little island in the Baltic sea is the Scandinavian alternative to an island getaway. As the sunniest place in Denmark, sun lovers can still enjoy catching some rays on the beach before getting a taste for local Danish cuisine at the many beachside restaurants. For travellers who get restless easily and prefer active adventures, there are plenty of bicycle paths and hikes to be found.
The Basics
The Location

Denmark is located in Europe and is part of the Scandinavian region located towards the south-west of Sweden, south of Norway, and bordered by Germany to the south. From London, a non-stop flight is 1h 55m, and from New York, it is roughly 7h 30m. 

Capital City

Copenhagen is the capital of Denmark and is located on the island of Zealand, and the city often tops those happiest-places-on-Earth lists. 

Main Airport

Copenhagen Airport is the main hub for domestic and international travellers. It is located just 9km from the city centre. 

Code

CPH

Closest City

Copenhagen

Language Spoken

The official language of Denmark is Danish, and English is also widely spoken. 

Currency

Denmark uses the Danish Krone. The currency code is DKK. ATMs are everywhere, and you should have no issues withdrawing cash while you're there. 

Visas

As part of the Schengen zone, most travellers can enter for up to 90 days without a visa. Some nationalities need a Schengen visa. EU citizens can travel freely to Denmark. We recommend checking your country's travel advisories before you travel. 

Electricity

Electrical current is 230V/50hz using type E and type K plugs. The standard voltage in the US is 110 volts, you may need a surge adaptor. 

Vaccinations

You do not need any vaccinations against illness to travel to Denmark, however, it would be advised to consult your doctor 6 to 8 weeks before you depart.

Emergency Calls

The phone numbers to call in case of emergency are 112 for the police, ambulance and for a fire.
When to Visit
Denmark Tours
Visit Responsibly

Travelling responsibly means respecting the communities, culture and environment of the places you visit. Keep these tips in mind when travelling to Denmark:

Go green. Be environmentally conscious on the road by taking short showers; turning off the lights in your hotel room when you leave; and resisting the urge to collect any plants, seashells, or other natural flora.

Respect cultural differences. Before travelling, read about the local culture and customs – even just knowing the dress code and a few basic phrases in the local language will go a long way.

Support local businesses. Enjoy a more authentic experience and directly support the local economy by travelling with a local guide, eating in local restaurants, buying from local artisans, and staying in locally-owned and operated accommodations.

Wherever possible, avoid single-use plastics. Pack reusable items such as your own shopping bags, utensils, a water bottle, and a straw. These items are typically lightweight and compact, and will greatly reduce your consumption of plastics.

Be conscious of overtourism. Opt to visit the lesser-known regions of Denmark or travel outside the peak season – you'll likely even get a better deal and won't have all the crowds!

Sustainable Tourism in Denmark

VisitDenmark
VisitDenmark, the nation's tourism board, does an excellent job of ensuring that both tourism businesses and visitors in Denmark have the right tools and information to ensure that tourism is carried out in a sustainable way. There are green accommodation guides, tips on how to experience both the cities and nature in Denmark in a responsible way, and they have fun reads that mention how even partying like a Dane can be good for the environment.

Green by Design
The Danes believe in a holistic approach to sustainability, which has made them a global leader in sustainable development. Specifically looking at the environment, Denmark is home to many responsible businesses, has a world-class green energy system, and has focused on making buildings more energy-efficient.

Denmark's Sustainable Development Goals
As a country with an existing strong economy, green energy, a universal healthcare and educational system, and gender equality, Denmark is in a strong position when it comes to meeting the 2030 Agenda and supporting the 17 global Sustainable Development Goals set by the UN. The Danish government has created a comprehensive Action Plan to further support these goals, which includes assessing all new legislation in the country based on their impact on the SDGs.
FAQs about Denmark
Do you tip in Denmark?

There isn't much of a tipping culture in Denmark, but it is recommended to leave at least a tip of 10% in a restaurant and is not expected. It is also polite to round up your bill and leave the change but this is optional. 

What is the internet access like?

Internet connection in Denmark is great and you should have no problem with day-to-day tasks like emailing or surfing the web. WiFi is available in many cafes, hostels and hotels for free. 

Is the tap water safe to drink?

Tap water in Denmark is most certainly drinkable, however, if you do not enjoy the taste, you can boil it or buy bottled water. 

Can I use my credit cards?

Yes, credit cards are widely accepted throughout Denmark. Please check with your bank about any foreign transaction charges. Visa and MasterCard are widely accepted in Denmark, however, American Express and Diners Club may not be accepted in smaller places. 

What are the public holidays?

Along with common public holidays such as New Year's Day and Good Friday, Denmark celebrates Maundy Thursday before Easter Friday, Great Prayer Day the fourth Friday after Easter, Ascension Day 40 days after Easter, Whit Monday on the seventh Monday after Easter and Constitution Day on June 5. 

Is Denmark expensive?

Similar to other Scandinavian countries, you won't be surprised to learn that Denmark is not a cheap place to visit. Restaurants can be pricey depending on your accommodation, room rates are not cheap. Joining a tour makes budgeting easy as all costs are upfront. 
A TRAVEL MAGAZINE BY TOURRADAR