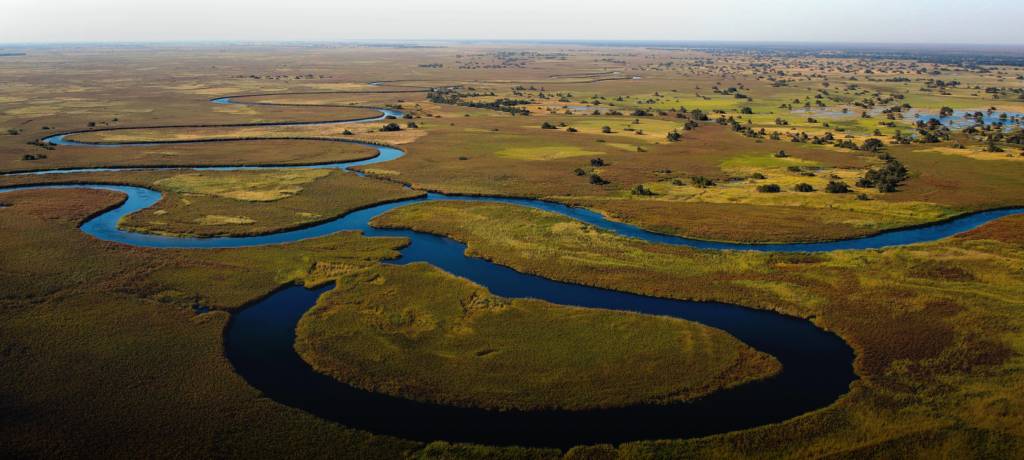 Okavango Delta Wildlife
From the Big Five to unique aquatic species to some incredible birdlife, the Okavango Delta is home to biodiversity that will make you want to visit again and again. Travellers will be able to see different animals on every trip because there's always something new to discover. Read on to find out about just some of these amazing animals. 
See all Okavango safaris
Animals you can find in the Okavango Delta
The Okavango Delta is home to thousands of different species of plants and animals. Here, you'll find over 400 species of birds, nearly 200 species of mammals, and over 150 species of reptiles! To learn more about a few favourite animals, read on and get ready to explore. 
African elephant

Botswana is home to one-sixth of the world's elephant population, so chances of seeing these beautiful, intelligent animals are fairly good when visiting the Okavango Delta! A visit timed with the floods in this region will see thousands of African elephants migrating between the Okavango, Linyanti, Savute, and Chobe regions, but many smaller herds live around the swamplands year-round. 
 

White rhino

There are more white rhinos than black rhinos in this region, as the latter is critically endangered. Visitors hoping to catch a glimpse of a white rhino should head to Chief's Island, where both species of rhino spend time year-round. These animals are often closely guarded to prevent further poaching, which has nearly driven the northern white rhino species into extinction. 

 

Black rhino

There are only about 40 black rhinos in the Okavango Delta region, as years of poaching has caused a critical decline in this species. The Botswana Rhino Reintroduction Project allows visitors to see these amazing creatures up-close on a visit to the Okavango Delta through their re-introduction practises, but travellers shouldn't expect to see a black rhino without a lot of luck. Again, Chief's Island is a great place to spot black rhinos, who live there year-round. 
 

Hippo

While there are never any guarantees about which animals travellers will see on a visit to the Okavango Delta, it's usually a very safe bet that they'll find plenty of hippos! These massive creatures live in groups (called "pods") and can most often be found lazing in the water. The prime time to see hippos is when the floods begin to recede, leaving plenty of fresh grass to graze on. However, travellers should be able to view them year-round in the areas in which the water is permanent and unchanging. 
 

Lion

The Okavango Delta lions are truly something special. These lions have adapted to life in a wetland, and visitors will often find them in the water in pursuit of their next meal; you can recognize a Okavango Delta lion by its more developed forequarters, as they can swim very well. Lions, travelling in prides of between three and thirty members, can be found year-round in most parts of the Okavango Delta. 

 

Giraffe

While giraffes can often be found year-round in the Okavango Delta, travellers should note that many of the giraffes native to this region can suffer from a mysterious eye infection that often blinds them. Scientists are currently studying this strange affliction, but travellers should always listen to their guide in order to safely observe these creatures. 

 

Buffalo

Thousands of buffalo (one of the Big Five) flock to the waters of the Okavango Delta, and chances of spotting them while on safari in this region are very good. The best time to view buffalo here is in September and October, when conditions are hot and dry and more of these animals concentrate at watering holes. 

 

Zebra

While Serengeti National Park is home to the largest migration of zebra, many travellers don't realise that the second largest event of its kind occurs around the Okavango Delta! Up to 25,000 zebras migrate twice annually. The region is one of the best places to see zebra in Botswana, and can often be found in the drier areas of the Okavango floodplains. 

 

Sable antelope

The sable antelope is regarded by safari enthusiasts as being one of the most handsome and unique of its kind thanks to their powerful, fantastically long curved horns which arch backwards away from their face. Sable are most active during the cool parts of the day and usually spend the hottest part of the day resting in shade or near watering holes. Oddly they do not reside in Chief's Island. 
 
Most popular Okavango Delta safaris
A TRAVEL MAGAZINE BY TOURRADAR