Jungle Safari
When you think of a safari, iconic countries like Kenya and Tanzania are likely the first destinations that come to mind. But, the African continent isn't the only place to embark on a jungle safari: Asian destinations like Ranthambore National Park in India and Chitwan National Park in Nepal are also home to a range of incredible wildlife, from tigers to elephants, one-horned rhinos and more!
See all jungle trips
Best jungle safari destinations in the world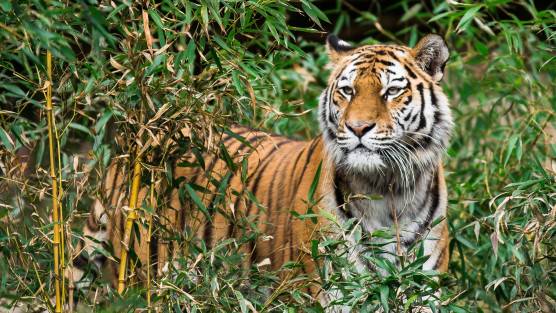 India
Why India?

Home to roughly 70% of the world's tiger population, India firmly stands as the best place to see these magnificent creatures in the wild. Ranthambore National Park is one of the top destinations for a jungle safari in India, along with Bandhavgarh National Park and Kanha National Park in the central Indian state of Madhya Pradesh. Ranthambore is the country's most famous tiger territory, and since it's located in Rajasthan, a visit to this former royal hunting ground can be easily combined with a tour of India's Golden Triangle (Delhi, Agra, and Jaipur).

What to see: Tigers, sloth bears, leopards, and sambar deer

When to go: Most parks in India are open between October and June

Pro tip: Combine your Golden Triangle tour with a safari in Ranthambore National Park
 
Jungle safaris in India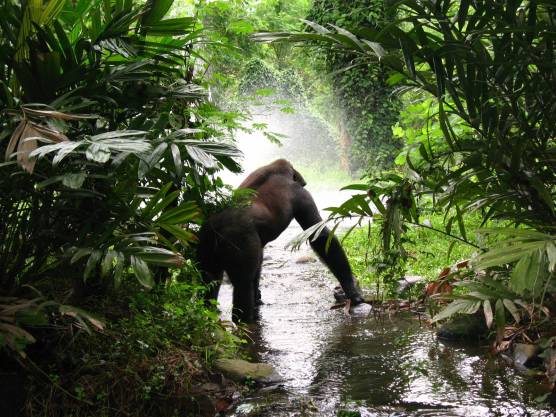 Uganda
Why Uganda?

Most travellers visit countries like South Africa and Tanzania in hopes of seeing the Big Five, but there's only one awe-inspiring and critically endangered species that draws visitors to Uganda: the mountain gorilla. Gorilla trekking in Uganda is one of those surreal, once-in-a-lifetime experiences, and Bwindi Impenetrable Forest is the top place to make your Ugandan jungle safari dreams come true. Roughly 400 mountain gorillas reside in this astonishingly diverse forest, but gorilla trekking permits are limited, so be sure to secure yours well in advance.

What to see: Mountain gorillas

When to go: Gorilla trekking in Uganda is a year-round activity; however, many people choose to travel during the country's dry season, which falls between May and September and throughout January and February

Pro tip: Permits will be in high demand during the dry (and high) season, so it's best to book your gorilla trekking permit as far in advance as possible
 
Gorilla trekking in Uganda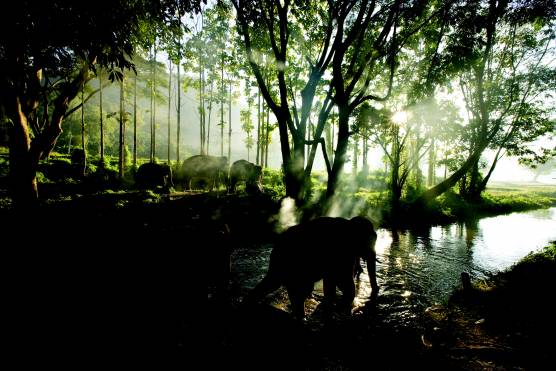 Thailand
Why Thailand?

Asian elephants, clouded leopards, sun bears, oh my! Thailand is home to a range of incredible and unique species, and you can see them in their natural habitat at one of the country's many national parks. Khao Yai National Park is located only three hours from Bangkok, and it's one of the best places to see Asian elephants in the wild. Khao Sok National Park, which is a fantastic alternative to nearby party destinations like Phuket, is another hotspot for wildlife. Here, you'll also find wild elephants and Malayan sun bears, along with hundreds of species and birds and countless reptiles.

What to see: Wild elephants, sun bears, clouded leopards, and tigers

When to go: November to April is the best time to visit both Khao Yai National Park and Khao Sok National Park

Pro tip: For a unique experience, spend a night or two in a floating bungalow in Khao Sok National Park
 
Jungle safaris in Thailand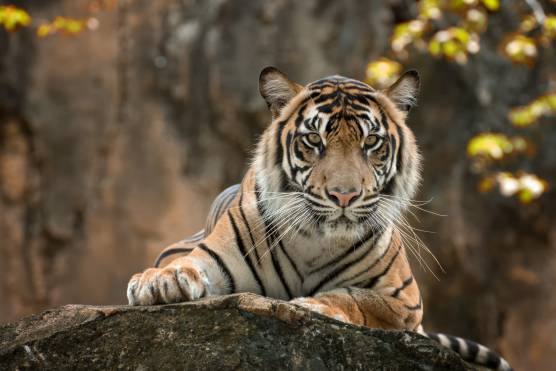 Nepal
Why Nepal?

Visitors flock to Nepal in droves to see the sheer beauty of the Himalayas, but this mountainous country is also a fantastic destination for a jungle safari. You can choose from various wildlife-filled national parks and reserves, from Chitwan National Park to Bardia National Park and Koshi Tappu Wildlife Park. Accessible from Kathmandu, Chitwan National Park is one of the country's premier wildlife destinations, renowned for its conservation efforts and protection of rare and endangered species such as one-horned rhinos and Bengal tigers.

What to see: Elephants, rhinoceros, tigers, crocodiles, an abundance of bird species

When to go: In destinations like Chitwan National Park, the weather is most pleasant between October and March

Pro tip: One-horned rhinos are especially active around waterholes in Chitwan National Park between October and December 
 
Jungle safaris in Nepal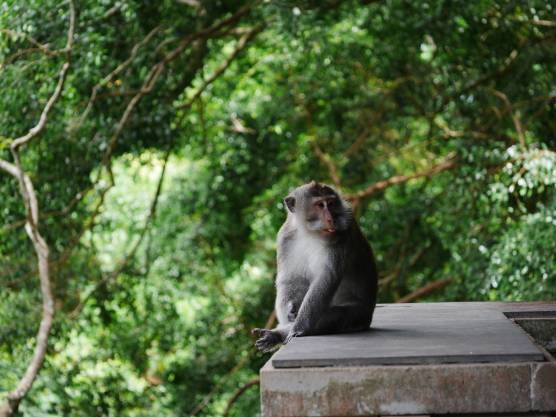 Bali
Why Bali?

Bali is a paradise for sun-worshippers and beach bums, but this island is also a fantastic destination for animal lovers. You're likely to see monkeys — especially grey-haired macaques — in and around tourist hotspots like Ubud and Uluwatu Temple, but you'll have to venture off the beaten path if you want to get up close with other species. Head to Bali Barat National Park, located in the northwest part of the island, for the chance to spot everything from flying foxes to monitor lizards, wild boar and the Bali starling, a beautiful and critically endangered bird. An important note: many wildlife sanctuaries in Bali, especially elephant parks, are not ethical and should be avoided.

What to see: Grey-haired macaques, monitor lizards, Bali starlings

When to go: The best time to visit Bali is during the dry season, between May and October

Pro tip: Skip Monkey Forest in Ubud in favour of Uluwatu Temple, where hundreds of grey-haired macaques roam freely
 
Bali tours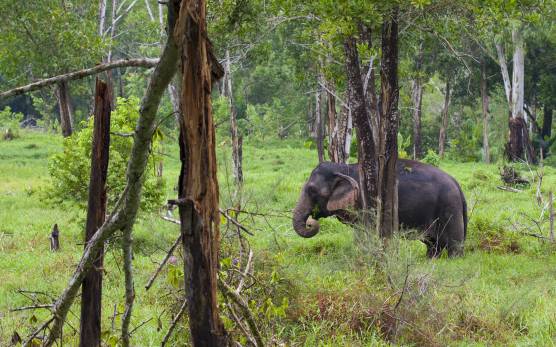 Sri Lanka
Why Sri Lanka?

A visit to Sri Lanka wouldn't be complete without a jungle safari in one of its world-class national parks. Yala National Park is the most-visited park in the country, and it's also the biggest in terms of size. A number of exotic species call this park home, including spotted deer, crocodile, and one of the country's most elusive residents: the leopard. Udawalawe National Park may be smaller, but it also has a greater density of animals, especially when it comes to Sri Lankan elephants. There are roughly 500 elephants in Udawalawe, so your chances of spotting these magnificent creatures are virtually guaranteed.

What to see: Elephants, leopards, water buffaloes, and crocodiles

When to go: You can visit Yala National Park all year round, except when the park closes in September and October. Udawalawe can be visited year-round!

Pro tip: Maximise your jungle safari in Sri Lanka by arranging a guided tour in advance
 
Jungle safaris in Sri Lanka
Tips for a jungle safari
Pack appropriately

Remember to pack clothing in neutral colours as well as warm layering pieces like down jackets, long sleeve tops, and hats for those chilly early morning game-viewing drives.

Hire a guide

Having a tour guide can make your jungle safari experience better for a number of reasons. The main benefit? Guides can easily navigate through areas with wildlife and potentially predict (or estimate) where animals might be located.

Bring water & snacks

Snacks and water are essential for those long stretches in between wildlife sightings (just be sure to properly dispose of any rubbish in national parks and reserves).
Things to consider before booking a jungle safari
When should you go on your jungle safari?

The most important factor to consider when booking a jungle safari is the time of year you plan to travel. In India, several parks — including Ranthambore National Park — close during the monsoon season (between July and September), so remember to keep this in mind when finalising your travel plans. If you choose to go on an African jungle safari you have more flexibility - although it's more comfortable to trek during dry season.

What jungle safari animals do you want to see?

Do you have your heart set on seeing tigers in the wild, or does your dream jungle safari include tracking critically endangered mountain gorillas? The wildlife you most want to see will ultimately help you decide on a destination. Check out the best tiger safaris and gorilla trekkings. 

What level of activity are you looking for?

Certain jungle safaris — like gorilla trekking in Uganda, for example — can be physically challenging, requiring a moderate level of fitness, so it's best to take this into consideration prior to booking.

What type of accommodation do you prefer?

Are you looking to stay in a luxurious lodge or at a budget-friendly campsite? A range of accommodation options are available, but they will vary depending on your destination and the tour operator you choose to book with.
Contact our Travel Experts
+1 844 311 8331
24/7 Support
Our team of experienced tour specialists have travelled to hundreds of countries around the globe and have decades of first-hand travel experience to share. Contact us now to have all of your tour-related questions answered!
A TRAVEL MAGAZINE BY TOURRADAR