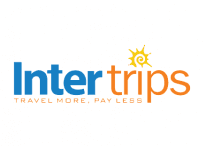 Number of tours

11
Age Range

1-80
Number of reviews

24
Rating

4.2

/5
Response rate

96%
Response time

within 2 days
Written on February 6th, 2020

Thank you guys for this tour, I enjoyed it so much, definitely will do it again and I recommend it

Written on February 6th, 2020

Easy and well planned vacation! Everything went smoothly and was very well put together. Super efficient process. Highly recommend!

Explore Texas from Dallas (Bilingual chinese and english) - 8 Days

Written on January 10th, 2020

The tour content was good but the lack of or poor communication between tour agent, service operators and tour guides meant constant organising of trying to un…

Read more

Written on January 4th, 2020

The tour was great. I totally satisfied with the services that I received from the Intertrips.

Anonymous

Written on December 28th, 2019

Hi there, This trip was the most terrible experience for me. The first few days was good.  But the last 4 days,  it was awful.  I have not really eat much duri…

Read more

Intertrips commented on this review

Hello Margo, We apologize for the inconvenience during your tour through West Europe with us. We operate with a partner in Europe who handled your tour, and the quality that you received does not represent the quality that Intertrips prides itself on. We apologize that the tour was not hearing-impaired-friendly, and that you felt the lunches and dinners were rushed, and did not get to eat as much as you would have liked while on the tour. There is so much to see and do on the itinerary, that there is not much time to eat while still sticking to the schedule to provide the amount of sightseeing and stops on the tour. We will pass this information over to our partners in Europe who handled your tour and will hopefully make the necessary changes for our future travelers who may be hearing-impaired, and to provide more time for lunch and dinners for our guests. We appreciate your feedback,  and are always looking to improve our services, and again, we apologize for any inconvenience this may have caused. Thank you.

Written on November 27th, 2019

The guide was really funny and knows perfectly Japan and this tour is educational, fun, and a great way to be introduced to Japan. I absolutely recommend this t…

Read more

Written on November 26th, 2019

The service provided by Intertrips is very professional and considerable. It was an amazing experience. Enjoy this tour so much and I will definitely come back …

Read more

Written on November 18th, 2019

Pros: A lot of ground covered and a lot of sights seen! You get a taste of the sights so you will know what you want to see when you return. Good value for t…

Read more

Written on October 31st, 2019

It was very nice, I recomend it and I'll do it again

Written on October 31st, 2019

It was amazing love it. Great company. Thank you.
Questions & Answers
Special Requirements

Please inform InterTrips your special requirements when you make the reservation. We do need at least 2 weeks to arrange and confirm the special service. All the special requirements are subject to the availability.

What vaccines and medicines should I take?

No vaccinations are required for your trip with the exception of anyone travelling from or via an infected area. Due to the length of the trip and local travelling conditions, it is advised that you consult your doctor for existing medical/dental conditions. For those who take special medicine on a regular basis, make sure that you carry an adequate supply. Carry them in the original containers to identify them as legally obtained drugs and pack them in your carry-on bag. Bringing some useful medicines is also a wise precaution, such as those for colds, diarrhea and constipation. In case of illness during the trip, please immediately notify your tour guide for assistance. Good health is the premise of an enjoyable trip. Look after yourself carefully during the trip and try your best to minimize the risk of getting ill.

Do I need to pack my hairdryer?

Hairdryer is available in most hotels in China. It's subject to the availability.

Electricity Voltage

The electricity used in China is 220 volt AC. Washrooms in many middle and high-class hotels are equipped with transformer plugs for electric shavers and hair dryers. While for safety purpose, preparing an adapter is much better.

Credit Card or Cash?

It is wise to carry your currency in different forms of cash, and credit cards. Use a credit card for major purchases and local currency wherever credit cards are not accepted. You may exchange your currency at a hotel to obtain best exchange rates.

Baggage Allowance for domestic flights in China:

Carry-on Baggage: Each passenger is allowed to carry on one bag and one personal item such as a laptop bag, handbag, or briefcase. Assistive devices and outer garments do not count as personal items. All carry-on luggage must fit in the overhead bin or under the seat in front of you. All carry-on bags must adhere to the following requirements: Maximum Dimensions of Carry-on Luggage: 21in ×15 in × 7 in/ 55 cm × 40 cm × 20 cm( length + width + height) Maximum Weight of Carry-on Luggage: 11Ib/ 5kg Checked Baggage: Checked Baggage Allowance: 1 piece(Typically) Maximum Weight: 44lb/ 20kg InterTrips does not take any responsibility to any baggage service provided by the airline companies. Any extra expense on your baggage during your trip is on your own cost.

What hotels we use and do they have free WIFI?

All the hotels we use offer free WIFI, at least in hotel lobby.

Are there hotel rooms and buses non-smoking?

Yes, we only book non-smoking rooms and buses for our groups.

How about the payment for the trip and cancellation policy?

We require you to pay it all at once to book the trip and the tour is NON-REFUNDABLE. We strongly recommend you purchase travel insurance to get covered

Can I hold the space?

The tour is first come first serve base, we do not hold seats.

Can 3 guests stay in one room?

Yes, we normally add a roll-away bed for the 3rd adults. Kids under 12 have to share beds with their parents, we do not arrange a separate bed for them.

Are there a minimum number to form the group. Is it possible that the tour gets cancelled?

We need at least 10 passengers to form a group, in the case that there is less than 10 passengers book, you can either change to a nearby departure or get a full refund (we are not responsible for your other related cost though).

Normally, how many travellers on each bus?

Group size ranges from 10-38 with an average of 25 passengers in a bus with 49-55 seats.

How can I apply for China Visa

You can either apply for China Multiple Entry Visa from Chinese Consulates near you yourself, or we can help. Intertrips offer 2 kinds of Visas instead. 1st is Single Entry Group Visa, require minimum 2 passengers travelling together, we do not need your original passports to process, cost is $169 per passport, this kind of Visa is valid for 30 days only, from the date it is issued, so we have to mail to your home in about 2 weeks before your departure; 2nd is Multiple Entry Visa, we need your original passports to process, it takes about 5-10 business days to process, the cost is $199 per passport.
Contact our Travel Experts
+1 844 311 3006
24/7 Support
Our team of experienced tour specialists have travelled to hundreds of countries around the globe and have decades of first-hand travel experience to share. Contact us now to have all of your tour-related questions answered!