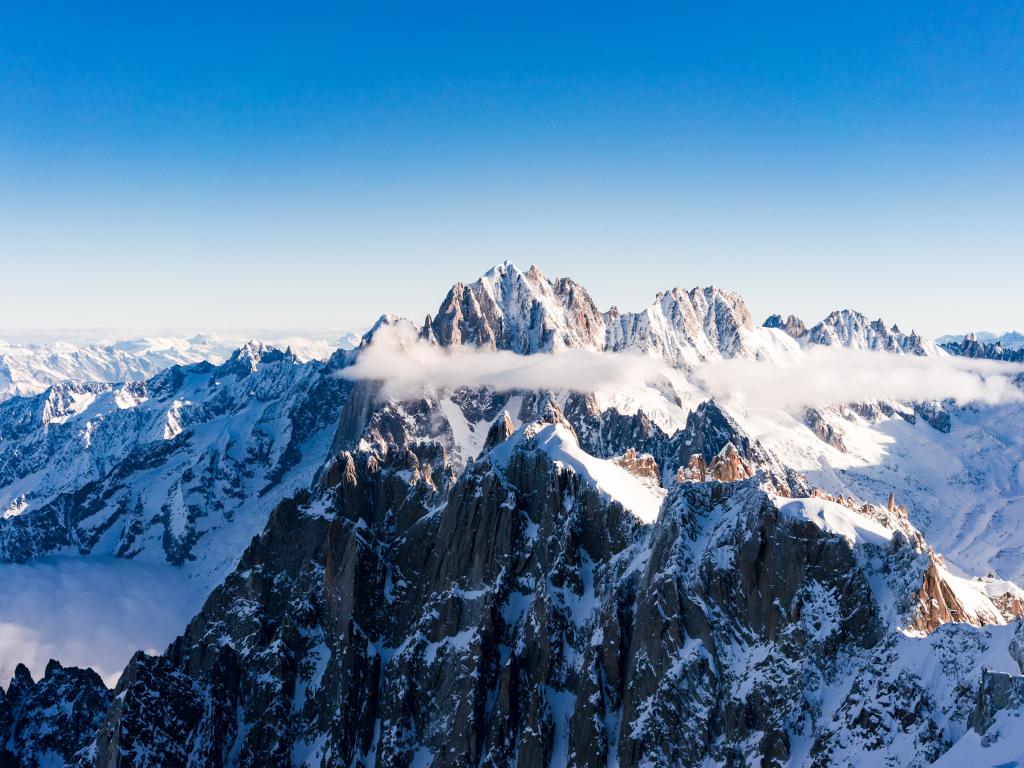 When to climb Mont Blanc
Choosing when to climb a mountain has a profound impact on the way that you'll experience your excursion. As such, it's important to do your research to ensure that you're arriving at the optimal time and, further, a time that's safe to climb. Naturally, there are no guarantees when you're climbing a mountain of this magnitude, but you want to put yourself in a position to have the greatest success possible and, ideally, reach the summit. 
 
The ideal time to climb Mont Blanc
The ideal time to climb Mont Blanc is considered to be the period between June and September, as these represent the warmer, more palatable months. A predominant amount of people aim for the heart of summer, namely the months of July and August and that's for a number of reasons. For one, climbing in July and August is going to offer you the "easiest" climb.  Now, of course, it won't be easy, but objectively, the weather is the most cooperative during these months, which means you'll face fewer obstacles in the climb itself. The other factor is that during July and August the huts and refuges are fully operational, which means your path to get to the top, in general, is going to a little more manageable. 

The downside of climbing in July and August is just that many others will be doing the same. You'll need to book spots in the refuges months in advance to secure a bed along the way. It's been said that some climbers bring a tent and simply camp nearby these refuges, but there's no question it's better to get a spot in the refuge for comfort, rest, and the fact that hiking and climbing with a tent is just extra (potentially unnecessary) weight. If you can embrace the notion that the path might be a little more crowded, but your climb will be more manageable than July and August are your months. 
 
Climbing Mont Blanc in winter
If you're looking to climb in the winter months (particularly December through February), then Mont Blanc, quite simply, is not your mountain. Due to the bitter and serious cold, it's considered inadvisable to attempt the climb. It is possible, especially in conglomeration with a skiing aspect, but it's a very challenging climb that only experts should consider. If you were to attempt a skiing ascent the very earliest you'd want to do that would be April. 
 
Climbing outside the high season
 More experienced climbers and those who have climbed the mountain previously often intentionally avoid the high season of climbers which takes place in July and August and climb instead in either June or September. The clear advantage to climbing during these months is that there will be fewer people on the same path as you, which has a certain allure to some. Most huts are fully operational from June to September, but be sure to double check that the huts on your proposed route will indeed by open. 

If you've got the skill to attempt it, climbing in June or September can offer a magical sort of peace that you may not get in July or August, but just know that, weather-wise, that peace can come with a cost, especially if you choose to climb in early June or late September. 
Mont Blanc temperatures
JAN
FEB
MAR
APR
MAY
JUN
JUL
AUG
SEP
OCT
NOV
DEC
Average °C
-3
-7
-3
5
8
14
16
15
13
8
-1
-6
Average °F
26
19
26
41
46
57
60
59
55
46
30
21
High °C
-1
-5
-1
7
10
15
18
18
15
10
1
-3
High °F
30
23
30
44
50
59
64
64
59
50
33
26
Low °C
-6
-11
-7
1
5
9
12
10
7
2
-5
-9
Low °F
21
12
19
33
41
48
53
50
44
35
23
15
How to climb Mont Blanc
How do I prepare for Mont Blanc?

Successfully reaching the summit of Mont Blanc requires a high degree of preparation in both your route planning as well as your fitness levels. This is not a mountain which can be climbed on a whim, especially if you lack climbing and hiking experience. 

When should I climb Mont Blanc?

Mont Blanc is located in the northern hemisphere, which means the best time to climb is in the summer. June to September is the safest time to climb, but if you desire fewer crowds and you've got an impressive climbing resume, then the spring and fall is also an option. Learn more. 
 

What permits do I need?

Despite recent environmental concerns, as well as worries about popular routes facing overcrowding, there is currently no official permit required to climb Mont Blanc. Learn more.

Do I need a guide to climb?

Mont Blanc is the most dangerous mountain in the region and, as such, a guide is strongly recommended - but not required. It's strongly suggested that first-timers and inexperienced alpine hikers hire a guide.

How do I get to Mont Blanc?

Mont Blanc is actually quite accessible, as it can be reached via road, rail, or air. Fly into Geneva, Lyon, or Haute-Savoie Mont Blanc Airport with Geneva providing closest access (just under 90km away). Otherwise, drive to Chamonix, or catch a train from London. Learn more.

What should I pack/what equipment do I need?

Mont Blanc is one of the world's tallest mountains and, as such, you're going to need to bring an array of gear to enable a successful climb. You'll need an ice axe, helmet, crampons, trekking poles, gaiters, as well as the appropriate clothing to reach the summit. Learn more.
Mont Blanc routes
Gouter Hut Route. Distance: 4000 m, average duration: 2-3 days, success rate: 65-75%
Grand Mulets Route. Distance: 3000 m, average duration: 2-3 days, success rate: 70%
Cosmiques Route. Distance: 3500 m, average duration: 2-3 days, success rate: 60-75%
Haute Route. Distance: 180 km, average duration: 12-14 days
Tour du Mont Blanc (Mont Blanc Circuit). Distance: 170 km, average duration: 11 days, success rate: 100%
Mont Blanc tours & reviews
A TRAVEL MAGAZINE BY TOURRADAR