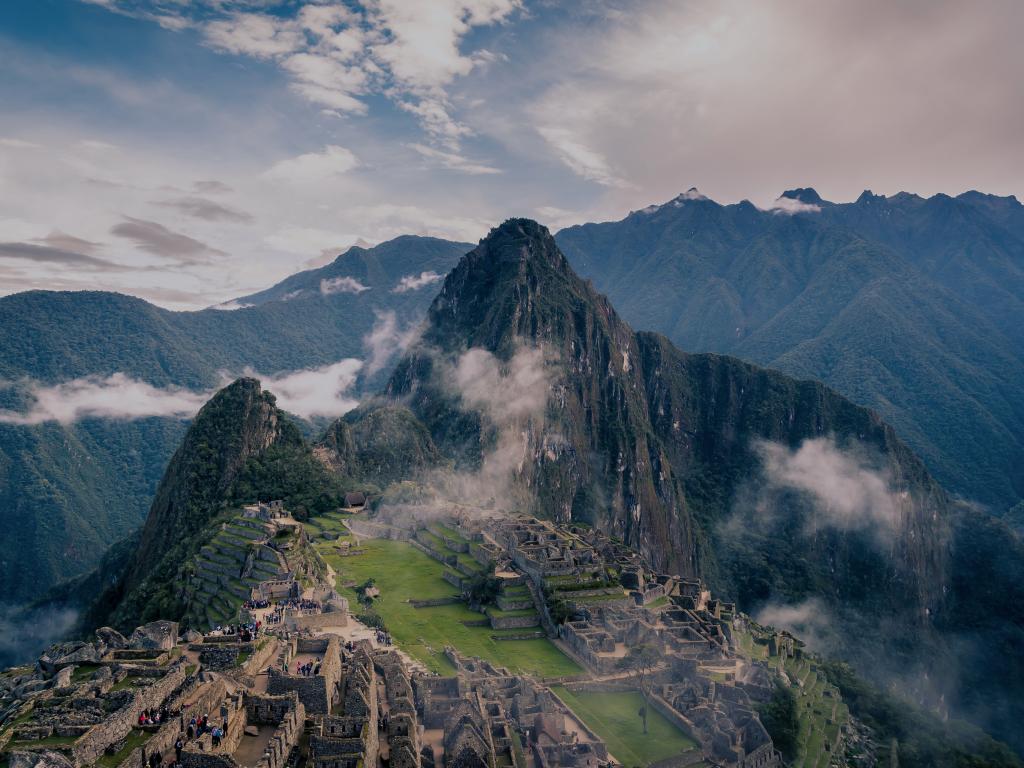 How to get to Machu Picchu
Machu Picchu, perched above the Sacred Valley, is a destination that most travellers dream of visiting. Every year, thousands of travellers make the journey to Peru to experience the beauty of the ruins up close. But before you start planning your journey, there are a few different ways for you to reach Machu Picchu that you should consider. 
 
Travelling by air to Cusco
Cusco is where travellers will start their journey before venturing along the Inca Trail and surrounding routes to reach the Machu Picchu ruins. Cusco is located at an altitude of 3,399m (11,152ft) and is the best place for travellers who have not been exposed to high altitudes before to become more comfortable with the change in conditions and to reduce the impacts of altitude sickness. Before you travel, it's advised that you complete the appropriate research about the dangers of altitude sickness, how to alleviate its symptoms, and the associated health risks. Most importantly, not only is Cusco the place to be for acclimatisation, it's also where you will find traces of fascinating Inca history, local textile markets, awesome nightlife, and unique architecture. Whatever you do, don't rush your time in Cusco as there is much to see and do. 

To arrive in Cusco, most international travellers will first need to fly into Jorge Chávez International Airport (airport code LIM) in Lima before reaching Cusco via internal flight. QANTAS is a popular airline that services this route for Australian travellers. In the UK, British Airways, Air France, and KLM are among the favoured airlines, whereas US travellers tend to select the routes with JetBlue, LATAM, United, and Avianca, just to name a few. The journey will be long, and it's likely that you will encounter a layover at least once or twice depending on where you fly from and what airline you select. 

For internal flights within Peru from Lima to Cusco, some of the popular airlines include LCPeru, Peruvian Airlines, LATAM, and StarPeru, and are relatively inexpensive. 
 
Travelling by road to Cusco
Once you arrive in Lima, there is an option to travel on a bus that connects you from Lima to Cusco, but it's definitely a time-consuming option that can take anywhere between 20-27 hours. This is known among travellers as a budget option, but it is worth noting that the roads are incredibly windy, and the road conditions are sometimes unstable or dangerous. 

When comparing local bus companies, be careful not to fall into the trap of booking the cheapest ticket. If you are concerned about your safety on the roads travelling from Lima to Cusco, it is advised that routes that travel through Arequipa are generally safer. 
Travelling from Cusco to Machu Picchu 
Once you've made it to Cusco, you're almost there – but you will still need to make your way to to the gateway town of Aguas Calientes. Depending on your travel plans, you have a number of options to consider. These include trekking directly to Machu Picchu along the classic Inca Trail, or completing a trek on an alternative route that ends in or nearby the town of Aguas Calientes –  just a few miles from Machu Picchu – which is where you will formally end the hiking component of your trip before climbing the steps to Machu Picchu. 
Travelling from Aguas Calientes to Machu Picchu
Travellers have the option of staying in Aguas Calientes overnight before viewing the ruins, or, if you choose to forgo the hiking experience altogether, you can travel by train from Cusco to Aguas Caliente. From Aguas Caliente, you have the option of either paying for a bus up to Machu Picchu or climbing the steps. You can start climbing the steps once the bridge opens early in the morning (top tip: line up early during the peak season) and then you can hike up the steps which will take anywhere between 40 minutes to an hour. The steps are a challenging experience but of course, the views of Machu Picchu are completely worth it. 
Machu Picchu weather
JAN
FEB
MAR
APR
MAY
JUN
JUL
AUG
SEP
OCT
NOV
DEC
Average °C
15
15
15
15
15
14
14
15
15
15
15
15
Average °F
59
59
59
59
59
57
57
59
59
59
59
59
High °C
24
25
25
25
25
25
25
25
26
25
26
26
High °F
75
77
77
77
77
77
77
77
79
77
79
79
Low °C
13
13
13
12
11
9
9
10
11
12
13
13
Low °F
55
55
55
54
52
48
48
50
52
53
55
55
Rainfall (mm)
138
141
151
62
23
17
22
24
44
75
86
121
How to climb Machu Picchu and the Sacred Valley
Machu Picchu routes
Inca Trail. Distance: 45 km, average duration: 4-5 days
The Lares Trek. Distance: 33-45 km, average duration: 4 days
The Salkantay Trek. Distance: 55 km, average duration: 5 days
The Choquequirao Trek. Distance: 65 km, average duration: 8-10 days
The Vilcabamba Trek. Distance: 62 km, average duration: 5 days
The Huchuy Qosqo Trek. Distance: 20 km, average duration: 3 days
The Quarry Trail. Distance: 26 km, average duration: 4 days
Machu Picchu tours & reviews
A TRAVEL MAGAZINE BY TOURRADAR