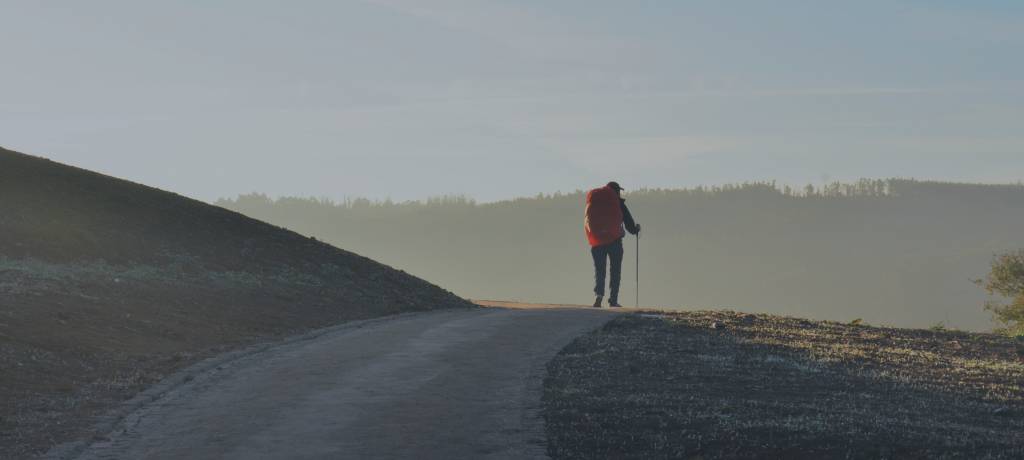 Camino Pilgrim Passport
Hiking the Camino de Santiago is more of a casual affair. This is because while some of its routes may have challenging bits, they're not incredibly tough that hikers require trekking gear, vigorous training, or as we mentioned before, a guide. Additionally, none of its trails requires mountaineering skills or experience to warrant a permit, unlike Kilimanjaro or Everest. This means that you need not obtain a permit to start your journey, even the month-long ones. 

Citizens of
EU member states
US 
Australia
Canada 

do not need a visa to travel to Spain. In fact, US citizens, Australians and Canadian may stay in the country for up to three months or 90 days, to be exact, without a visa. 

Since the longest of the major treks in the Camino de Santiago network is just over a month, you won't have to obtain a visa to complete your hike if you're from any of these countries. If you are, however, planning on extending your trip for more than three months, you must secure one. If you do so, also remember that your passport should be valid for at least three months beyond your period of stay. 
Official Camino Passport
While you do not require a permit to start or finish your hike, there are a couple of things that you might want to obtain. One of those is the Pilgrim's Card or Passport, which is essentially an official verification document that tells the pilgrim's office at the end of the trail in Santiago de Compostela that you did at least 100 kilometres of walking (or 200 kilometres of cycling).

Obtain your Pilgrim's Card at a pilgrim's office, an albergues or the town hall at your starting point, then have it stamped at an albergues, an establishment or a religious building (like a church or a monastery) in your stops along the way. You must do so at least twice a day. Keep it safe with you until you finish your hike so that you can present it to the cathedral officials at the end of your journey.
Pilgrims Office Santiago and Camino Certificate
When you finish your hike in Santiago de Compostela, you can preset your Pilgrim's Card or Passport to the cathedral officials to apply for the Compostela. The Compostela is essentially your certificate of completion, a document that says you completed the Camino de Santiago journey on foot or horseback for at least 100 kilometres (or 200 kilometres by bike) and that you did so for religious or spiritual reasons. You need not obtain the Compostela if you prefer not to, however.
Camino first aid kit and vaccinations
The minimal first aid kit for the Camino has to include:
Plasters
Charcoal pills against diarrhea
Painkillers
Sewing kit with strings (against blisters)

Remember then that you will be in Spain, a country where there are many pharmacies. The pharmacists along the Camino are accustomed to most of the aches, pains and ills of peregrinos and will be able to help you with most maladies. Take any prescribed medication with you and only small quantities of other things as you can top up along the way.

If you are, or ever have been, allergic to anything - whether it be flora or food - carry anithistamines. Non-drowsy for the day and drowsy for night. If you have ever had asthma - even if you haven't had an attack for 10 years - take something with you. Your body has learned to fight local conditions but you will be in a new country with different dust and pollens and these could cause problems. 

Build up your reserves of Magnesium and Calcium before you go (Dolomite is a good source). Take pills and the other solid medicines out of the boxes and pack them into plastic, zip-lock money bags. You can decant liquids such as Arnica oil from their heavy glass bottles into smaller, plastic bottles (they will remain stable for the short time you are walking on the Camino).

It is advisable to have an up-to-date anti-tetanus and rabies vaccines before you travel to Spain and Portugal. Additionally, it is recommended that you are up-to-date on your routine vaccines, including hepatitis A, hepatitis B, measles, mumps, MMR, diphtheria, Tdap, and influenza.
Camino de Santiago Weather
Here the best time to walk the Camino de Santiago
JAN
FEB
MAR
APR
MAY
JUN
JUL
AUG
SEP
OCT
NOV
DEC
Average °F
45.9
46.9
50.3
52.2
56.5
62.2
65.5
66.2
63.3
56.8
50.7
47.3
Average °C
7.7
8.3
10.2
11.2
13.6
16.8
18.6
19
17.4
13.8
10.4
8.5
Average High °F
52.2
54.5
59
61
65.6
74.5
75.7
76.5
73
64.6
57.4
53.4
Average High °C
11.2
12.4
15
16.1
18.6
22.2
24.3
24.7
22.8
18.1
14.1
11.9
Average Low °F
39.4
39.4
40.7
43.2
47.3
52.3
55.4
55.9
53.4
49.1
44.1
41
Average Low °C
4.1
4.1
5.3
6.2
8.6
11.3
13
13.3
11.9
9.5
6.7
5
Rainfall mm
210
167
146
146
134
72
43
57
107
226
217
261
Rainfall >1 mm days
15.2
12.3
13.4
14.4
12.5
7.6
5.7
5.5
8.4
14
14.9
15.9
Camino de Santiago tours & reviews
Camino de Santiago Information
How can I get to Camino de Santiago?

This, of course, depends on the route you're taking. Flying to the city closest to the trailhead is certainly preferable if you're coming in from Australia, USA and the UK. However, UK travellers may travel by bus or rail to the towns of Ferrol, Oviedo and St. Jean Pied de Port. Learn more.

When should I walk the Camino de Santiago?

The absence of extreme weather changes in the area makes Camino de Santiago's routes walkable year-round. Though June through September may be its busiest months, more than one thousand people still make the hike during the cold winter months of December, January and February. Learn more.

Can I walk the Camino during Christmas time?

While most pilgrims prefer to walk the Camino de Santiago from Spring to Autumn, the number of pilgrims who walk during winter time is increasing. But be aware there will be less pilgrims on the way around those dates so you might miss out on the social aspect of the Camino.

Do I need a guide to climb?

While you don't need a guide to hike any of the Camino de Santiago routes, having one will reduce the burden of planning. Going on a guided hike would give you the benefits of having experienced trip planners arrange things like accommodation, food, luggage transport and airport transfers. Learn more.

What should I pack and what equipment do I need?

Along the way, you'll be able to stop in towns to refuel. Carrying a day pack of your personal essentials, change of clothes, a two-litre water bottle, a first aid kit, and your passport and Pilgrim Passport will suffice. Invest in a good pair of hiking shoes and walking poles. Learn more.

How do I prepare for Camino de Santiago?

Do your research to choose the best route for your skill level and study the rules and etiquette on the trail. Purchase and read a guidebook for your chosen route. Finally, train for several months prior and push yourself to hike farther every day until you're fit to do 26- to 29-kilometre days. Learn more.
Camino de Santiago Routes & Maps
Camino Portugues

The Portuguese Way, the second most popular route, starts in either Lisbon or Porto and takes hikers from Portugal to Spain. Considerably longer, the Lisbon hike starts at the Lisbon Cathedral and passes through Caldas da Rainha, the Alcobaca Monastery and Porto before crossing several rivers on its way north to Spain.

Distance: 610 km (380 mi)
Average duration: 21-30 days 
Average difficulty/success rate: The Portuguese Way is relatively moderate. Minor elevation gains work to your advantage, though concrete and cobblestone roads, which it has its fair share of, can put a strain on the walk. The success rate is high.
 

Read more

Camino Primitivo

A few ups and downs, rocky or muddy sections and the frequency of the paved roads make Camino Primitivo one of Camino de Santiago's most challenging routes. It is, however, worth tackling, if only for the challenge and for the fact that it's the oldest one. You will be rewarded with breathtaking views.

Distance: 321 km (199 mi)
Average duration: 12-15 days
Average difficulty/success rate: Camino Primitivo has its fair share of challenging climbs and descents as well as paved sections, making it a difficult route. Still, if you take your time, the success rate is high.
 

Read more

Camino de Finisterre

Once you've reached Camino de Santiago, you might continue on to the "end of the world". Cape Finisterrae is one of Europe's westernmost points, thus the name. Adding 90 kilometres to the trip along an ancient route, perhaps even another 29 to Muxia, might just be an epic way to wrap up the journey.

Distance: 90 km (55 mi), 117 km (73 mi) to Muxia
Average duration: 2-4 days
Average difficulty/success rate: Because it's a shorter hike and offers spectacular views, the road to Finisterrae is a moderate route to take on. The success rate is certainly high, even if fewer people traverse it, choosing to end their trip at the cathedral.
 

Read more

Camino Frances

Is it a wonder why the French Way is favoured by most Camino de Santiago pilgrims? It's not just the most traditional route, with a lot of history surrounding it. It also boasts lush landscapes, charming towns and great infrastructure along the way, taking travellers through the beautiful Iberian Peninsula for a month. 

Distance: 772 km (480 mi)
Average duration: 4 weeks
Average difficulty/success rate: Due to the excellent infrastructure and facilities along the way, not only is Camino Frances an enjoyable hike, it's also a fairly moderate hike. So long as you take a couple of days to rest along the way, you are guaranteed to make it to the end.

Read more

Camino del Norte

For 827 kilometres, Camino del Norte stretches from the town of Irun in Basque Country to Santiago de Compostela, following Spain's northern coastline. It's not only the longest route in the network, it is also the least travelled and has fewer facilities, making it ideal for thru-hikers who prefer solitude and a challenge.

Distance: 827 km (514 mi)
Average duration: 36 nights
Average difficulty/success rate: A little more than a month and a more rigid schedule could be challenging for less experienced hikers. The success rate is generally good, so long as you train beforehand and can tackle more than 21 miles a day.

Camino Inglés

A favourite among hikers arriving from the British Isles and northern Europe, the English Way starts from the City of Ferrol and runs straight south to Camino de Santiago. Though short, it does boast longer sections and major elevation changes, making it a challenge for the more casual walkers.

Distance: 119 km (74 mi)
Average duration: 6 nights
Average difficulty/success rate: This ranks as medium to high in difficulty, though chances of completing are very good because of its short distance.
 
A TRAVEL MAGAZINE BY TOURRADAR