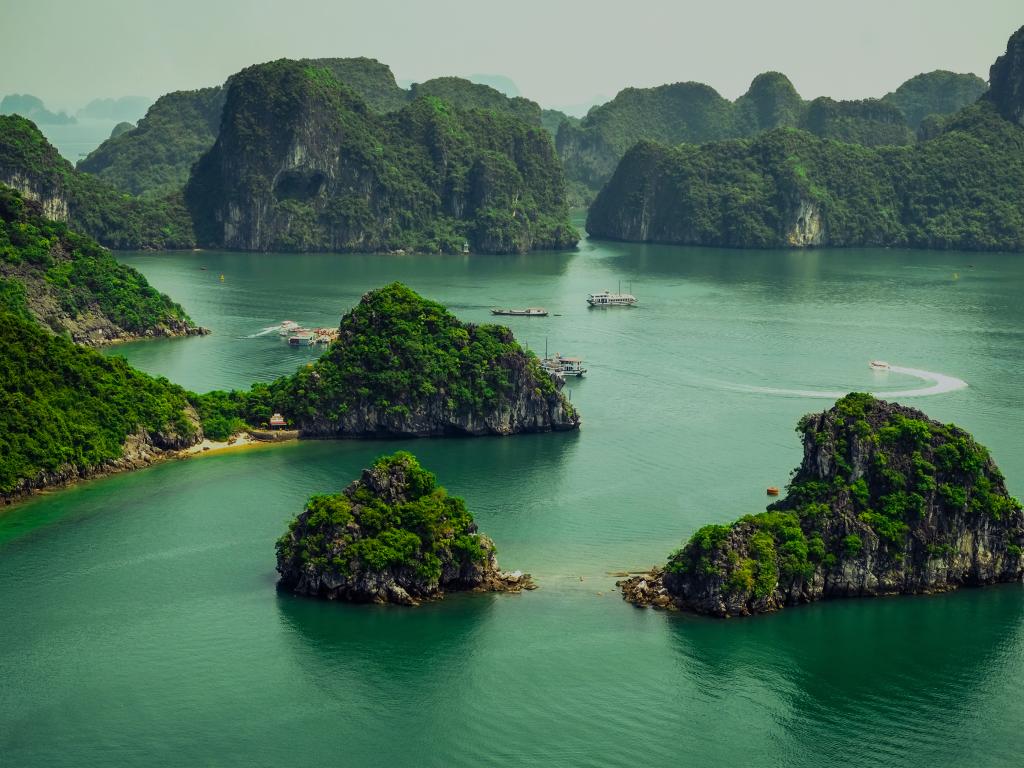 Vietnam Travel Guide
Remarkably exotic and undeniably intriguing, Vietnam is a land of gorgeous panoramas, rich culture and a street food scene that is well worth exploring – and that's just the beginning. There are unforgettable beaches. History calling to be uncovered. Tangled backstreets filled with French-colonial architecture. Friendly faces that make you feel instantly welcomed. This is your adventure. 
The Highlights


Hanoi

Vietnam's capital will not disappoint, as there is so much to see. After enjoying breakfast as the locals do (with a bowl of phở), start your day at the Ho Chi Minh Mausoleum, and learn about the man who led the movement for Vietnamese independence. Next, visit the One Pillar Pagoda and later, amble through the Old Quarter and observe the French colonial architecture. 

Phu Quoc

This dreamy island is located near Cambodia, and if you're searching for the best marine life in Vietnam, Phu Quoc is the perfect place to get acquainted with crustaceans, puffer fish, anemones, moray eels and octopuses. The option is here to either snorkel or dive, or you can simply laze about on the powdery white sand beaches. Whatever activity inspires you, you're winning either way. 

Hoi An

Vietnam as a country is a food lover's delight. But, it's the small UNESCO World Heritage town of Hoi An that captures the heart (and taste buds) of travellers – and for good reason. With a timeless charm, Hoi An is the only place in Vietnam where you can sample Cao Lau and Com Ga along with other Vietnamese favourites. Consider booking a cooking class to flex your culinary skills. 
My Son

While the temples of My Son might be falling apart, their significant role in history does not seem to falter. Set against a verdant jungle landscape, the remaining Hindu structures – there once stood 68 and now only 20 – were built between the 4th and 13th-centuries by the Kings of Champa and were dedicated to worship the god of Shiva. Today, they are listed as a UNESCO World Heritage Site. 

Mui Ne

If you're short on time and only have time to explore the south of Vietnam – but you're still hoping for a beach escape – Mui Ne is a favourite among travellers. You can go diving. Snorkelling. Kitesurfing. Or, simply dig your toes in the sand and relax. Once a sleepy fishing village, the town is home to many beach-front properties that offer an unparalleled view of the nine-mile beach.

Ho Chi Minh City

Ho Chi Minh City is the hub of activity in Vietnam and while it's easy to be overwhelmed, it really is an exciting, charismatic and vibrant city. To fill your day, hop on one of Vietnam's most charming modes of transport (a cyclo, of course) to explore Chinatown and visit the visit the Ong Pagoda or the Cha Tam Church or maybe stop at Ben Thanh Market for local handicrafts and souvenirs. 
The Basics
The Location

Vietnam is a country in Asia and borders the Gulf of Thailand, the Pacific Sea, Gulf of Tonkin, and sits along Cambodia, China and Laos. From Dubai, a non-stop flight is 7h 15m, and from Australia, it is roughly 8 hours direct. 

Capital City

Hanoi is the capital of Vietnam and has been since the reunification of North and South Vietnam in 1976. 

Main Airport

Tan Son Nhat International Airport, located in Ho Chi Minh City is the largest airport in Vietnam and is the international and domestic hub for travellers. It is just 6 kilometres from the city centre. 

Language Spoken

The official language of Vietnam is Vietnamese. English is spoken across the country and you should have no issue with basic communication or greetings. 

Currency

Vietnam uses the Vietnamese Dong. The currency code is VND. Be careful when withdrawing cash as the smallest note is VND 10,000. It is safe to withdraw money from banks or ATMs while you're there – just check how much you're really withdrawing. 

Visas

Most travellers will need to apply for a visa before travelling, or can also obtain one on arrival for a small fee. Some nationalities can apply for an E-Visa, but make sure you keep up to date with entry requirements as these can change. 

Electricity

The electrical current in Vietnam is 220V/50hz using plug types A, C and F. The standard voltage in the US is 110 volts, so you may need a surge adaptor. 

Vaccinations

Typhoid, Hepatitis A and B and antimalarial tablets are advised, but not compulsory. You will, however, need a Yellow Fever certificate if travelling from a high-risk area. Consult your doctor 6 to 8 weeks before you depart.

Emergency Calls

The phone numbers to call in case of emergency are 113 for the police, 115  for an ambulance and 114 for a fire.
When to Visit
Vietnam Tours
Visit Responsibly

Travelling responsibly means respecting the communities, culture and environment of the places you visit. Keep these tips in mind when travelling to Vietnam:

Go green. Be environmentally conscious on the road by taking short showers; turning off the lights in your hotel room when you leave; and resisting the urge to collect any plants, seashells, or other natural flora.

Respect cultural differences. Before travelling, read about the local culture and customs – even just knowing the dress code and a few basic phrases in the local language will go a long way.

Support local businesses. Enjoy a more authentic experience and directly support the local economy by travelling with a local guide, eating in local restaurants, buying from local artisans, and staying in locally-owned and operated accommodations.

Wherever possible, avoid single-use plastics. Pack reusable items such as your own shopping bags, utensils, a water bottle, and a straw. These items are typically lightweight and compact, and will greatly reduce your consumption of plastics.

Be conscious of overtourism. Opt to visit the lesser-known regions of Vietnam or travel outside the peak season – you'll likely even get a better deal and won't have all the crowds!

 

Sustainable Tourism in Vietnam

Vietnam's Sustainable Development Goals (SDGs)
Based on its development context and priorities, Vietnam has turned the 17 global SDGs into 115 Vietnam SDG (VSDG) targets. In particular, Vietnam strives to promote social equality for people from vulnerable groups like the poor, people with disabilities, women, children, and ethic minorities – so that no one is left behind.

Sustainable Tourism in Vietnam
No longer a marketing trend, sustainable tourism is now considered a way of life for many tour operators in Vietnam. They aim to restore and protect the environment through sustainable practices. For example, tour operators now offer eco tours – smaller, local tours that offer a more ethical and environmentally friendly experience with as minimal disruption to the landscape and local people as possible.

Center of Hands-on Actions and Networking for Growth and Environment (CHANGE)
CHANGE is a local NGO under the Vietnam Union of Science and Technology Associations (VUSTA). Its mission is to save and preserve the environment through creative promotions such as awareness campaigns. Moreover, it seeks to empower Vietnamese youth to develop initiatives and build environmental movements throughout Vietnam.
FAQs about Vietnam
Do you tip in Vietnam?

There isn't much of a tipping culture in Vietnam (compared to the likes of North America), but it is recommended to leave a tip to show your gratitude and appreciation for the food or service. Tips of USD $3-5 per day is recommended for tour guides. 

What is the internet access like?

Internet connection can range in quality, but you should have no problem with day-to-day tasks like emailing or surfing the web while in Vietnam. WiFi is available in many cafes, hostels and hotels for free, but outside urban areas, this is not as common.

Is the tap water safe to drink?

No. Buy bottled water, or you can boil the tap water or use water purification pills. Also be careful about washing fruit and some ice cubes while in Vietnam. 

Can I use my credit cards?

Yes, credit cards are widely accepted throughout Vietnam. Please check with your bank about any foreign transaction charges.

What are the public holidays?

Vietnam celebrates New Year's Day on January 1, Lunar New Year in February, Hung Kings Commemoration Day on April 25, Reunification Day on April 30, Labor Day on May 1, National Day on September 2 among other regional holidays. 

What are the toilets like?

Most toilets in Vietnam are Western-style toilets but don't be surprised if the occasional squat toilet appears across rural parts of the country. Be prepared to carry your own toilet paper. 

Is Vietnam a safe country to travel solo?

Most definitely! Vietnam is frequently listed as one of the best places to travel solo given its friendly people and popular backpacker hostels where you can meet other like-minded travellers. As with many destinations, visitors must always use common sense and practice due caution when travelling.

What scams should I avoid?

Often times vendors will offer to let you snap a picture with them but then demand exorbitant payment in return. Always decide on the cost of service with cyclo drivers to avoid conflict later. Finally, be careful of websites selling fake train tickets and vendors selling fake sunscreen. 
A TRAVEL MAGAZINE BY TOURRADAR