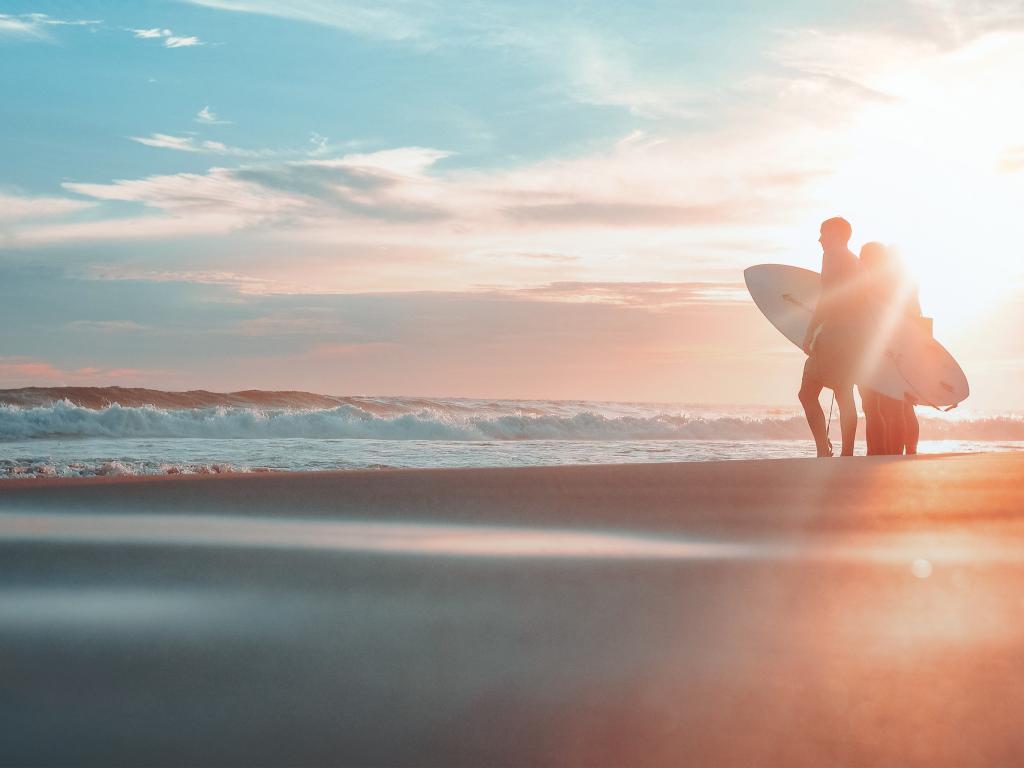 Sri Lanka Travel Guide
There's something tantalising about Sri Lanka, whether it's from the unmistakable scent of spices in the air, the faint vestige of old-fashioned sophistication, or the pacifying sway of its green-carpeted land and beautiful beaches. The amalgamation of it all results in the chemic penning of irreducible experiences you wouldn't want to miss. This is Serendib, and it's where you're meant to be.
The Highlights


Anuradhapura

This ancient city in the North Central Province has many accolades under its belt including being one of the oldest continuously inhabited cities in the world and a UNESCO World Heritage Site designation. More importantly to travellers, it's home to an exquisite complex that boasts well-preserved ancient temples, monasteries, dagobas and bathing pools.

Sigiriya Rock

If the distinctive outcropping at Sigiriya watching over the plains of Central Province doesn't impress you, the ruins of a 5th-century palace that sits loftily on its flat top and the herculean lion paws carved at its foot just might. Legend has it that this UNESCO World Heritage Site might have been inhabited as early as the Mesolithic Period, and is an amazing place for history buffs to visit.

Polonnaruwa

Any historical tour—or any tour, for that matter—of Sri Lanka is incomplete without a visit to the town of Polonnaruwa, site of its second most ancient kingdom. Take the dusty road from the new town to the ancient city where eerie remnants of once-magnificent structures like the Royal Palace, the famous giant stone Buddhas of Gal Vihara and the towering brick walls of Lankatilaka inspire awe.
Dambulla

Cave temple complexes are a thing of ethereal beauty, and Dambulla, home to Sri Lanka's grandest cave temple complex, is no exception. While there, take in the beautifully-preserved ancient statues and exquisite murals depicting Buddha as well as kings, gods and goddesses. When you've had your fill, stop by the Ibbankatuwa Prehistoric burial site and notice the rose quartz mountain range nearby.

Ella

Tellurian vision takes to the skies in the small hill country town of Ella about 200 kilometres from Colombo. This mountain retreat is famous not only for its biodiversity but also for its spectacular panoramas. In a languid pace, blaze your own trails or follow existing ones to visit its humble number of attractions that include tea plantations, waterfalls and the Dhowa Rock Temple.

Temple of the Sacred Tooth Relic

Some say Kandy became a World Heritage Site thanks to the temple nestled in the royal palace complex of the Kandy kingdom. The Temple of the Sacred Tooth Relic is, after all, one of the most revered temples in the country. It's home to a tooth of Buddha, and many devotees and curious travellers make the pilgrimage to see the gold, stupa-shaped casket where the tooth is kept.
The Basics
The Location

Sri Lanka is nestled a stone's throw away from India's southeastern shore where the Bay of Bengal touches the Indian Ocean. A one-stop flight from Los Angeles to Colombo takes about 22 hours while a nonstop flight from London is 10h 30m.

Capital City

Situated on Sri Lanka's western region, the official capital city of Sri Jayawardenepura Kotte (or Kotte) sits about seven kilometres from Colombo, the commercial capital. Though predominantly Sinhalese, it's home to many ethnic and religious groups.

Main Airport

Also known as the Colombo International Airport, Bandaranaike International Airport serves international destinations. It's located 32.5 kilometres north of Colombo. The Ratmalana Airport, 16 kilometres south of Colombo, serves domestic destinations.

Language Spoken

The official language of Sri Lanka is Sinhala and Tamil, although English is commonly spoken.

Currency

The Sri Lankan rupee is the country's currency. Its currency code is LKR, its symbol is ₨. It isn't traded internationally, but there are many money exchangers and ATMs in Colombo. Credit cards are accepted for purchases, but carrying cash is advisable.

Visas

A Tourist Visit Visa is required for all foreign nationals entering Sri Lanka, including US, UK and Australian citizens. Applications for the Electronic Travel Authorisation, which grants a 30-day stay, must be done online at eta.gov.lk.

Electricity

The standard voltage in Sri Lanka is 230V/50Hz AC using Type D sockets and three rounded pin plugs. A plug adapter and voltage converter are necessary for US and Canadian appliances.

Vaccinations

Hepatitis A, Tetanus and Typhoid vaccines are mandatory for Sri Lanka, while Hepatitis B, Tetanus, Polio and Rabies are recommended. The country is low risk for malaria, but pack some antimalarial tablets just in case.

Emergency Calls

Keep these phone numbers handy in case of emergency: 118 or 119 for the police, 110 for ambulance and fire & rescue, and 011-2421052 for the tourist police.
When to Visit
Sri Lanka Tours
Visit Responsibly

Travelling responsibly means respecting the communities, culture and environment of the places you visit. Keep these tips in mind when travelling to Sri Lanka:

Go green. Be environmentally conscious on the road by taking short showers; turning off the lights in your hotel room when you leave; and resisting the urge to collect any plants, seashells, or other natural flora.

Respect cultural differences. Before travelling, read about the local culture and customs – even just knowing the dress code and a few basic phrases in the local language will go a long way.

Support local businesses. Enjoy a more authentic experience and directly support the local economy by travelling with a local guide, eating in local restaurants, buying from local artisans, and staying in locally-owned and operated accommodations.

Wherever possible, avoid single-use plastics. Pack reusable items such as your own shopping bags, utensils, a water bottle, and a straw. These items are typically lightweight and compact, and will greatly reduce your consumption of plastics.

Be conscious of overtourism. Opt to visit the lesser-known regions of Sri Lanka or travel outside the peak season – you'll likely even get a better deal and won't have all the crowds!

Sustainable Tourism in Sri Lanka

Sri Lanka's Ecotourism
With its pristine waters, white sandy beaches, and unexplored wilderness, Sri Lanka is a haven for ecotourism. A few of the popular eco-friendly activities include camping, hiking, mountain climbing, canoeing, and wildlife viewing. In addition, Sri Lanka has imposed several strict rules to preserve its environment. These include no littering, no vandalism of property, and no feeding wild animals.

The Green Movement of Sri Lanka (GMSL)
Made up of NGOs, community-based organisations, and other groups, the GMSL has three primary focuses: environmental conservation, awareness creation, and sustainable development. The GMSL members are involved in many areas including youth and women's empowerment, sustainable agriculture, natural resource management, and community development. Moreover, they host activities aimed at developing energetic and sustainable communities across the country.

Recycling in Sri Lanka
In an effort to reduce plastic waste, the John Keells Group started Plasticcycle. This innovative social entrepreneurship project promotes the reduction of single-use plastics, supports proper disposal of plastic, and encourages recycling initiatives.
FAQs about Sri Lanka
Do you tip in Sri Lanka?

In Sri Lanka, tipping is pretty much expected but at different levels. Generally, you add a 10% gratuity to your restaurant bill, leave your hotel housekeepers Rs. 100 a day, give your hired driver or tour guide ₨ 500-750 tip per day, and round-up your taxi and trishaw fares.

What is the internet access like?

As with many Asian countries, Internet cafes are on hand all over the country for your WiFi needs. Most hotels and cafes, as well as many restaurants, also offer WiFi access.

Is the tap water safe to drink?

Tap water is NOT safe to drink in Sri Lanka. Maintain hydration, but only with bottled mineral water. It's also best to avoid consuming drinks with ice in them.

Can I use my credit cards?

Absolutely! Most cities and even small towns in Sri Lanka accept Visa and MasterCard. Some establishments even accept American Express. Do make sure you're not being charged a surcharge or in a foreign currency as these are illegal.

What are the public holidays?

Among Sri Lanka's most important holidays is Duruthu Poya on the first full moon of the year; Tamil Thai Pongal Day from January 14 through January 17; Independence Day on February 4; Sinhala and Tamil New Year's Eve in the second week of April; and Deepavali around late October or early November.

What are the toilets like?

Toilets in Sri Lanka range from squat toilets to sit down ones, depending on the type of establishment. Mid-range and luxury accommodations, as well as restaurants and top attractions, favour the modern sit down toilets. Carry your own toilet paper.

Is Sri Lanka safe for solo travellers?

As with many destinations, visitors must always use common sense and practice due caution and vigilance when travelling in Sri Lanka. However, it is generally safe and pretty amazing for solo travellers—men and women—to explore on their own. 

Is Sri Lanka safe for families?

Sri Lanka is a very child-friendly country with locals making a special effort to entertain visiting children. Baby food and diapers are available in supermarkets though baby bottles may be harder to find.
A TRAVEL MAGAZINE BY TOURRADAR