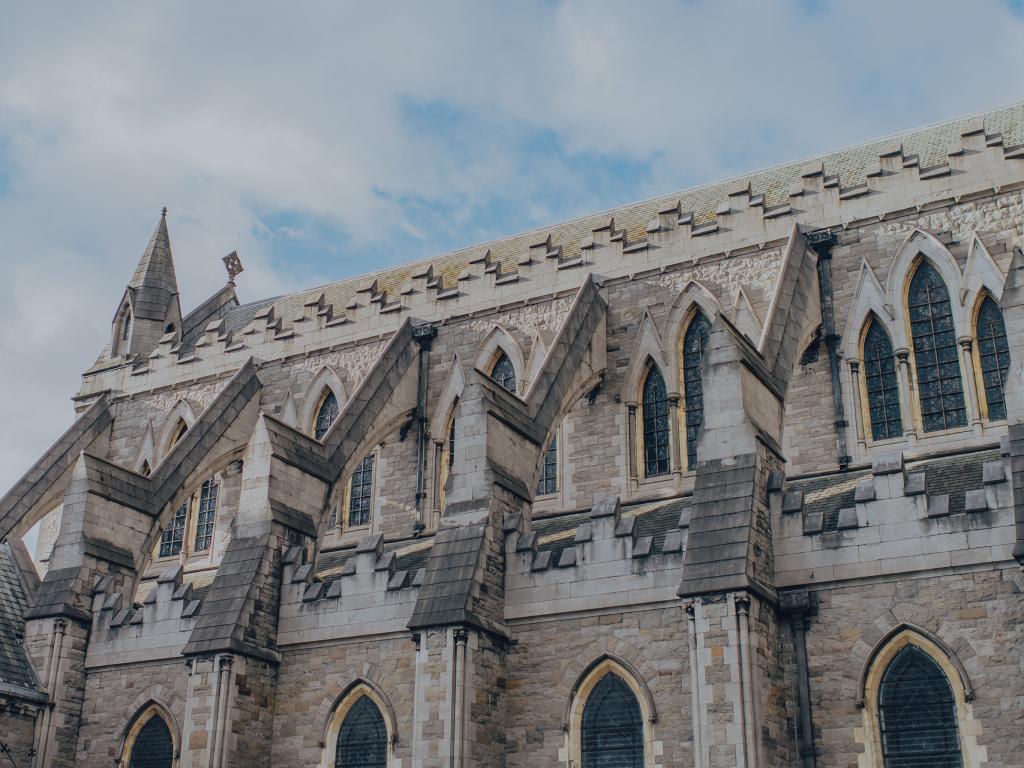 Ireland Travel Guide
There is a land where myths and legends rule, and where enchanting music fills the air while good spirits warm your heart. That place is Ireland – a country that looks unchanged from hundreds of years past, almost as if it were too precious to be disturbed by time or modern developments. Unmistakably, Ireland has its own charm (luck of the Irish, perhaps?) that will cast a spell over you. 
The Highlights


Dublin

Imposing architecture and cobbles aside, Ireland's capital is not 'traditionally pretty', but what it lacks in elegance, it makes up for in energy with its friendly faces, historic pub haunts and of course, Guinness where you can drink your weight in stout at the Storehouse. Watch the buskers on Grafton Street, see the Book of Kells at Trinity College and visit the eerie Kilmainham Gaol. 

Wild Atlantic Way

The Cliffs of Moher and the Ring of Kerry aren't the only attractions along Ireland's West Coast. Go on the 2,500-kilometre drive that takes you from Cork in the south to Donegal in the north. Carve out a bit of time as there's much to see between the tombs of Haven Coast and the untamed beauty of the Northern Headlands including Galway Bay, Sligo's surf breaks and Doolin's music-doused streets.

Wicklow Mountains National Park

It's hard not to fall deeply in love with the Wicklow Mountains, known to many as the Garden of Ireland. In this national park south of Dublin, verdant rolling hills hide early medieval sites and grand estates as well as blanket bogs, heather fields and scenic lakes. There's much to do here: hike to thundering peaks, visit waterfalls, explore the Glendalough Monastic Site and take on Wicklow Way. 
Galway

While Dublin has a brutish quality to it, Galway boasts a bohemian vibe. Riotous colours and textures festoon this charming city along Galway Bay's northern coast, and it's a treat for the senses. Take it all in – the busker music, the cobblestone lanes, the contemporary flair that blends well with its medieval past, and of course, the oysters. Afterwards, sail to Aran Islands where ruins await. 

Connemara National Park

From Galway, travel west to Connemara National Park. It's arguably Ireland's finest national park, what with its white sand beaches, quartzite peaks and spectacular views. There's much to see, so it is best to allow a few days and to explore on foot. Among your must hikes are the Twelve Bens, Mám Éan, the Tully Mountain and the summit of Errisbeg. Then reward yourself with a pint in Letterfrack.

Burren

It's easy to underestimate the rest of Burren when the Cliffs of Moher essentially draw the most traffic. But give it a chance and it might just impress you. This region is peppered with megalithic tombs and medieval structures and surreal, limestone karst that make it seem like you're walking on the surface of the moon. Keep an eye out for faerie houses, seek out a holy well, and visit a cave.
The Basics
The Location

Ireland is a country northwest of mainland Europe, sharing the island with Northern Ireland. A non-stop flight from New York is 6h 45m. From London, a non-stop flight is 1h 20m.

Capital City

Bustling Dublin, located on Ireland's east coast, serves as its capital city and is home to a third of the country's population.

Main Airport

Dublin Airport is the main hub for domestic and international travellers. It is located 13 kilometres north of the Dublin's city centre.

Code

DUB

Closest City

Dublin

Language Spoken

The official languages of Ireland are Irish and English. 

Currency

Ireland uses the Euro. The currency code is EUR. ATMs are widely available and credit cards are widely used and accepted. 

Visas

For Australian, Canadian and US citizens, no prior visa is required and will be issued for free upon arrival, however, a Schengen visa is not valid for Ireland. UK citizens can enter with just a national identity card and stay as long as they like.
 

Electricity

The electrical current in Ireland is 230V/50hz. The country uses two round pin UK type F plugs. Before your trip, find out if your appliances require an adaptor and a voltage converter.

Vaccinations

Hepatitis A and B vaccinations are advised, but not compulsory. Consult your doctor 4 to 6 weeks before you depart.

Emergency Calls

The phone number to call in case of emergency is 999 for the police, ambulance and fire.
When to Visit
Ireland Tours
Visit Responsibly

Travelling responsibly means respecting the communities, culture and environment of the places you visit. Keep these tips in mind when travelling to Ireland:

Go green. Be environmentally conscious on the road by taking short showers; turning off the lights in your hotel room when you leave; and resisting the urge to collect any plants, seashells, or other natural flora.

Respect cultural differences. Before travelling, read about the local culture and customs – even just knowing the dress code and a few basic phrases in the local language will go a long way.

Support local businesses. Enjoy a more authentic experience and directly support the local economy by travelling with a local guide, eating in local restaurants, buying from local artisans, and staying in locally-owned and operated accommodations.

Wherever possible, avoid single-use plastics. Pack reusable items such as your own shopping bags, utensils, a water bottle, and a straw. These items are typically lightweight and compact, and will greatly reduce your consumption of plastics.

Be conscious of overtourism. Opt to visit the lesser-known regions of Ireland or travel outside the peak season – you'll likely even get a better deal and won't have all the crowds!

Sustainable Tourism in Ireland

Origin Green
As the sole national food and drink sustainability program in the world to date, Origin Green is Ireland's pioneering effort toward a brighter future. This outstanding program works with more than 53,000 farms and several hundred Irish companies. In fact, 90 perfect of the food and drink exports are from companies that are Origin Green certified.

The Sustainable Energy Authority of Ireland (SEAI)
Under the 2002 Sustainable Energy Act, the Sustainable Energy Authority of Ireland became the country's national sustainable energy authority. By working with the government, businesses, communities, and even homeowners, SEAI aims to help Ireland evolve into a country run by sustainable energy structures and technologies. SEAI also created the SEAI Energy Awards in order to recognise the wonderful achievements of those leading the way in creative energy solutions.

Ireland's Climate Action Plan
Approved by the Irish government, the Climate Action and Low Carbon Development Bill strives to reduce Ireland's greenhouse gas emissions by 51% before the end of 2030. Moreover, the bill also aims to help Ireland become carbon neutral by 2050.
FAQs about Ireland
Do you tip in Ireland?

Tipping is not a huge part of Irish culture, but it is recommended to tip 10% at a restaurant if a service fee is not included, tip bellhops €1 per bag at hotels, and round up taxi fares.

What is the internet access like?

Internet access is widely available, and WiFi hotspots are increasing in numbers across the country, some of them free.

Is the tap water safe to drink?

Yes, the water in Ireland is very safe to drink.

Can I use my credit cards?

Yes, credit cards are widely accepted throughout Ireland. Please check with your bank about any foreign transaction charges.

What are the public holidays?

Ireland celebrates Saint Patrick's Day on March 17, May Day on May 1, June Holiday on the 1st Monday of June, August Holiday on the 1st Monday of August, October Holiday on the last Monday of October, and St. Stephen's Day on the day after Christmas. 

What are the toilets like?

Public toilets are widely available in Ireland and are free at most restaurants, hotels and tourist hotspots. Other public toilets, such as in shopping malls, may require a small fee.

Can you get around Ireland without a car?

There's no denying that the best way to get around Ireland is by car. However, it's possible to get from one city or town to another without one. The country not only offers an extensive public transportation system of trains and buses but also boasts an intricate network of walking trails.

What do you pack for its constantly changing weather?

Even in the summertime, temperatures don't typically go higher than 21-25°C and it can rain without warning. Account for cold, rainy weather when packing. Be sure to pack warm socks, water-resistant boots, a light sweater, a thick jacket, and a beanie to keep your head warm.
A TRAVEL MAGAZINE BY TOURRADAR