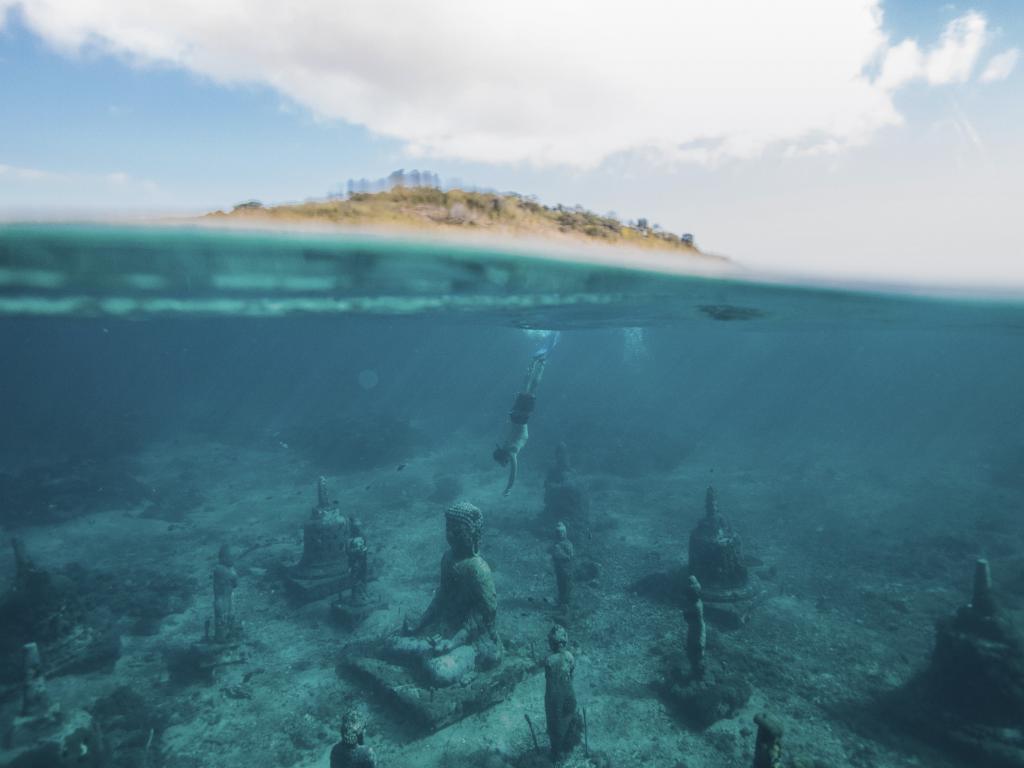 Indonesia Travel Guide
When you speak of beach holidays in Southeast Asia, it's difficult not to do so without talking about Indonesia in the same breath. The wildly appealing archipelago, trimmed with stretches of pristine beaches and forests, is the setting for many adventures and exploration, tricked out with wildlife, Buddhist temples, volcanoes and a mix of rich cultural traditions.
The Highlights


Mount Batur

Sunset or sunrise trekking across a volcano? If this sounds like your type of adventure, look no further than Mount Batur, otherwise known as the second most active volcano in Bali, located inside a gigantic crater. This is your chance to embark on a gentle trek through some of nature's finest displays. Don't forget to pack your camera for the panoramic vistas that await at the top.

Borobudur

The ethereal temple compounds of Borobudur is one of Indonesia's iconic landmarks, and rightfully so. This ancient central Java religious site, which boasts that gracefully intricate Buddhist architecture, dates back to the 9th-century and is a UNESCO World Heritage Site. It's been the terminus for many religious pilgrimages, and today, a popular site for many surreal, photogenic visits.

Komodo

Though famed for its most famous inhabitants, the Komodo dragon – also knowns as the world's largest living lizard, the captivating Komodo Island definitely boasts far more than that. It's the venue for untamed yet indulgent adventures thanks to its pristine coasts, emerald waters and peaks with fierce panoramas. And did we mention it's home to one of the only seven pink beaches in the world?
Gili Islands

If clear azure waters and white sand beaches aren't your ideas of paradise, you might as well leave now. Gili Islands, located just off the northwestern coast of Lombok, is nothing but that, and the swaying palms, hip retreats and vibrant nightlife are enough to tempt any type of traveller. If that's exactly what you're looking for, kick off your shoes and adopt the barefoot lifestyle.

Bukit Lawang

A holiday in Indonesia isn't complete without a quick stop to one of its small villages. Consider Bukit Lawang in North Sumatra. It's home to the majestic orange orangutans that you can observe from the village's famous Orangutan Viewing Platform as well as the strange-looking Thomas Leaf Monkey. It's also the place to go for jungle trekking, river tubing and canoeing adventures.

Flores

Imagine from your lofty vantage point an island covered with sharp ridges, rolling hills and turquoise bays. Flores is verdant, commanding and charming all at the same time. And it's home to beauties like the Liang Bua Cave – site of an important Palaeoanthropological dig, the Spider Web Rice Fields, and of course, the impressive Kelimutu National Park. Head to Labuan Bajo for more adventures.
The Basics
The Location

Indonesia is home to a few thousand volcanic islands and sits northwest of Australia and south of Thailand and the Philippines. It's a 22h 30m flight from New York with a layover, and 16h 30m from London with a stopover.

Capital City

Jakarta is not only Indonesia's largest city, but it also serves as its sprawling capital. It sits on the northwestern coast of the island of Java and remains to be one of Asia's most diverse cities.

Main Airport

The Soekarno-Hatta International Airport is the busiest and largest in Indonesia as well as the busiest in the southern hemisphere. It's located less than 30 kilometres from Jakarta on the island Java and serves Greater Jakarta.

Code

CGK

Closest City

Tangerang

Language Spoken

The official language of Indonesia is Indonesian, although over 700 languages and dialects are spoken on the islands. There are many English speakers, it is not as prevalent as it is in Thailand.

Currency

Indonesia uses the Indonesian rupiah. The currency code is IDR. ATMs and money changers are widespread in cities. Carry enough money with you at all times as most businesses prefer cash.

Visas

Citizens of more than 150 countries are visa exempt and can travel to and around Indonesia visa-free for 30 days. Included on the list are the United States, Canada, Australia, the United Kingdom and Germany.

Electricity

The standard voltage in Indonesia is 230V while the standard frequency is 50Hz. The country uses the Type C plug (also known as the Europlug) with two round pins and the Type F plug with two round pins and two grounding clips.

Vaccinations

Boosters of Diphtheria, Hepatitis A, and Tetanus are advised. Other vaccines to consider include Hepatitis B, Rabies, and Typhoid. Proof of Yellow Fever vaccination certificate is required for when arriving from countries with risk of Yellow Fever.

Emergency Calls

In Indonesia, the emergency phone numbers are as follows: 110 for the police, 112 for general emergencies, 113 for fire, and 118 for an ambulance.
When to Visit
Indonesia Tours
Visit Responsibly

Travelling responsibly means respecting the communities, culture and environment of the places you visit. Keep these tips in mind when travelling to Indonesia:

Go green. Be environmentally conscious on the road by taking short showers; turning off the lights in your hotel room when you leave; and resisting the urge to collect any plants, seashells, or other natural flora.

Respect cultural differences. Before travelling, read about the local culture and customs – even just knowing the dress code and a few basic phrases in the local language will go a long way.

Support local businesses. Enjoy a more authentic experience and directly support the local economy by travelling with a local guide, eating in local restaurants, buying from local artisans, and staying in locally-owned and operated accommodations.

Wherever possible, avoid single-use plastics. Pack reusable items such as your own shopping bags, utensils, a water bottle, and a straw. These items are typically lightweight and compact, and will greatly reduce your consumption of plastics.

Be conscious of overtourism. Opt to visit the lesser-known regions of Indonesia or travel outside the peak season – you'll likely even get a better deal and won't have all the crowds!

 

Sustainable Tourism in Indonesia

Greeneration Foundation (GF)
Founded in 2014, GF is an NGO that promotes Sustainable Consumption and Production (SCP) in Indonesia through the use of creative media. Their activities include collaborations with the government, communities, and environmentally-focused organizations.

Sustainable Tourism in Indonesia
Affirming Indonesia's commitment to promoting sustainable tourism products and services, the Sustainable Tourism Destination Standard achieved 'GSTC-Recognized' status by the Global Sustainable Tourism Council (GSTC). The Sustainable Tourism Destination Standard strives to guide the sustainable development of popular tourism destinations in Indonesia. As the demand for travel continues to grow in these areas, the Ministry of Tourism is seeking sustainable development opportunities for each of them.

A Sustainable Future
The Low Carbon Initiative (LCDI) of 2017 was launched by the Ministry of National Development Planning (BAPPENAS) in an effort to place low-carbon development at the forefront of Indonesia's next five-year development agenda. In addition, Indonesia's first-ever sustainable development plan, RPJMN 2020-2024, was released in January 2020.
 
FAQs about Indonesia
Do you tip in Indonesia?

Tipping in Indonesia is not at all mandatory. However, it's definitely appreciated in the service industry. The rule of thumb is to leave a 5% to 10% tip at restaurants, round up your taxi meter fare, and maybe leave your tour guide a small gratuity.

What is the internet access like?

WiFi might be easily accessible all over Indonesia, except in the remote areas, but it's not often as fast as you're probably used to. Restaurants and cafes offer free WiFi, while hotels either have them for free or for a fee.

Is the tap water safe to drink?

Don't do it. Locals either boil it or drink bottled water, and you must do the same.

Can I use my credit cards?

Visa, Mastercard and American Express are accepted, but only at higher-end establishments. Stick to cash, but only carry enough on your person. ATMs machines are easily available in a lot of tourist areas, anyway.

What are the public holidays?

Alongside Christmas Day and New Year's Day, Indonesia celebrates Chinese New Year (1st day of the 1st month in the Chinese calendar), Nyepi (every Isakawarsa in the Balinese calendar), Vesak, Independence Day (August 17), and the Islamic New Year.

What are the toilets like?

Know that both sit or Western-style and squat toilets are available in Indonesia. The thing you should keep in mind the most is that toilet paper is not commonly used. Do yourself a favour and carry a wad of toilet paper with you during your trip.
A TRAVEL MAGAZINE BY TOURRADAR