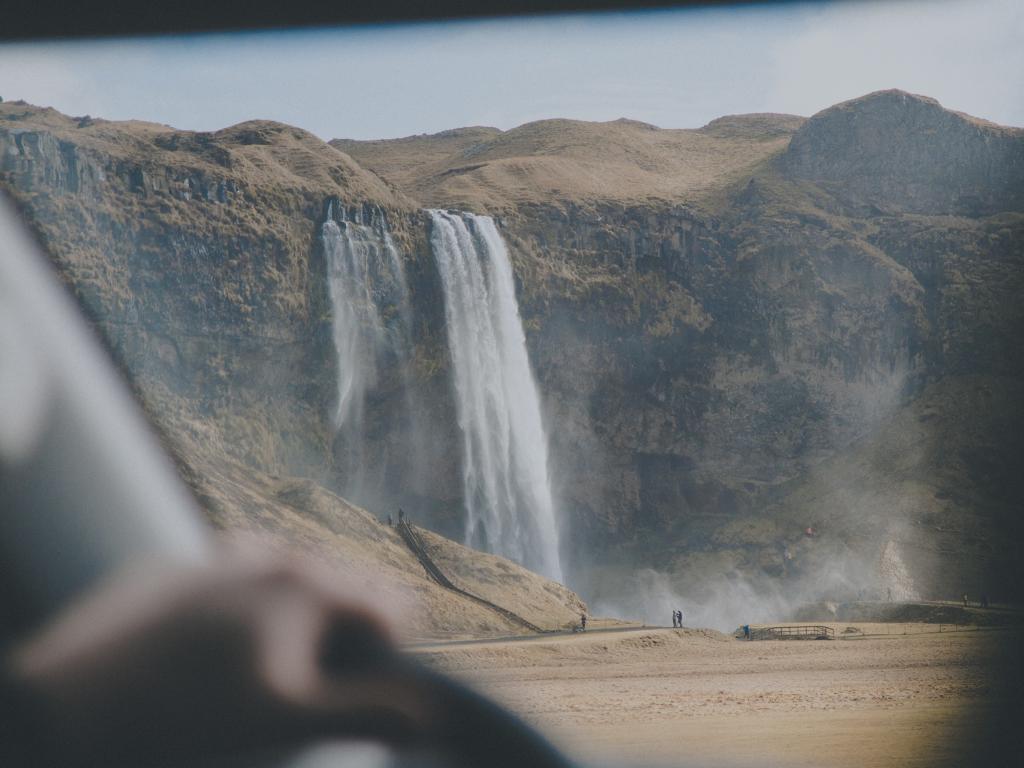 Iceland Travel Guide
For the adventurers, thrill-seekers and waterfall chasers, Iceland is a breathtaking departure from your normal life. Around every magnificent corner, awaits a new discovery that will captivate even the most seasoned travellers. So whether it's your first visit or your fifteenth, make sure you cross these highlights off your bucket list during your Icelandic adventure.
The Highlights
Þingvellir

This national park sits in a rift valley caused by the separation of 2 tectonic plates and is where you'll find the Silfra fissure, where you can snorkel or dive between the North American and Eurasian tectonic plates - a truly unique experience.

Geysir

With boiling mud pits and exploding geysers, Strokkur erupts 30 metres high every few minutes, while the Great Geysir is much more unpredictable and infrequent, hurtling water up to 70 metres high.

Reykjavik

The capital city of Iceland - and, incidentally, the most northerly capital in the world - is a quaint yet quirky, place to explore. Head to the top of the church, Hallgrimskirkja, where you'll get an expansive view of the colourful buildings and the ocean.
Langjokul

Langjokull ('The Long Glacier') is the second largest glacier in Iceland at 50km long and 15-20km wide, but it's the most popular for jeep and snowmobile trips, given its proximity to Reykjavik in the Highlands of Iceland.

Thrihnukagigur

Thrihnukagigur is the only volcano in the world where visitors can take an elevator of sorts into the magma chamber. It takes six minutes to be lowered to the bottom of the crater, which is 700 feet deep. Fun fact: the Statue of Liberty could easily fit inside.

Reynisfjara Beach

Located on Iceland's south coast near the village of Vik, Reynisfjara Beach is well known because of its jet-black sand and basalt columns on the beach and basalt stacks off the shore, which come with their own intriguing folklore.
The Basics
The Location

Iceland is a European country, bordered by the Greenland Sea and the Atlantic Ocean. Europe's westernmost country, Iceland is the second largest island in the North-Atlantic Ocean, and a little over 3 hours flight from London, Paris or Copenhagen.

Capital City

Reykjavik is located on the coast of Iceland and is not only the country's largest city but also the world's northernmost capital. The city is considered one of the greenest, cleanest and safest in the world.

Main Airport

Keflavík International Airport, also known as Reykjavík-Keflavík Airport, is the largest airport in Iceland and the country's main hub for international transportation.

Major airlines

Icelandair and WOW air

Language Spoken

The official language of Iceland is Icelandic. Most Icelanders also speak English.

Currency

Iceland uses the Icelandic krónur (kr). The currency code is ISK. In most cases, you will not exchange currency prior to arriving in the country, but instead withdraw money from ATMs or banks in Reykjavik, or of course at the airport upon arrival.

Visas

Residents of Australia, Canada, Japan, New Zealand, and the USA and EU do not require a visa for tourist visits of up to three months. Note that the total stay within the Schengen area must not exceed three months in any six-month period.

Electricity

The Icelandic voltage is 50 Hz/220. Electric devices in Iceland use the Europlug/Schuko-Plug, which has two round prongs. 

Vaccinations

No vaccinations are required or recommended for travel to Iceland.

Emergency Calls

The phone number to call in case of emergency (fire, police, paramedics, etc) is 112.
When to Visit
Iceland Tours
Visit Responsibly

Travelling responsibly means respecting the communities, culture and environment of the places you visit. Keep these tips in mind when travelling to Iceland:

Go green. Be environmentally conscious on the road by taking short showers; turning off the lights in your hotel room when you leave; and resisting the urge to collect any plants, seashells, or other natural flora.

Respect cultural differences. Before travelling, read about the local culture and customs – even just knowing the dress code and a few basic phrases in the local language will go a long way.

Support local businesses. Enjoy a more authentic experience and directly support the local economy by travelling with a local guide, eating in local restaurants, buying from local artisans, and staying in locally-owned and operated accommodations.

Wherever possible, avoid single-use plastics. Pack reusable items such as your own shopping bags, utensils, a water bottle, and a straw. These items are typically lightweight and compact, and will greatly reduce your consumption of plastics.

Be conscious of overtourism. Opt to visit the lesser-known regions of Iceland or travel outside the peak season – you'll likely even get a better deal and won't have all the crowds!

 

Sustainable Tourism in Iceland

Responding to a Tourism Boom
In recent years, Iceland's popularity as a destination has skyrocketed into what the travel industry refers to as "overtourism". To combat this trend, Iceland is encouraging visitors to travel responsibly and get off the beaten path by exploring equally stunning, but lesser-known regions of the country.

Outdoor Activities in Harmony with Nature
Prior to 2020, Iceland's government established a plan to ensure nature conservation in light of outdoor activities and visitation. The goals of this plan include taking outdoor activities into consideration when planning land use and continuing to allow free public access to common land unless it is vitally necessary for nature conservation to impose restrictions. In order to meet their goals, the government and local tourism industry are focusing their attention on a handful of important areas like the carrying capacity of tourist sites and providing important information on responsible visitation to tourists.


Plant-Based Food Options
A simple, easy, and delicious way to experience the capital is by opting for plant-based foods - which there is no shortage of in Reykjavík. The number of vegan and vegetarian options in Iceland has grown significantly in recent years, and now there are plenty of options to skip out of eating animal products on your trip.
FAQs about Iceland
Do you tip in Iceland?

Generally, tipping is not customary or expected in Iceland, as service charges at restaurants, hotels, spas and tour guides are usually included in the bill. If it's not included at a restaurant, or you feel like you want to include a tip anyway, a 10% gratuity is acceptable.

What is the internet access like?

Internet and wifi are widespread throughout Iceland and are usually free in accommodation, food venues, tourist information centres, petrol stations and sometimes buses, as well. There could be a small fee or you may need to ask a staff member for an access code.

Is the tap water safe to drink?

Yes. Some tap water may have a sulfur smell (depending on what part of the country you're in) but it is safe to drink and some of the cleanest in the world.

Can I use my credit cards?

Cards (including Debit, MasterCard and American Express) are widely accepted in bars, restaurants and ATMs. Note that you could be charged a 1-3% foreign transaction fee for each use - be sure to contact your bank.

What are the public holidays?

Iceland has a total of 13 annual public holidays, including the typical ones like Christmas Day, but they also get Maundy Thursday (the Thursday before Easter Sunday) and the afternoon of Christmas Eve. Icelanders also celebrate Independence Day on June 17th and Commerce Day on August 1.

What are the toilets like?

Toilet facilities feature in major cities like Reykjavik and at large tourist attractions, but there can be long stretches of road with no facilities, so plan a road trip well. You may have to pay a small fee when visiting public restrooms, but they are clean and modern.
A TRAVEL MAGAZINE BY TOURRADAR
Watch Our Ultimate Travel Guide
Iceland: The Ultimate Travel Guide by TourRadar gives you all the info you need to explore the island of fire and ice like a pro. Learn some basics about the country, including what you have to do & see once you arrive when it's best to travel and which food & drinks you definitely need to enjoy throughout your journey.
Watch now