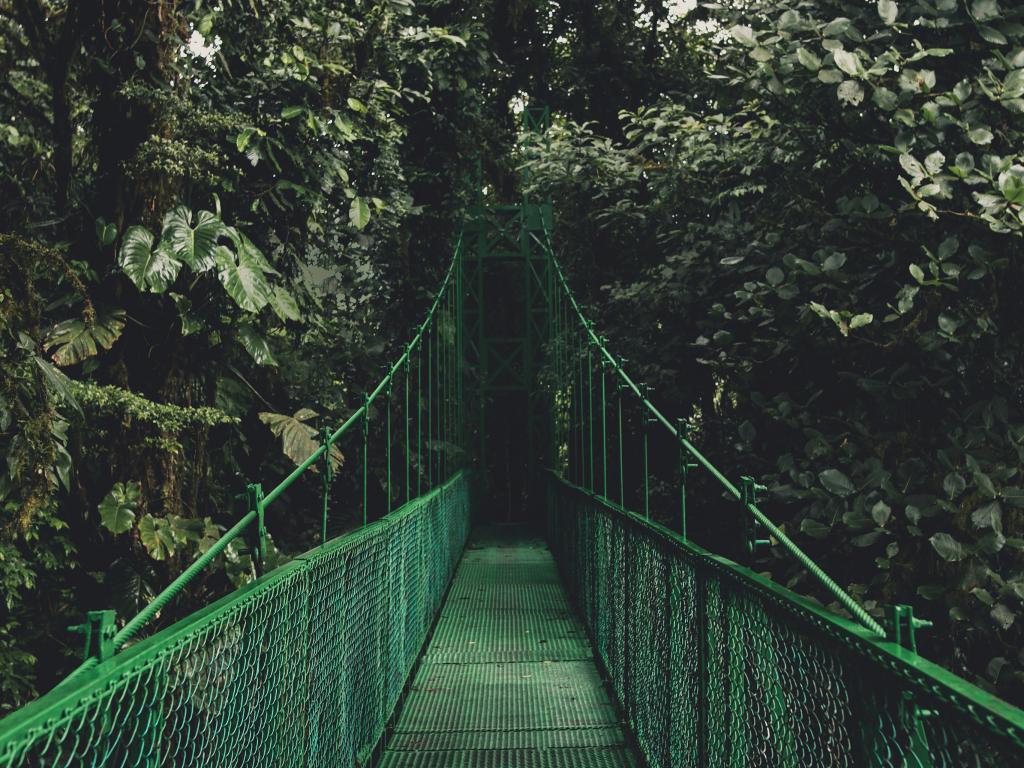 Costa Rica Travel Guide
In Costa Rica, rainforest dominates the landscape, the wildlife is abundant, and extraordinary jungle adventures are essential. Thick tangles of trees pause only to give room for volcanoes, lakes and cascading waterfalls. Here, you can hike to the top of a volcano, cruise down a river, surf the many waves then top off your day with a dip in a hot spring. Welcome to beautiful Costa Rica!
The Highlights


La Fortuna Waterfall

Even from a distance, the 200-foot waterfall of La Fortuna set in a lush landscape is dressed to impress. It is, however, best seen and experienced up close and a quick, 15-minute scenic hike through the forest is all it takes to reap its rewards. Best to pack your swimsuit as you might be tempted to take a short swim.

Manuel Antonio National Park

Set along the Pacific coast, Manuel Antonio National Park is every bit a tropical paradise and is teeming with natural marvels. There are waterfalls, beaches and more. Its prime attractions, however, are its inhabitants. This park is brimming with animals including several species of sloths and monkeys.

Balsa River Rapids

With a wide range of whitewater rafting adventures within your reach in Costa Rica, it would be hard not to take the plunge. Tackle the class II and class III rapids of Rio Balsa, just a stone's throw away from the Arenal Volcano. Enjoy the chase of fast, thrilling waves as well as laid-back streams on a rafting adventure. Get ready for the ride of your life.
Guanacaste

Costa Rica's Gold Coast is an irresistible jewel where splendid beaches are dotted with volcanoes. Here, you will find several national parks including Manuel Antonio National Park and Rincon de la Vieja National Park. It's also a hotspot among surfers, beach lovers and diving enthusiasts. A horseback ride at sunset might just round out your perfect day here.

Tortuguero National Park

It's hard to ignore the Caribbean side of Costa Rica. In the north, not too far from the Nicaraguan border, Tortuguero National Park is the venue for all water-based explorations. It's home to swamps, mangrove forests and lagoons and is best seen on a kayak or a boat tour. Keep an eye out for monkeys, sloths, turtles and jaguars and visit a banana plantation if time allows.

Cahuita National Park

Also on the Caribbean coast is Cahuita National Park, a protected marine area known for its unspoiled coral reefs. Every day, these reefs welcome many snorkelers and divers who come out to see manta rays, eels, turtles and even sharks. Onshore, there are also many creatures to see that you'd be hard-pressed to find anywhere else including tamanduas, coatis, pacas and agoutis.
The Basics
The Location

Sandwiched between the Pacific and the Caribbean, Costa Rica is a Central American country bordered by Nicaragua in the north and Panama in the south. It's a five-hour flight from New York City and a 15-hour flight from London with a two-hour stopover in Miami.

Capital City

Nestled right in the heart of the country is Costa Rica's capital, San Jose. It's a bustling city with beautiful Neoclassical and Spanish colonial architecture.

Main Airport

Costa Rica boasts two international airports. Juan Santamaria Airport, which serves the Central Valley region, is an hour away from San Jose. Daniel Oduber Airport, which serves Guanacaste, is only about 25 minutes from Liberia.

Language Spoken

The official language of Costa Rica is Spanish. English is, however, widely spoken by those in the top tourist areas.

Currency

Costa Rica uses the Costa Rican colón. The currency code is CRC. The US Dollar is also accepted by many establishments, but a good exchange rate is not guaranteed.

Visas

Citizens of most countries in North America, South America, Europe and Australia can travel to Costa Rica visa-free for 90 days. These include the US, Canada, the UK and Australia. However, many countries in Africa and Asia are not visa exempt.

Electricity

Costa Rica uses a 110V/60hz electrical current and two-pronged flat plugs. US visitors need not bring a converter or an adapter. However, visitors from countries that use a different type plug should pack the right adapter. A converter is also highly recommended.

Vaccinations

Currently, no immunisations are required when visiting Costa Rica. However, Yellow Fever vaccination is required from travellers coming in from certain South American and Sub-Saharan countries. Anti-malarial tablets are recommended, especially on the coasts.

Emergency Calls

Costa Rica's main emergency line is 911. To report a fire, call 118. And to request an ambulance, call 128.
When to Visit
Costa Rica Tours
Visit Responsibly

Travelling responsibly means respecting the communities, culture and environment of the places you visit. Keep these tips in mind when travelling to Costa Rica:

Go green. Be environmentally conscious on the road by taking short showers; turning off the lights in your hotel room when you leave; and resisting the urge to collect any plants, seashells, or other natural flora.

Respect cultural differences. Before travelling, read about the local culture and customs – even just knowing the dress code and a few basic phrases in the local language will go a long way.

Support local businesses. Enjoy a more authentic experience and directly support the local economy by travelling with a local guide, eating in local restaurants, buying from local artisans, and staying in locally-owned and operated accommodations.

Wherever possible, avoid single-use plastics. Pack reusable items such as your own shopping bags, utensils, a water bottle, and a straw. These items are typically lightweight and compact, and will greatly reduce your consumption of plastics.

Be conscious of overtourism. Opt to visit the lesser-known regions of Costa Rica or travel outside the peak season – you'll likely even get a better deal and won't have all the crowds!

 

Sustainable Tourism in Costa Rica

In Costa Rica, sustainability is a way of life! As part of its pursuit to become the first carbon-neutral country in the world, sustainable practices are embraced by locals and visitors alike.

Clean Energy
Costa Rica is a world leader in running on clean energy. Currently, renewable resources account for almost 100% of Costa Rica's electricity.

Protected Nature
Though the country is small in size, it holds 5% of the world's land-based biodiversity and 3.5% of its marine life. In order to conserve the bountiful flora and fauna, 25% of the national territory is protected by the National System of Conservation Areas.

Certificate of Tourism Sustainability
The Certificate of Tourism Sustainability (CST), run by the Costa Rican Tourism Institute (ICT), categorizes tourism organizations according to how they approach sustainability on a scale of 0 to 5. This esteemed certification program is also recognized by the Global Sustainable Tourism Council for its impact on holding tourism businesses accountable for their impact on the planet. 
FAQs about Costa Rica
Do you tip in Costa Rica?

Tipping is not mandatory in Costa Rica, and restaurants add a 10% service fee to every bill anyway. It's not unusual for tour operators to have a tip jar. A USD$5 per person tip is suggested for tour guides, while USD$2 per day for housekeepers is acceptable.

What is the internet access like?

WiFi shouldn't be a problem in most of Costa Rica. There are internet cafes throughout the country as well as free hotspots. It's also available in most hotels alongside many cafes and restaurants.

Is the tap water safe to drink?

Absolutely! Costa Rica has some of the safest and highest quality tap water around.

Can I use my credit cards?

Yes. Visa, Mastercard and American Express are widely accepted throughout Costa Rica. However, it's still best to carry a bit of cash around. ATMs are available in most areas.

What are the public holidays?

Besides New Year's Day and Christmas Day, Costa Ricans also celebrate Good Thursday and Good Friday, Labour Day on May 1st, Guanacaste Day on July 25th, Independence Day on September 15 and National Cultures Day on October 12th.

What are the toilets like?

Though plumbing is not the best, toilet facilities in Costa Rica are generally modern. Just remember to dispose of your toilet paper and hygiene products in the rubbish bin.

Is Costa Rica safe for travellers?

Costa Rica is well-versed in keeping its streets safe for travellers. The occasional pickpocket or thief might attempt to steal your valuables, but as long as you keep them safe and secure, you shouldn't have any problems.

Is it safe to eat the street food in Costa Rica?

Costa Rica offers amazing street food and it is generally safe for tourists to consume.
A TRAVEL MAGAZINE BY TOURRADAR