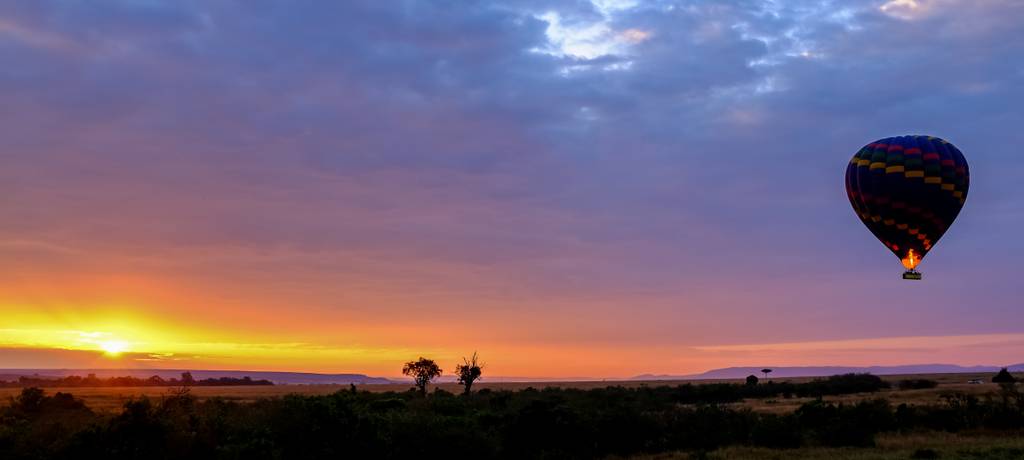 Hot Air Balloon Safari
Imagine rising over the open plains of the Serengeti or Kruger National Park as you bask in the golden glow of a glorious sunrise. Below you in the distance, giraffes graze from the top of acacia trees and immense herds of animals move through the incredible landscape in unison. On a hot air balloon safari in Africa, this dreamy scenario is reality — and it will be an experience you'll never forget.
Compare Hot Air Balloon Safaris in Africa
Best Destinations for a Hot Air Balloon Safari
Traveller Favourite: Witness the Great Migration from a Hot Air Balloon
There's no better way to see the greatest wildlife spectacle on earth than from the soaring heights of a hot air balloon. This once-in-a-lifetime experience will have you gliding over the sprawling grasslands of the Masai Mara while you catch thrilling glimpses of wildebeest, buffalo, lion, elephant, and more on the ground. The best time for a balloon safari in the Masai Mara is from July to October, when thousands of animals arrive in search of fresh grazing grounds.

See Adventures

A hot air balloon flight over the Serengeti is sure to be an absolute highlight from your time in Africa. Soar over dazzling landscapes and relish the tranquility as the vast, sweeping plains of the African savannah unfold beneath you — and keep your eyes peeled for sightings of giraffes, elephants, and big cats. The best time for a balloon safari in the Serengeti is from December to March, when the Great Migration passes through this iconic reserve.  

See Adventures
Your Hot Air Balloon Safari Questions, Answered
Have questions about hot air balloon safaris? We've got answers! Read on for essential information you need to know about this experience before booking.
How much does a hot air balloon safari cost?

The cost will vary widely depending on a range of factors, including the time of year and the destination. That being said, you can expect to pay higher prices in highly sought-after safari destinations, such as the Serengeti, the Masai Mara, and Kruger National Park. Read more on 'How much does an African safari cost'.

How long does it last?

The flight itself typically lasts for approximately one hour once you're up in the air, but the entire experience — which includes a safety briefing before the flight and a champagne breakfast once you land — takes roughly 3.5 - 4 hours in total.

How much weight can a balloon carry?

Every balloon has a maximum level of weight it can carry, and this capacity is affected by several different factors, from the temperature to the altitude and more. Due to safety and operational requirements, passengers weighing more than 120kg may be asked to purchase two seats. For more details regarding weight limitations, contact the company you plan to fly with.

Is hot air ballooning safe?

While every activity comes with its own set of risks, hot air ballooning is generally considered to be one of the safest means of flying. What's more, passenger safety is always a top priority for this activity.

What to wear on a hot air balloon safari?

It will be chilly in the morning, but be prepared for the temperature to rise as the day goes on. Warm layering pieces are ideal for this activity, along with a windbreaker, a hat, and long pants. Refer to our Safari Packing List for a highly detailed list of what to pack on safari.

Is it cold on a hot air balloon safari?

Early morning flights are chilly on the ground, but it will be warmer once you're inside the basket. It's best to dress in layers so you can add or remove clothing as the temperature fluctuates.

How many people fit into the basket?

This depends on your chosen company and the size of the balloon. Some larger balloons can hold up to 16 passengers or more, while smaller hot air balloons may only accommodate between 4 and 8 passengers. If you'd like a private or intimate experience, contact the company you plan to fly with prior to booking.

Are there any age restrictions?

Hot air balloon flights are typically off-limits to children under the age of 7. There is no upper age limit; however, you must be reasonably fit and mobile if you'd like to participate. Read more on family safaris.
Book your Hot Air Balloon safari today!
+1 844 311 8331
24/7 Support
Our team of experienced Travel Experts have ventured to hundreds of countries around the globe and have decades of first-hand travel experience to share. Contact us now to have all of your tour-related questions answered!
SAFARI TRAVEL INSPIRATION BY TOURRADAR