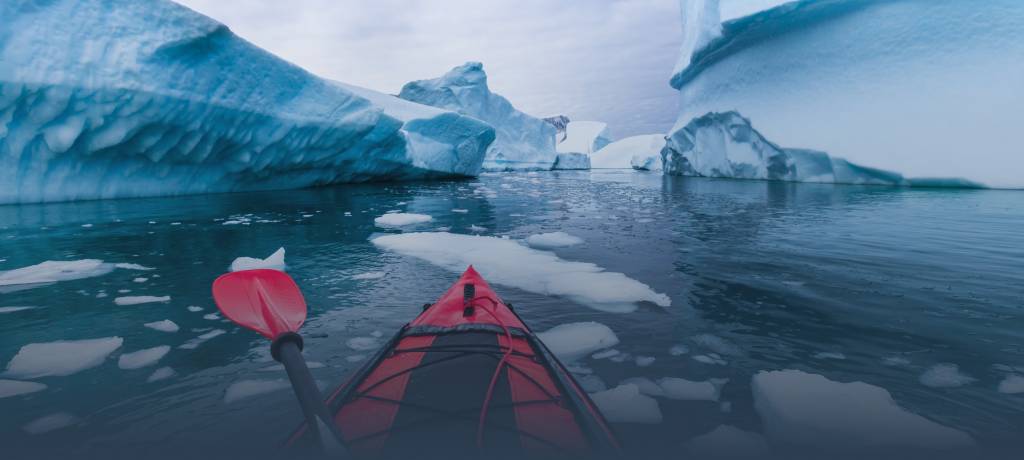 Kayaking in Antarctica
Paddle up to icebergs from your personal vessel. Encounter penguins and seals diving in the water beside you. Float and listen to the symphony of ice cracking. Kayaking is an intimate and magical way to explore the South Pole during an Antarctica cruise. Here's what you need to know before you sign up, from how much it costs and what gear to bring to how to prepare and which seasons to consider.   
FAQ
Is kayaking included in the price?

Usually, no. You'll have to pay extra to take part in the activity. Prices oscillate around 1,000 USD on top of the price you paid for the Antarctica cruise, but this covers multiple days of kayaking throughout your trip.

Can I change my mind after I book a kayaking activity?

Yes, but getting your money back is not guaranteed--refund conditions vary by tour operator.

When should I book the kayaking option for my Antarctica cruise?

ASAP, spaces are limited and usually sell out quickly.

I didn't book kayaking and the option is sold out, is there any way I can still participate?

Possibly. Ask your tour operator if there is a standby list they can put you on. If someone else cancels you can take their place. 

How often will I kayak?

As often as possible but it is weather dependent. You could end up doing it multiple times every day of your trip, or not at all. The first priority is safety and kayaking will be allowed only when the weather conditions are right. Consider that if the weather cooperates, you may be kayaking frequently so make sure you are prepared for that physically.

Do I have to participate every time my group goes kayaking?

No, it's not mandatory to take part every time. But note that the more often you go, the more value you get and the price per trip decreases.

Is there an option to kayak just for one day?

Some operators offer a one-off kayaking activity which offers the chance for people to try the experience without the commitment of doing it multiple times. The total price is much lower as well. This is an excellent compromise for anyone who wants to try kayaking in Antarctica but does not want to sign up to do it multiple times during the cruise. 

What happen if I fall in?

Dry suits should protect you from cold water and your PFD (a special life jacket for kayaking) will ensure you stay on the surface. Crew supervises the activity along with a zodiac on standby, and if you fall in they will make their way to you immediately After falling in, you can decide if you want to continue the activity or be taken back to the ship.
Popular Antarctica cruises
A TRAVEL MAGAZINE BY TOURRADAR