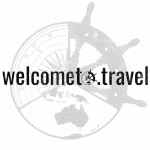 Welcome To Travel
Headquarters in St Kilda East, Australia
View all tours
Number of tours

7
Age Range

18-39
Number of reviews

149
Rating

4.9

/5
Response rate

100%
Response time

within 2 days
Maddie

Written on June 26th, 2022

Such a great value for money! Courtney was a fantastic guide, but everyone at welcome to travel is helpful and genuinely nice. I highly recommend this tour to a…

Read more

Cara

Written on May 25th, 2022

Can't even put into words how amazing our first week was! See for yourself!!

I basically want to thank the whole Welcome to Travel-Team for having a stunning week at the Welcome to Melbourne-Tour. It has everything, including experience…

Read more

Can honestly say that this tour was the best possible way to spend my first week in Melbourne! My two friends and I loved every minute of our 8 day tour with We…

Read more

Welcome To Travel commented on this review

Sarah, what a legend! Thank you so much for your lovely review. It makes us so happy you had such a good time! I hope you're well :-) Adam.

Tris

Very informative guide, had an answer about everything and was very passionate about us (the group) to learn as much as possible as well as enjoy every aspect o…

Read more

Welcome To Travel commented on this review

Trissssss, thank you so much for this review. We're glad you had a great time and found Clauds so knowledgable, I'll be sure to tell her! I'm glad we could find you some work too. I hope all is well mate. Stay safe, Adam

As a solo traveler to Oz, I was worried about meeting people and knowing what to do, so I picked welcome to travel Melbourne pack. Picked Melbourne as I like th…

Read more

Welcome To Travel commented on this review

Bethan! Thank you so much for both your kind words, and of course for joining us. It makes us so happy to read that although you were nervous you had an incredible time with us. I hope you're getting on well wherever you are in the world right now. Stay safe, Adam. P.S we're keeping it a real.

Genuinely the best money I've ever spent! I have had the absolute best first week in Australia, met some amazing people and feel ready and set up for my time he…

Read more

Welcome To Travel commented on this review

Maddie! Best money you have ever spent, that makes us so bloody happy you will not believe. Thank you for joining us on tour, we're glad you loved it as we loved having you join us! I'll be sure to tell Clauds she's the best tour guide ever too! I hope you're well wherever you are in the world right now. Thanks for taking the time to leave a review. Stay safe, Adam

Megan

Written on February 8th, 2020

Everyday was packed with awesome activities and secret inclusions. Clauds was the best guide EVER, and made this trip so much more special. Everything was so we…

Read more

Welcome To Travel commented on this review

Megan, what a legend. This is such a lovely review to read. We agree, Clauds is the best guide ever right? We're so glad you think that and also that you had a great trip with us. I'll also be passing on the compliments to Clive too, what a legend of a man. I hope you're well wherever you are in the world right now. Thanks for taking the time to leave a review. Stay safe, Adam

Written on February 7th, 2020

Wasn't sure what to expect, the activities and inclusions all sounded great but they far exceeded expectations. It's a cliche but never more true to say that yo…

Read more

Welcome To Travel commented on this review

Alice! I'm so happy you not only had a great time but the inclusions exceeded your expectations, that's what our goal is each and every time! Your group were so so good too! I hope you're well wherever you are in the world right now. Thanks for taking the time to leave a review. Stay safe, Adam

Written on February 7th, 2020

I Would highly recommend this trip to anyone thinking about doing it, we had such an amazing group all from different areas of the world which made it so intere…

Read more

Welcome To Travel commented on this review

That's right Lisa, we're just a call away! It's great to read what an epic time you had. We loved having you as part of an incredible group too! I hope you enjoyed the rest of your travels, that was a brilliant trip. I hope you're well wherever you are in the world right now. Thanks for taking the time to leave a review. Stay safe, Adam
Welcome To Travel Videos
Questions & Answers
What is the maximum group size on this tour?

The maximum group size on this tour is 24 people per tour.

What does Welcome to Travel offer after you finish the tour?

Every customer, no matter the length of the tour automatically receives lifetime membership to Welcome to Travel services, this means that if you want advice on your resume 6 months later, employment in Australia etc, they are there to help you!

Do Welcome to Travel help with employment in Australia?

Yes! Welcome to Travel work with local and national employers to ensure you are in the best possible position to get a job. Not only do they have employer links, they help with resume writing, interview questions and hospitality courses too.

Will you organise my bank, tax file number and sim card?

If you require these services after your tour then Welcome to Travel will be able to organise them for you on a request basis.
Contact our Travel Experts
+1 844 311 8331
24/7 Support
Our team of experienced tour specialists have travelled to hundreds of countries around the globe and have decades of first-hand travel experience to share. Contact us now to have all of your tour-related questions answered!