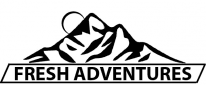 Number of tours

14
Age Range

12-75
Number of reviews

63
Rating

4.8

/5
Response rate

100%
Response time

within 2 days
Written on September 14th, 2022

Overall this tour was brilliant. I met some really amazing people and saw some of the most beautiful scenery I have ever laid eyes on in my life. I got to switc…

Read more

Patricia

Written on September 3rd, 2022

Overall, trip was good. It was a bit intense at times with the amount and length of hikes....not an issue itself, but we were not encouraged to stop and take p…

Read more

Penny

Written on August 23rd, 2022

2 Day Rockies Hiking and Camping Tour

Written on August 18th, 2022

This Vancouver Island tour was another great tour from Fresh Adventures. The trip was well run and organised. The 2 guides, Jafar and Carl were excellent and co…

Read more

Nihaar

Written on August 15th, 2022

It was one of the best hiking tours I have ever done in my life. This was only possible because of the two guides (Jafar and Kevin) and all the amazing people i…

Read more

Written on August 14th, 2022

This was my fave holiday EVER! I came back feeling strong, fit, healthy, and very happy! The hikes were fantastic - challenging and picturesque. The progress th…

Read more

Written on August 11th, 2022

Overall, the experience met our expectations: the guides were wonderful, they were knowledgeable and experienced; and the hikes and views were amazing. Meals…

Read more

Written on July 24th, 2022

This was an excellent trip. The hikes were fantastic each day in wonderful scenery. The 2 guides Kevin and Jafar were outstanding throughout. The food was great…

Read more

Written on July 10th, 2022

The guides were great and the trip was great but it was not the trip I signed up for. No hike first night because we ate at 11 pm. Never went to Peyto lake, d…

Read more

Fresh Adventures commented on this review

Patricia, thanks so much for your review. We appreciate the kind words about the guides and food and the feedback about your tour itinerary. We have been working on updating our tour pages across all the platforms they are listed on as we've had to make some last minute revisions for this season with a variety of challenges left over from the pandemic. We no longer go as far as Jasper, because this added two big days of driving, which we now spend hiking and exploring. Jasper was too far a drive to include, and to be honest, Jasper has always been underwhelming for guests and recent Pine Beetle damage has left Jasper not looking so great. I am sorry to hear about the horseback riding. They are almost always able to bring on an additional guide and accommodate our groups. I understand they are facing staffing shortages at the moment and suspect that might have something to do with it. We are hoping this will be resolved soon. With some of the changes to the tour it would add a lot of driving to go to Radium Hot Springs, and we find that Banff Hot Springs fit in the tour better at this point. I am sorry that this wasn't communicated with you so you could have planned around that. We have always found that guests have a great experience on our tours with running shoes, or hiking boots if they feel it would help them. We've taken almost 2000 travelers on hiking tours around the Rockies and only had a handful of people mention that hiking boots should be required. While we do encourage it, we don't want people to feel they need to spend a bunch of money on boots to be able to come on the tour. That being said, we are re-wording our packing list for seasons to come and will be recommending hiking boots more strongly for those that may prefer them. Patricia, thanks for coming on the tour and I am glad that you really enjoyed the experience that you did have with us (from your email to us directly). I know Jafar and Manuel really enjoyed having you on the tour and we hope to see you back for another adventure in the future!

Written on July 4th, 2022

Manny and Andrew were amazing guides!! And the food rocked as well! 10/10!!
Fresh Adventures Videos
COVID-19 Updated Health & Safety Procedures on Tour
Travel Safe with Fresh Adventures

- Masks are provided and guests are asked to wear masks in the van.
- Hand are sanitized entering the van and exiting.
- Guides are sanitizing the van after each use.
- Guests are asked to use the same seat or at least seat row for the duration of the tour.
- Thermometers are available and we check a guests temperature if they are showing symptoms
- Groups are tracked and guests are asked to let us know if they begin showing symptoms so we can notify the remainder of the group to get tested.
- The majority of our tours are spent in the cleanest air on Earth, outdoors and free!
Contact our Travel Experts
+1 844 311 8331
24/7 Support
Our team of experienced tour specialists have travelled to hundreds of countries around the globe and have decades of first-hand travel experience to share. Contact us now to have all of your tour-related questions answered!