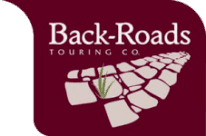 Number of tours

91
Age Range

13-80
Number of reviews

125
Rating

4.5

/5
Response rate

100%
Response time

within 1 day
Written on September 30th, 2022

Jjjsjajaakskksksksksksks

Cindi

Written on September 23rd, 2022

Fab 10 day tour. Tour guide was organized, knowledgeable, and fun. Driver was very pleasant and a safe and cautious driver. Scenery amazing. Definitely took som…

Read more

Susan

Written on August 31st, 2022

Our guide was pleasant, helpful, easy to get along with and worked hard to pass on information about Norway and its sights. The fjords and glaciers were amazing…

Read more

Written on June 23rd, 2022

Until Covid clears, I would steer clear of Backroads. We were partially through their June 2020 Costa Rica tour when a guest tested Covid positive. She and he…

Read more

Written on May 23rd, 2022

Fantastic tour with our guide Flavio Lazziaretto who created a great camaraderie in the group with his balance of information and entertainment

Back-Roads Touring commented on this review

Flavio is defintley one of the best.. So pleased to hear you had an amazing journey

Written on May 22nd, 2022

Wonderful tour with the best, most professional, friendly, kind, and fun tour guide any traveler could hope for. Flavio Lotrettzo was outstanding in his ability…

Read more

Flavio

Written on May 22nd, 2022

The tour was simply amazing ..everything was perfect: the trip companions, the weather, food and landscapes, and last but not least our crew Carmine and Flavio!

Written on November 9th, 2019

Italian Indulgence Tour, Rome to Venice, 6th to 17th October 2019 My husband and I, know Italy quite well, however Flavio was able to deepen our love for his…

Read more

Back-Roads Touring commented on this review

Hi Jan, Thank you so much for your kind words and glowing review of Flavio and Augusto - they really do manage to make an amazing experience even better. How wonderful that you enjoyed the villa stay - and with such a small group! Must have felt like you almost had the place to yourselves. We look forward to welcoming you back as our guest again soon, Jan. ~ Jackie

Written on November 3rd, 2019

2 years on we're still taking about our Tuscan Tour with Flavio as if it were yesterday. So many great memories it's hard to name a highlight. As a traveller wi…

Read more

Back-Roads Touring commented on this review

Hi Stephanie, Feedback is always welcome and we are so happy to hear that even two years on, you took the time to write this beautiful post. We are glad Flavio managed your dietary requirements so seamlessly and absolutely - our Tour Leaders really do make Back-Roads Touring special. We'll pass your kind words on to Flavio. Thank you, again, for taking the time to leave your review. ~ Jackie

Written on November 3rd, 2019

Tuscan Treats in April was amazing! I celebrated my 50th with an amazing group of travellers, enjoyed seeing and tasting the wonderful treats of Tuscany with my…

Read more

Back-Roads Touring commented on this review

Hi Andrea, what an incredible way to spend your 50th celebrations! We are so glad to hear you enjoyed your experience with us so thoroughly - and travelling with your daughter, how lovely for your birthday. We look forward to welcoming you back as our guest soon. Happy holiday planning! ~ Jackie
Back-Roads Touring Destinations
Back-Roads Touring Videos
Why Back-Roads Touring?
Enjoy the company of a small group

With small group sizes of no more than 18 people, you can expect a more personalised touring experience – and with like-minded travellers at your side, you'll find that a journey shared is a journey best enjoyed.
Feed your curiosity
Stories waiting to be unravelled. Secrets waiting to be revealed. Fascinating cultures, delicious flavours and unexplored terrain. Feed your curiosity and embark on a voyage of discovery with Back-Roads – and let the new and exciting take centre stage.
Embrace the view
Immerse yourself in nature on uplifting journeys through evocative landscapes. From rolling hills and swathes of forest to shimmering coasts, islands and canals, breathtaking views lie around every corner when you take the scenic route.
Discover a local way of life
There's no better way to understand the essence of a destination than by meeting the people that call it home. Learn traditional crafts, stories and recipes as you venture off the tourist trail and behind the scenes with exclusive local experiences.
Savour each moment
Slow the pace and take it all in; there's plenty of time to enjoy each step of the journey. Whether you're touring a historic home, enjoying a meal or indulging in a wine tasting session, you can do so safe in the knowledge that you won't be rushed.
Guided by the best
Insightful, attentive and passionate, our Tour Leaders will unlock the experiences that make your Back-Roads tour truly special – from adding personal touches to your itinerary to bringing destinations to life with their local knowledge.
The Small Group Touring Experience
Accommodation

On each and every night of your Back-Roads tour, you'll bed down in charming boutique accommodation – from idyllic garden resorts in Asia to elegant European châteaux. Much like our carefully crafted itineraries, a lot of thought goes into selecting each property; only the most characterful, authentic properties make the cut.
How We Travel
From luxury mini-coaches to yachts and barges, our range of transport will deliver you from A to B in both comfort and style – and as we only travel along scenic country roads, you can be sure that you'll see plenty of picturesque sights along the way. With Back-Roads, the journey is often just as spectacular as the destination! 
Travelling with us
Our Focus on You

Due to COVID-19, we've been restricted from exploring the world for some months now. However, as we approach new beginnings and travel plans, we want to reassure you that your health and wellbeing is at the forefront of our operations. As a small-group touring operator, we are well-equipped to ensure you have an enjoyable travel experience whilst keeping safe.
As we navigate through this unprecedented time, we continue to monitor, evolve and adapt our best practices as more information emerges. Once announced, you can be assured all our actions will fall in line with government regulations, World Health Organisation (WHO) guidelines and industry best practise.
In the meantime, know that your health and wellbeing is our main priority and we are actively working to ensure your safety when travelling with Back-Roads.
Book with confidence
We understand that in times of uncertainty you need some extra flexibility if your situation changes. If you book your 2021 Back-Roads tour now, you'll receive added flexibility to change the booking to another departure date or different tour up to 40 days before departure with no penalties until further notice. *Terms and Conditions apply.
Back-Roads hygiene standards
Our modern and extremely hygienic fleet of mini-coaches are thoroughly cleaned before each tour starts and regularly throughout as standard. Your Back-Roads Driver will now pay meticulous attention to this daily, sanitising all surfaces including handrails, door handles, tables, seats, air-conditioning filters and any overhead lockers.
All our tours start with a full briefing highlighting the experiences you are about to enjoy. This will now include information on how to keep yourself safe and healthy during the duration of your tour. However, to ensure thorough preparation, we ask that you take personal responsibility for your own wellbeing –including hygiene measures as recommended by the World Health Organisation (WHO). These include regular hand washing and sanitising, no sharing of products or food and packing a face mask and gloves to be used when necessary. We'll provide adequate guidance before your tour departure via direct emails or through your travel agent.
Our trusted suppliers and partners
We take our supplier and partner relationships very seriously and in response to the COVID-19 outbreak, there are no exceptions. Over the years we've built trusted partnerships with our suppliers and we're working with them to ensure their cleaning protocols, hygiene records, customer ratings and risk assessments are focused on your wellbeing. This is new to us all and while we don't have all the answers right now, all information regarding changes we implement for your safety, will be readily available ahead of your tour and highlighted in your departure briefing.
Tour Leader training
As you'd agree, our experienced Tour Leaders are a key ingredient to making your Back-Roads tour so special. We already conduct thorough Tour Leader training to ensure you have the best possible experience – while prioritising your health, safety and wellbeing. In addition to this, all Tour Leaders and Drivers will undergo further training in response to coronavirus risks. We're committed to ensuring our Tour Leaders are as prepared as possible to keep you safe, protected and ready to answer any questions you may have.
What's next?
While we can't wait to explore with you again, we know this is just the beginning. Our Operations Team are working tirelessly to ensure we're as prepared as possible for when we can run tours again. And our Customer Service Team is on-hand to help with any questions you may have. We'll continue to evolve our operations to ensure full compliance with government regulations and will keep you updated as the situation progresses. Be sure to continue checking the Travel Alerts page on our website for up-to-date information.
Back-Roads Touring Guides
Questions & Answers
What is not included in the tour price?

Unless otherwise specified in the listed inclusions, airfares are not included in the tour price. Driver/tour leader gratuity is optional. Lunches (unless otherwise stated), social drinks, meals on free nights,' items of a personal nature and entrance fees when not listed in the schedule of inclusions. Occasional optional evening theatre/festival visits and entrances not detailed in the tour inclusions. Incidental expenses, such as room service incurred at hotels. All expenses are to be settled prior to leaving the accommodation. Laundry costs and any shipping charges for the return of purchases made on tour, or for the return of property lost on tour. Pre and post tour accommodation. Unless otherwise listed in the inclusions, transfers are not included in the tour price.

What type of clothing is recommended on the tour?

Back Roads suggest packing for variable weather conditions, or if you are travelling through Italy, Spain or Southern France in summer, make sure you pack a hat and sunscreen.

How much luggage is allowed on the tour?

Back Roads travel in mini-coaches and so boot space is limited. Travellers are only entitled to one piece of main luggage of a standard size of no more than 158cm (when the length, width and height is added together) and not weighing more than 20kg. In addition travellers may bring one small carry-on bag per person.

What kinds of tour leader and driver does Back Roads have on the tour?

Their driver/tour leaders have all passed a stringent government test which allows them to drive vehicles and conduct tours. On some tours in mainland Europe (e.g. Italy, Spain, Croatia etc.) they will often use a driver in addition to a tour leader as this makes for better operation of the tour in these particular areas.

How much spending money is recommended on the tour?

Apart from meals and entrance fees within the price of the tour, travellers will need to bring spending money for any other meals, drinks and activities. Back Roads recommends a budget of £70 or 90 Euros per person per day.

Is it possible to do other things like getting my hair done, do laundry, go to church or synagogue while on the tour?

Yes. There is generally sufficient free time to incorporate all such functions, though it is not guaranteed in every country.

Are entrance fees included in the price of the tour?

Back Roads include a selection of entrances fees depending on the tour and these are outlined in the "what's included" section of the tour page.

Can Back Roads cater to travellers with dietary restrictions?

Back Roads will do their best to cater to the dietary needs of the travellers. This should be made clear upon booking, so we can pass on the requests.

What meals are included on the tour?

Breakfast is included daily. Lunches and dinners are also included, either in the hotel or in a local restaurant. Travellers will also have some free evenings to try the local cuisine independently. One thing to remember, dinner times in Europe are likely to be later than the usual: 7.30pm at the earliest and often later in France and Italy.

What are the benefits of travelling in a small group?

With a maximum group size of 18 people on our Europe tours (22 on our French barge tours) and 14 people on our Asia tours, we pride ourselves on ensuring that each guest has a personalised holiday experience. An intimate group allows our expert Tour Leaders to dedicate time to each and every one of their guests. We encourage you to ask questions and share their immense knowledge and passion for the destinations you visit.

How much time is spent in the vehicles while on tour?

Back Roads design tours that have little wasted time as possible on the bus. There are days when travelling between locations may involve freeway driving and more mileage. Generally, a typical day's driving would be anywhere between 110 and 170 miles. There are at least three major attraction stops, 'comfort' and meal stops.

Is tipping allowed on the tour?

Tipping your guide/ driver is entirely at your discretion and is not mandatory. It is common to leave a small gratuity in restaurants and cafes if you have received good service (typically 12% on top of the bill).

Is there time to do shopping while on tour?

Yes! But Back Roads will NOT be taking travellers to 'commission' stops. Their guides are not permitted to profit from your shopping.

How much walking is involved on a tour?

In cities, walking tours are offered by your guide. On European mainland tours there is considerable walking as many historic cities prohibit motorised transport and vehicles have to park some distance out of the centre. On most tours there are opportunities for some extended walking, often from the accommodations used.

Does Back Roads offer customized itineraries?

There are certain visits included in the itineraries which are fixed and included in the price. However outside of these there is some flexibility to adapt the itinerary according to such things as the weather, special events and group wishes but this will depend on the agreement of the fellow-travellers and the judgement of the Tour Leader.

What is the typical day out on the tour?

Touring days are conducted at a leisurely pace. Stops are made frequently during the day to avoid extended periods of time on the coach. On a typical day, the departure is at 9am and arrive at the hotel at 5pm.

How many people would be on a typical Back Roads tour?

The maximum number they carry is 18 (22 on Charming Waterways) and the minimum 4 (8-12 on Charming Waterways and minimum 8 on Norway: Fjords & Glaciers). Tours with a separate driver and tour leader will have a maximum of 18 passengers; tours with a driver/tour leader only will have a maximum of 15.

What is the smoking policy on the tour?

All countries in Europe have now implemented a total smoking ban in public places, and the local laws must be followed. Smoking is also not allowed on vehicles.

Is there sufficient leg room for tall passengers?

Yes, several of the seats have sufficient room for even the tallest passenger to stretch their legs. Back Roads also rotate places to ensure that no-one is sitting permanently in any particular seat.

What kind of vehicles are used on the tour?

Back Roads operate a fleet of Mini Coaches. The most common vehicle in the fleet is a 16 seater Mercedes Sprinter. This vehicle is used on all tours that operate in the UK, Ireland and France. In other countries in mainland Europe and Turkey they use models of a comparable standard and the group sizes do not exceed 18 passengers. Where group sizes are 7 or under they may operate the tour using a Mercedes Vito 8 seater.

Are visas required?

Yes, it is the travellers responsibility to obtain any visas which might be necessary to visit Europe. It is recommended to check with your local consular office regarding visa requirements for the countries you are visiting. As a note, you will definitely need a visa to enter Russia.

Are airport transfers included in the tour price?

No, airport transfer are not included in the tour price. Airport transfers can be booked for an additional cost.

Can TourRadar arrange additional nights' accommodation in the arrival and departure cities?

Yes. You can certainly book extra accommodation with us here with TourRadar so please get in touch for more details.

Is porterage services included on the tour?

In the hotels, Back Roads include porterage wherever possible.

What other things do I need to know about the hotels on the tour?

Many of the traditional properties Back Roads use are in historic buildings which have been converted to hotels from the original function, rather than purpose built hotels. Often the rooms are different shapes and sizes and may be smaller than newer chain hotels. Some hotels do not have lifts: in many cases this is due to regulations concerning protected buildings, but the uniqueness and charm of these places will make it quite memorable.

What is the hotel quality on Back Roads tours?

Back Roads use a 3-star / 4-star standard of accommodation ranging from country inns to town centre hotels and the occasional castle! In all properties the rooms have en-suite bathrooms.

What is the accommodation for solo travellers?

Back Roads do not 'match up' solo travellers, But travellers are welcome to travel with a friend, or join the group as a single traveller with sole use of their own room. Single rooms in European hotels can have one single bed, although in some hotels solo travellers will have a double room for their own use. The single supplement is very reasonable, and much less than the total cost of 2 people sharing a room.

What kind of room is the recommended upon booking?

Trevellers should choose upon booking what kind of room they want, whether they want a twin room (two single-sized beds in a room) or a double room (one standard-sized bed for two people).

Where do travellers dine while on tour?

All breakfasts are taken in the accommodations. A minimum of a two-course cooked evening meal is served. But on occasion, to add variety to the tour experience, travellers also dine out at local pubs and restaurants.

Are there elevators in the hotels?

Most properties have a lift, but there are hotels which do not have one. In these instances our guides or the hotel staff will assist with the carrying of your bags to your room. Some hotels are in very old buildings and there may be stairs between the levels in the corridors.

Is it possible to get a ground floor room?

Approximately 60% of the places Back Roads use will have limited ground floor accommodation available, however they will only be able to provide for one room per tour. When a ground floor room is requested but not available, they will allocate the lowest, most easily reached alternative room available.

Are bathtubs and showers available on the room?

In historic hotels bathroom facilities can vary and some rooms will have a tub, some showers, some both. All hotel rooms have private ensuites.

Is there a triple room accommodation?

There is limited triple availability and often a triple room contains a double bed and one single. There is little, if any, cost saving to be made in booking a triple room unless it is to avoid a 'single supplement' charge.

Are Back-Roads tours suitable for children?

Back Roads tours are designed principally for adults, but they will consider accepting children aged 12 or over on request.

What is the age range of the travellers joining the tour?

Back Roads travellers are typically between 40-70 years old.

When is the perfect time to visit Europe?

There is no doubt summer months are the best time to visit the UK and Europe, due to the warmer climate, however, July and August are the 'peak' months where most of Europe is on holidays. If travellers prefer to travel away from the crowds, May-June and Sept-October can be more pleasant times to visit Europe. The Winter months are great alternatives to experience Europe's festive seasons. November-January being the best winter months to travel and catch Christmas Markets and the best sales.

How long has Back-Roads Touring been in the business and are they ATBA registered?

Back-Roads Touring Co. Ltd was founded in 1986 and are ABTA registered.

Does Back Roads Touring offer customized tours?

Yes, Back Roads Touring operate special customised tours for families, friends wanting to travel together, or any other group. Feel free to contact us here at TourRadar and we can assist in this style of booking.

Does Back Roads Touring allow travellers with health conditions?

If the health problem is manageable without the need for additional care, special facilities, or does not present a risk to any other passengers then you will be allowed on a Back-Roads Tour.

What level of fitness is required on the tour?

Travellers need to be fit enough to get on and off the vehicle on a regular basis, walk to attractions, around towns and villages, walk up and downstairs in some of the hotels and use a shower over the bath.

Are Back Roads tours all guaranteed departure?

Back Roads tours run with a minimum of four people, at which point they will usually guarantee the departure. If the tour is cancelled, travellers will be advised at least 6 weeks in advance and will then have a choice of a full refund of the amount paid for the tour, or an alternative tour. However, for their Charming Waterways programme, which operates with a minimum of 8 people (French Waterways tours operate with a minimum of 12) as well as Norway: Fjords & Glaciers, which operates with a minimum of 8 people.

Who are typical travellers on a Back-Roads Tour?

Travellers are mainly English-speaking and come from Canada, the USA, the UK, Australia, New Zealand, South Africa, Singapore and Hong Kong. Other nationalities join occasionally but all tour commentaries are in English.
Contact our Travel Experts
+1 844 311 8331
24/7 Support
Our team of experienced tour specialists have travelled to hundreds of countries around the globe and have decades of first-hand travel experience to share. Contact us now to have all of your tour-related questions answered!