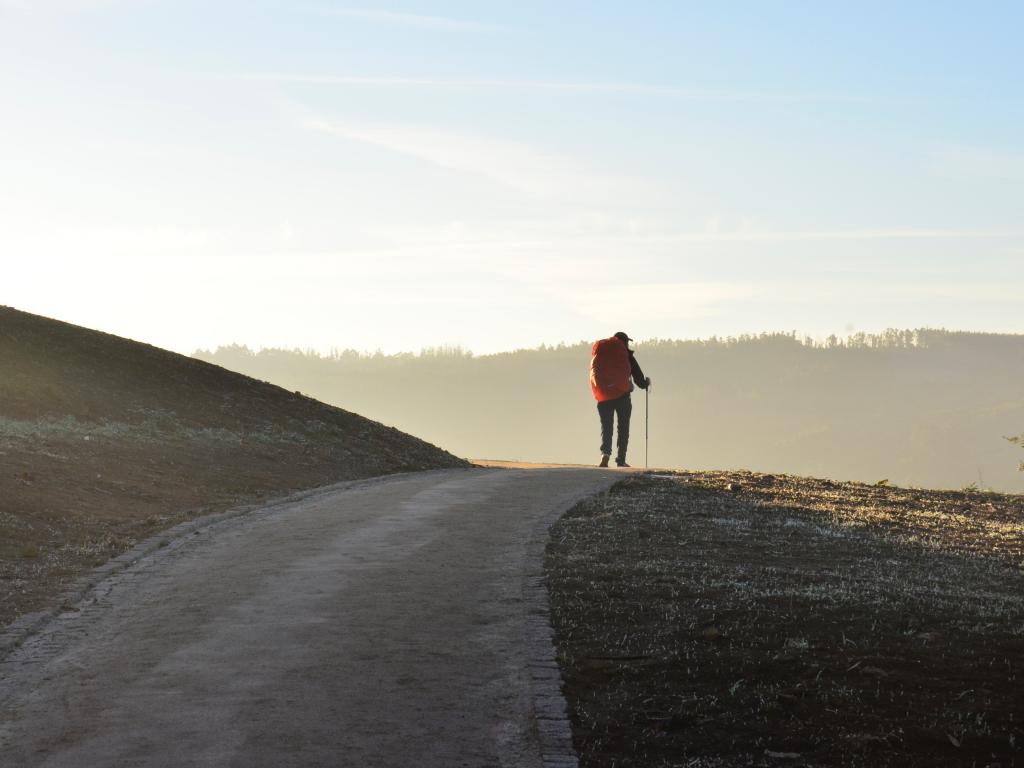 Camino Finisterre
Camino Finisterre
The pilgrimage doesn't have to end in Santiago de Compostela. While the city is the destination for all the other Way of St. James routes, The Camino de Finisterre continues the journey to what was once considered the edge of the world. Once a military pagan tradition, this trek has become a part of the Camino Santiago lore and is well worth the visit, not just for the opportunity to get in a good swim but also to watch the sun sink into the Atlantic.

At 78 miles, the route runs through the picturesque, medieval town of Negreira, and Monte Aro, the most difficult portion of the route. From the Nosa Senora Chapel on, the sea is a constant companion, offering breathtaking views and accompanying you on sun-soaked saunters to beachside hamlets. While relatively short, an additional 7 days west from Santiago, this picturesque and possibly spiritual journey passes through ancient Galician lands and Roman ruins to the lighthouse at Finisterre. Make sure to continue on to the magical fishing village of Muxia to experience its rocking stone, "Pedra de Barca," said to possess healing powers. 

The location:

The Camino Finisterrae starts in Camino de Compostela and ends in Muxia on the coast. It lasts 78 miles to the fishing village of Muxia, passing through the medieval town of Negreira, Monte Aro and Nosa Senora Chapel.

Highest point:

1,407 ft (429 m)

Duration:

6 days / 7 nights, 125 km (78 miles)

Trail conditions:

Camino Finisterrae is a well-maintained collection of mostly country roads running through forests, a mountain, and along swaths of coastline. With the exception of the ascent and descent near Monte Aro, the path is easy and either flat or descending. Camino Finisterrae is also well-marked with the known scallop shells leading the way.

Difficulty rating: Moderate

Trekking requirements:

The Camino Finisterrae only requires basic backpacking gear. A 30-40 litre backpack, as well as a water bottle, first aid kit, toiletries, walking shoes, and a couple changes of clothes, are all recommended. Keep the seasons in mind when packing layers and pack as light as possible.

Tips:
Food and water are not as plentiful or accessible as on other parts of the Camino de Santiago.
There are fewer albergues along the Camino Finisterrae so plan ahead for where you want to overnight.
You might experience some rain regardless of when you go.
Be prepared to deal with blisters and deal with them right away.
Break in your shoes before starting the Camino Finisterre.
Get a stamp in Lires on the way to Muxia otherwise you might not be able to stay in an albergue there.
Camino de Santiago tours & reviews
A TRAVEL MAGAZINE BY TOURRADAR
Camino de Santiago Information
How can I get to Camino de Santiago?

This, of course, depends on the route you're taking. Flying to the city closest to the trailhead is certainly preferable if you're coming in from Australia, USA and the UK. However, UK travellers may travel by bus or rail to the towns of Ferrol, Oviedo and St. Jean Pied de Port. Learn more.

When should I walk the Camino de Santiago?

The absence of extreme weather changes in the area makes Camino de Santiago's routes walkable year-round. Though June through September may be its busiest months, more than one thousand people still make the hike during the cold winter months of December, January and February. Learn more.

What permits, visas, vaccinations and insurance do I need?

Though a permit isn't necessary, you must obtain your Credencial del Peregrino or Pilgrim Passport at the start of your trip and get it stamped along the way. The stamps are proof that you walked the 100 kms necessary to obtain the completion certificate in Santiago de Compostela.

Do I need a guide to climb?

While you don't need a guide to hike any of the Camino de Santiago routes, having one will reduce the burden of planning. Going on a guided hike would give you the benefits of having experienced trip planners arrange things like accommodation, food, luggage transport and airport transfers.

What should I pack and what equipment do I need?

Along the way, you'll be able to stop in towns to refuel. Carrying a day pack of your personal essentials, change of clothes, a two-litre water bottle, a first aid kit, and your passport and Pilgrim Passport will suffice. Invest in a good pair of hiking shoes and walking poles. Learn more.

How do I prepare for Camino de Santiago?

Do your research to choose the best route for your skill level and study the rules and etiquette on the trail. Purchase and read a guidebook for your chosen route. Finally, train for several months prior and push yourself to hike farther every day until you're fit to do 26- to 29-kilometre days.
Camino de Santiago Routes & Maps
Camino Portugues

The Portuguese Way, the second most popular route, starts in either Lisbon or Porto and takes hikers from Portugal to Spain. Considerably longer, the Lisbon hike starts at the Lisbon Cathedral and passes through Caldas da Rainha, the Alcobaca Monastery and Porto before crossing several rivers on its way north to Spain.

Distance: 610 km (380 mi)
Average duration: 21-30 days 
Average difficulty/success rate: The Portuguese Way is relatively moderate. Minor elevation gains work to your advantage, though concrete and cobblestone roads, which it has its fair share of, can put a strain on the walk. The success rate is high.
 

Read more

Camino Primitivo

A few ups and downs, rocky or muddy sections and the frequency of the paved roads make Camino Primitivo one of Camino de Santiago's most challenging routes. It is, however, worth tackling, if only for the challenge and for the fact that it's the oldest one. You will be rewarded with breathtaking views.

Distance: 321 km (199 mi)
Average duration: 12-15 days
Average difficulty/success rate: Camino Primitivo has its fair share of challenging climbs and descents as well as paved sections, making it a difficult route. Still, if you take your time, the success rate is high.
 

Read more

Camino de Finisterre

Once you've reached Camino de Santiago, you might continue on to the "end of the world". Cape Finisterrae is one of Europe's westernmost points, thus the name. Adding 90 kilometres to the trip along an ancient route, perhaps even another 29 to Muxia, might just be an epic way to wrap up the journey.

Distance: 90 km (55 mi), 117 km (73 mi) to Muxia
Average duration: 2-4 days
Average difficulty/success rate: Because it's a shorter hike and offers spectacular views, the road to Finisterrae is a moderate route to take on. The success rate is certainly high, even if fewer people traverse it, choosing to end their trip at the cathedral.
 

Read more

Camino Frances

Is it a wonder why the French Way is favoured by most Camino de Santiago pilgrims? It's not just the most traditional route, with a lot of history surrounding it. It also boasts lush landscapes, charming towns and great infrastructure along the way, taking travellers through the beautiful Iberian Peninsula for a month. 

Distance: 772 km (480 mi)
Average duration: 4 weeks
Average difficulty/success rate: Due to the excellent infrastructure and facilities along the way, not only is Camino Frances an enjoyable hike, it's also a fairly moderate hike. So long as you take a couple of days to rest along the way, you are guaranteed to make it to the end.

Read more

Camino del Norte

For 827 kilometres, Camino del Norte stretches from the town of Irun in Basque Country to Santiago de Compostela, following Spain's northern coastline. It's not only the longest route in the network, it is also the least travelled and has fewer facilities, making it ideal for thru-hikers who prefer solitude and a challenge.

Distance: 827 km (514 mi)
Average duration: 36 nights
Average difficulty/success rate: A little more than a month and a more rigid schedule could be challenging for less experienced hikers. The success rate is generally good, so long as you train beforehand and can tackle more than 21 miles a day.

Camino Inglés

A favourite among hikers arriving from the British Isles and northern Europe, the English Way starts from the City of Ferrol and runs straight south to Camino de Santiago. Though short, it does boast longer sections and major elevation changes, making it a challenge for the more casual walkers.

Distance: 119 km (74 mi)
Average duration: 6 nights
Average difficulty/success rate: This ranks as medium to high in difficulty, though chances of completing are very good because of its short distance.
 
Camino de Santiago Weather
Here the best time to walk the Camino de Santiago
JAN
FEB
MAR
APR
MAY
JUN
JUL
AUG
SEP
OCT
NOV
DEC
Average °C
7.7
8.3
10.2
11.2
13.6
16.8
18.6
19
17.4
13.8
10.4
8.5
Average °F
45.9
46.9
50.3
52.2
56.5
62.2
65.5
66.2
63.3
56.8
50.7
47.3
Average High °C
11.2
12.4
15
16.1
18.6
22.2
24.3
24.7
22.8
18.1
14.1
11.9
Average High °F
52.2
54.5
59
61
65.6
72
75.7
76.5
73
64.6
57.4
53.4
Average Low °C
4.1
4.1
5.3
6.2
8.6
11.3
13
13.3
11.9
9.5
6.7
5
Average Low °F
39.4
39.4
40.7
43.2
47.3
52.3
55.4
55.9
53.4
49.1
44.1
41
Rainfall mm
210
167
146
146
134
72
43
57
107
226
217
261
Rainfall >1 mm days
15.2
12.3
13.4
14.4
12.5
7.6
5.7
5.5
8.4
14
14.9
15.9